If you've followed me or my work for any length of time, you know that I think box score scouting is one of the worst habits in the sports media realm. It's an understandable source of knowledge from fans just looking for information, but a lazy surrogate for true analysis, utilized far too often by those who do this for a living.
Arizona Cardinals rookie quarterback Josh Rosen is going to fall victim to that unfortunate trend this season. Surrounded by ineptitude in Arizona, Rosen made his NFL debut against a Seahawks defense that has quietly been very good this season, and the final stat line of 15-27 for 180 yards and one touchdown probably didn't get you out of your seat.
But boy, his performance sure did.
A dive into the tape quickly revealed that the box score wasn't just fibbing, it was telling a whole pack of lies. 12 incompletions was some Pinocchio-level deception that failed to take into account what Rosen had to work with all game long.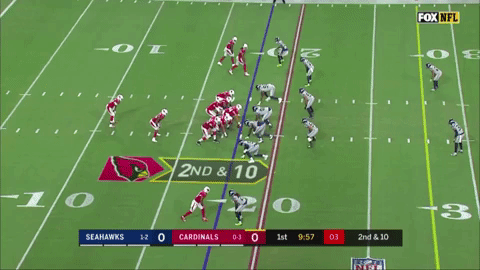 The first of Larry Fitzgerald's three drops (yes, you read that correctly) came on a gorgeous throw by Rosen between two defenders, over the top of the dropping linebacker. With pressure right in his face too, I might add. Poise and confidence to throw a receiver open on his first NFL drive.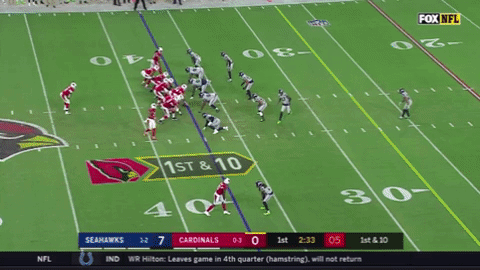 Look at that throw. Absolutely gorgeous trajectory and placement, only to have Christian Kirk drop it. Again, pressure threatening in the form of Frank Clark, but Rosen stays calm and makes the perfect pass.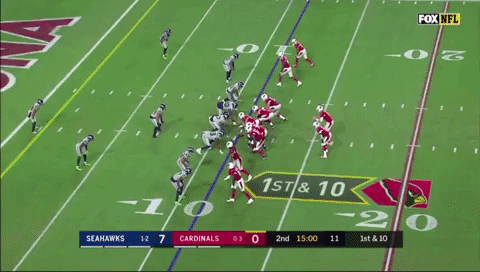 Drop no. 2 for Fitzgerald, albeit it on a tough catch. Still, look at the placement from Rosen, right in the hands and in an area where the defender can't make a play on it. No fear. That's a catch Fitz makes consistently in his career, and Rosen trusted him to come up clutch for a TD here. The receiver didn't deliver, but I love that Rosen isn't gun-shy about giving his guys a chance to make plays.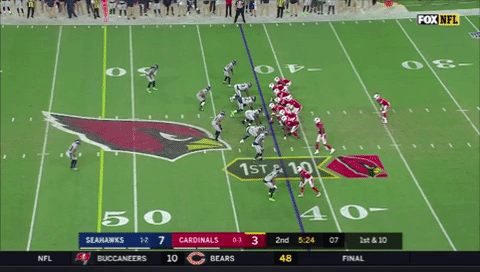 How do you drop this pass? J.J. Nelson is wide open, the ball is perfectly lofted into his arms and he still drops the sure touchdown. The Cardinals could have run away with this game, folks.
Ricky Seals-Jones got in on the fun as well, somehow dropping this ball in the flat from Rosen that could have set up third-and-short. Fitzgerald dropped another later in the game, aided by a hit from Bobby Wagner that jarred him enough to force the drop. It was like Rosen was back at UCLA all over again.
It wasn't just the six drops however, mistakes by receivers that would have put Rosen at 21-of-27 passing and given the Cardinals a victory. There were also a few missed opportunities where Rosen threw beautiful balls and mitigating circumstances intervened. Take this absolute dime between two defenders to Chad Williams while Rosen is getting ripped to the turf.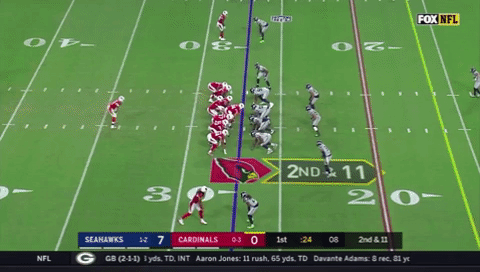 *Whistles sharply*. The degree of difficulty to place this ball perfectly between two opponents where only Williams can get it, while being hit, is just extraordinary. At no point in this play is Williams even slightly open. Rosen throws him open by putting it in the one location he can make a play. Williams just can't get his second foot down in bounds. Goes down as an incompletion. 22-of-27, if you're counting at home.
Two other incompletions by Rosen were throwaways. One came on a play where Mason Cole skipped the ball back to him along the ground, and Rosen had the presence of mind to grab it, get out of the pocket and chuck it out of bounds.
The other was a running play where Rosen went the wrong way for the handoff, recognized his mistake and tossed it out of bounds once outside the pocket. That one is on him for the mental mistake, but it's not an indictment of his passing ability at all. Throw out those two passes, and he's 22-of-25 now.
This one didn't count due to defensive pass interference, but it would have been an 18-yard dime for a touchdown if the cornerback hadn't interfered with Kirk. Or another drop, tough to say at this point.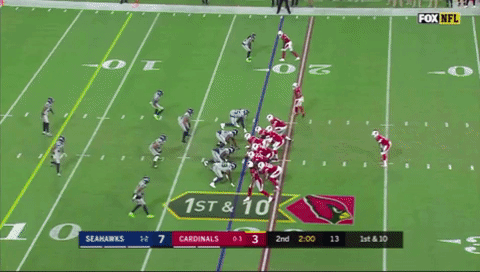 What a gorgeous touch throw on the wheel to Kirk, setting up a one-yard TD run by David Johnson. Nothing appears in the box score for this play by Rosen, but that's no fault of his. Sometimes quarterback play can't simply be evaluated by the stat line.
Impressed? You should be. Now wrap your mind around the fact that I haven't even shown you ANY of the completions Rosen had against Seattle. If the "negative" aspect of his statistics are that impressive, hope you're ready for what's next.
We'll start slow and build you up to the really good stuff.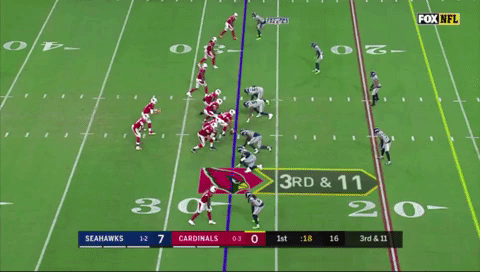 3rd-and-11. Money down. Seahawks are playing zone to the 3-receiver side, man on the backside. Seattle has exactly what they want, but Rosen fits a laser into Fitzgerald's gut before the safety can close over the top. Timely, accurate throw with top-notch velocity in a key moment of the game.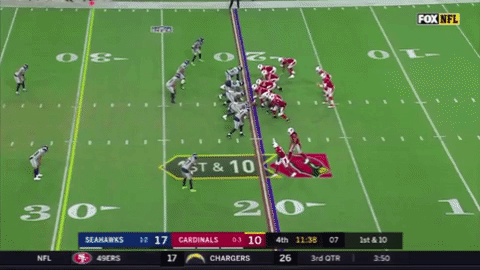 HELLO. What an absolute dime into a tight window for Seals-Jones, hitting him in stride for a big gain. Clearly one of the receivers ran the wrong route here, which made the throw more difficult for Rosen with the safety able to close freely over the top. Didn't matter. Perfect amount of touch and zip.
There are not a lot of places to put that ball, yet Rosen finds the perfect location. Yes, it's a tough catch for Chad Williams who digs it out beautifully. But in that window, Rosen has to keep Earl Thomas from making a play on the ball. By keeping it low and driven, only Williams can benefit from the pass. Give the receiver and the protection tons of credit, but that's one heck of a throw by Rosen to tie the game in the fourth quarter.
HOW? This isn't open at any point. You can't even see a throwing window to fit the pass in when Rosen releases it. Somehow he throws Seals-Jones open with a gorgeous pass despite Bobby Wagner being in perfect position. That is not a normal human being throw. It simply does not get better than that. And on the potential game-winning drive no less! What stones!
It was honestly hard to find mistakes in Rosen's performance, but he did miss this read in the red zone that forced Arizona to settle for a field goal (granted, he had already thrown a should-be touchdown pass to multiple players on the drive, but I regress). Seattle blows the coverage and it's an easy six if Rosen throws the corner route. Tries to force it to the slant instead.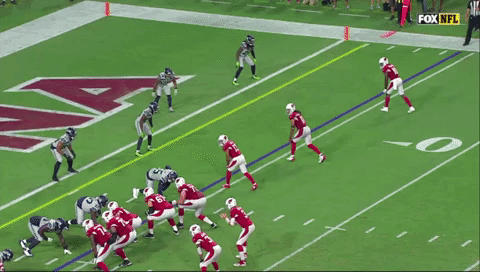 Josh Rosen's box score looks average at best, but that doesn't tell the whole story. The reality is, he was sensational on Sunday afternoon, easily the best offensive player on the field for Arizona. In his first career start!
Arizona has a ton of work to do to field a quality football team in 2019, because this one is pretty bad, but they have to be massively encouraged by this performance from Rosen in Week 4. If his showing against Seattle is any indication, the Cardinals may have stolen the former UCLA star at no. 10 overall as the fourth quarterback off the board.