The 2014 wide receiver class was out of this world. You had the the swag god Odell Beckham Jr., the alien that was and is Mike Evans, a man who combined deep speed and dreadlocks in Sammy Watkins, everyone's favorite slot receiver they love to hate Jarvis Landry, pre-fat Kelvin Benjamin before he punked out on Cam Newton like a wuss, a guy who has now had three first round picks be used on his services in Brandin Cooks, the only guy catching passes from Aaron Rodgers worth a damn in Davante Adams, a guy who once told Blake Bortles to "keep that shit in bounds" Mr. Allen Robinson, a second alien in the class in Martavis Bryant, and all that is without even mentioning the names Quincy Enunwa, Bruce Ellington, Marquise Lee, and one other guy... Oh, right.
Jordan Matthews.
Cue up the Meek Mill songs, folks, because Jordan Matthews is coming home to a triumphant return after the Eagles realized their wide receiver group looked like a mid-major DII school following Mike Wallace going down with a leg injury. Eagles general manager Howie Roseman likely did his best Jimmy Butler meme impersonation when he saw his depth chart of: a small quick guy (Nelson Agholor), a small fast guy (Shelton Gibson) and a guy who played for UCF before they were good (Kamar Aiken).
Matthews hauled in 225 receptions for 2,673 yards and 19 touchdowns in three seasons with the Eagles from 2014-2017 before being shipped off to Buffalo in a trade for cornerback Ronald Darby. But, before things could settle in for him there, injuries limited him to just even starts for the Bills. After becoming a free agent in 2018, he signed a very minuscule deal with the Patriots, who released him before camp even started due to a hamstring injury.
So what's the deal with Matthews, a former second round pick with all sorts of college accolades? What happened to this guy? I mean, to get traded from a bad Eagles receiving core just to get let go from a bad Bills receiving core only to get released from a bad New England receiving core; is Jordan Matthews just bad?
I say no.
I say, even if Matthews might not be a No. 1 WR in the NFL like some thought he would be (*cough cough* me), he still makes sense for the Eagles because the "where he wins" that I really liked when scouting him back at Vanderbilt still exists in his NFL game -- even though the rest of his game around it didn't develop like I thought.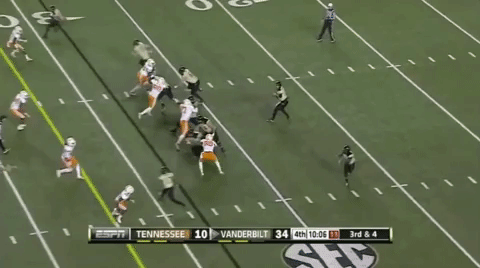 During his time at Vanderbilt, I was enamored with how well Matthews moved for a man his size. Matthews ended up running a 4.46 at 6-foot-3, 215 pounds at the Combine, which gave him a really good score when you bring in weight adjusted numbers. Anytime you can get a big-body wide receiver who gives you more than just catching through traffic or winning with their height/length advantage, that's a big plus and opens the door for a wide receiver to be a team's No. 1 go-to guy due to the variety of ways he can be successful in an offense.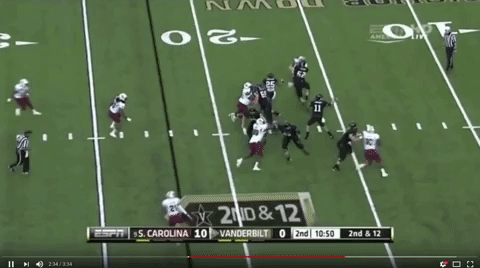 Whatever, I'm sticking with it: Matthews gives a team "big play" ability. When I scouted a player like Kevin Benjamin, for example, I thought he was great as a big-body wide out, but I wasn't sure how much he would ever give you after the catch. With a guy like Jarvis Landry, I loved him in the middle, but wasn't sure if he could play on the outside.
With Matthews, I saw the potential for him to play inside and outside, and be successful at both a big man's game with the ball in the air/against press coverage and in a small man's game when winning with speed before and after the catch.
That didn't stop in the NFL.
It wasn't just against college level competition that Matthews showed he could be a yards-after-catch machine. That seemed to be his bread and butter in the NFL and with Philadelphia, too.
What killed him was the poor conclusion of cleaning up his mental mistakes, which never ended up happening in his first stint with the Eagles.
(via Bleeding Green Nation)
(via Bleeding Green Nation)
It just didn't make sense to me. I watched Matthews put up so many highlight catches, even with one hand, at times, at Vanderbilt that it was hard to believe the high amount of mental mistakes we saw from his early NFL years. Matthews' stock suffered in a stacked wide receiver class because of inconsistent hands in his college tape, but I didn't think it would get worse like it did.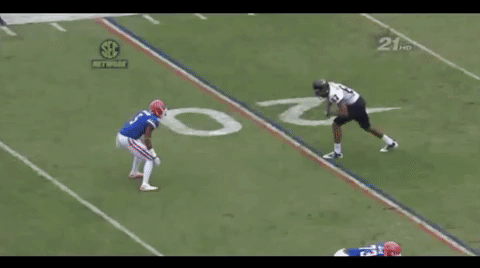 You have everything you want to see from a Matthews-type receiver in the play above. You have the quick feet, the hard cut on the route up the sideline, the speed to get even with the defensive back, the savvy work with his arm to create added separation, and then the concentration and skill to reel that ball in.
That's Jordan Matthews, and that potential, along with his go-to skillset of running after the catch, that's still there.
As stated before, I can't totally stick my head in the ground to the mental errors Matthews has had over the years, and perhaps that's just a part of who he is. But, in terms of the skill I saw from him when I scouted him at Vanderbilt, that skill is still very much still there; I've witnessed it at the NFL level.
Maybe he's just a one-dimensional winner now, but I'm glad the NFL hasn't given up on him after a few unlucky injury-filled years.
I know I haven't, even if he might not be exactly what I thought he could be.