We as analysts take a lot of pride in what we do. We understand that, because we can't get as close to some of these prospects as NFL teams can, there will always be variables that are relatively unknown to us, even in our "final" reports. But we always strive to nail a prospect's NFL outlook as much as we can -- whether that's with a good grade or bad grade.
There are plenty of factors that can go into the early performance of a rookie, whether that be unexpectedly positive or surprisingly negative. Certainly team-fit and coaching-fit has something to do with early production. How a coach views a player's skillsets could directly affect playing time and learning curve. The, of course, there are factors within the players themselves. Sometimes a big move across the country or a situation off the field during their rookie season could hamper or even boost what we're seeing on the field.
For the most apart, we have a good enough of an understanding of players and situations to where we get most of our evals correct. But, if that's really the case, then what's going on with running back Ronald Jones?
In his final year at USC, Jones rushed for 1,550 yards with 19 touchdowns and a healthy 5.9 yards-per-carry average. Now, with the Buccaneers, Jones was inactive for the first three games of the season, and since being active the last two games has recorded just 32 yards off 11 carries. After being selected in the early second round, Jones was expected to be the feature back in what many considered a weak running back room in Tampa Bay. But that hasn't happened.
Why?
Well, it's a combination of things.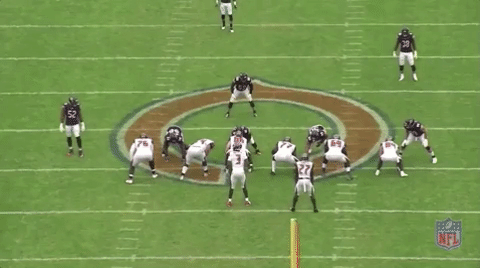 Just like quarterback play has an impact on how wide receivers produce, offensive line has a lot to say about the output of running backs. So far, to this point, whenever Jones has been in the game, Tampa Bay's offensive line has been underwhelming. Fellow running back Peyton Barber is only averaging 3.7 yards per carry himself, so the line isn't doing much better when he's in there, but that is certainly a factor for Jones, too.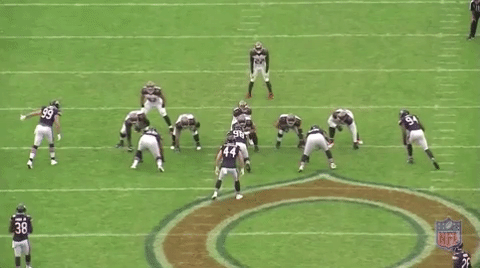 It just seems like whenever Jones is getting the rock that at least one of the blockers on that play is underwhelming, and if you know anything about offensive line play, one bad block means the play is usually no good.
After watching all 11 carries of Jones', to this point, the offensive line has done him no favors thus far.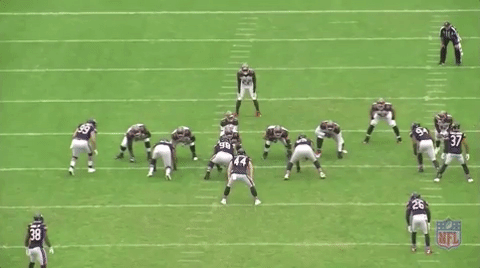 But there's an even bigger issue with Jones' early output that is outside of his control.
The Buccaneers have rushed the ball less than any team in the NFL this season with 111 total carries. Now, they have had their Bye Week already, so you have to factor that in, but if you look at the rushing attempts per game, they're 25th in the league, so the message is not skewed that much.
The Bucs' goal was to get more dynamic in their run game this season, and instead, outside of their first two games, they've been just as predictable as before. That has led to results like the one you see above. Defenses have been able to sell out to stop the Buccaneers' rushing attack due to them knowing what's coming. That also hasn't helped Jones.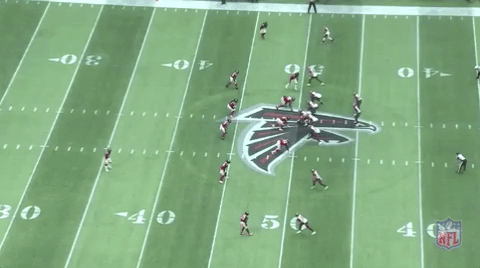 But Jones is not to be let complete off the hook here. There are factors outside of his control that certainly haven't helped his production, but there is a big mental block in the center of Jones' mind right now when he gets the ball.
The play above is a good example. Jones was thinking so hard about hitting the outside gap because that was the one that the play was scheduled for that he didn't even see the wide open space right up the middle. The Buccaneers have tried to get Jones the ball on outside zone blocking plays to try to get the most out of his speed in open space. This is a good thought, in theory, but it only works if the running back has the confidence to hit whatever gap along the moving offensive line comes open, not just the predetermined one -- this is something that makes Ezekiel Elliott so good.
Jones isn't there yet. He doesn't have the confidence yet to go off script, and part of me doesn't blame him. Even when there's space there, Jones struggles to see it because he seems tense, pressured, stressed or just plain thinking too hard. Jones needs to relax. Stress clouds the vision; confidence equals comfort.
Jones is still a young kid. He's only 21 years old. There were reports that he was even homesick in his early years at USC before getting comfortable with his team and surroundings and really breaking out in his junior season last year. If that was all true, his slow start makes sense.
So, to answer the question: what's wrong with Ronald Jones?
Nothing permanent -- yet.
The biggest issues with Jones' lack of early production have been offensive line struggles, scheme struggles and a lack of confidence in himself with a new team in a new league. Part of that is on the team, but part of that is on him, too. If those factors turn in his favor, the talent we regarded highly in our scouting reports of Jones will shine just as they did at USC.