Tuesday afternoon, Ohio State defensive lineman Dre'Mont Jones officially declared for the 2019 NFL Draft as a redshirt junior. Many believed he was going to declare last year as a redshirt sophomore, but an unproductive 2017 campaign prompted him to return to Ohio State to complete his degree and improve his skill set.
The box score certainly seems to indicate that happened for Jones, as his sack totals rose from one to 8.5 over the past two seasons, and his tackles-for-loss from five to 13. Despite those impressive numbers however, Jones remains a very polarizing prospect as evaluators jump into his 2018 tape.
Let's start with the good: Jones is an incredibly rare athlete with outstanding length, quickness and flexibility for his position. As far as movement skills go, he's going to be up there with Ed Oliver as unnatural freaks in this interior defensive line class.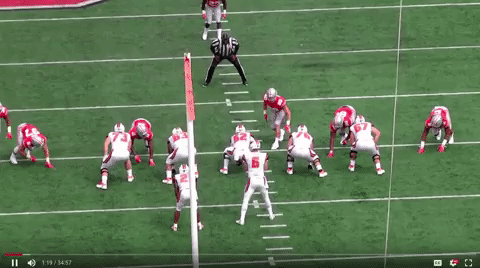 You just don't see speed like that from a defensive tackle...ever, really. Jones is going to blow up the Combine, running at least a 4.8.
Of course, long speed isn't usually a huge asset when playing defensive tackle, but with Jones it is indicative of his overall athletic profile. His quickness and explosiveness are special, with the ability to slip blockers in both the run and pass game when he can out-athlete them.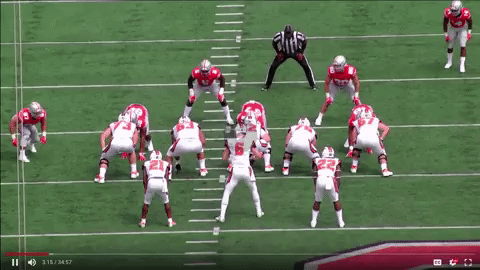 Jones is actually late out of his stance on the above rep, allowing the guard to get a head start on reaching him in this zone scheme. Even with the delayed get-off, Jones is able to explode around his opponent and win his gap, getting his head and shoulders playside. Obviously the fumbled exchange negates his need to make a play, but the movement skills are still incredibly impressive.
Although it isn't consistent snap-to-snap, Jones is also a diverse pass rusher with plenty of moves to accompany his salivating natural traits. Just against Oregon State, I saw a cross-chop, swim move and push-pull put to use multiple times through the first three quarters of the game.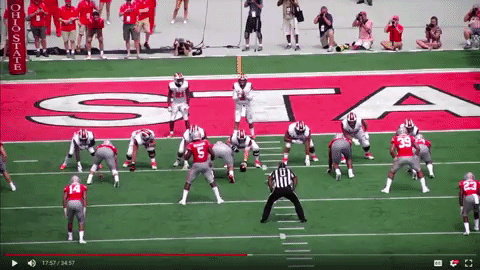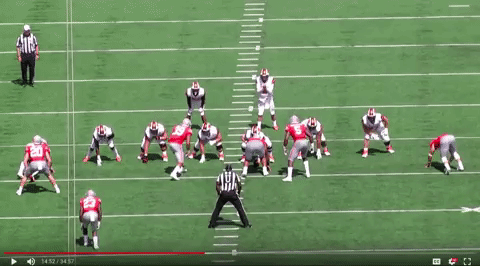 How about the ability to counter and string moves together? This is still a work in progress for Jones, as he will get hung up on contact some and fail to deploy a secondary move. However, the flashes when he does counter are pretty awesome, stuff other defensive tackles just don't have the natural gifts to be able to do.
Bull rush to rip move gets shut down, counters back with a spin move to get free. Pretty smooth progression and quick thinking on his feet.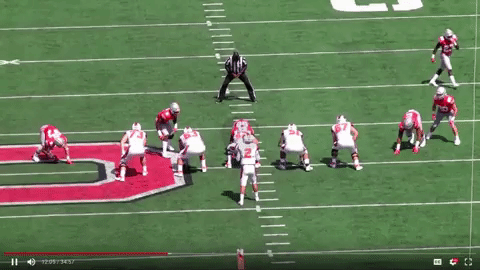 Different moves from different techniques against different looking pass sets. That's impressive stuff from Jones, especially playing in a run-heavy conference that didn't always give him a ton of opportunities to tee off as a rusher. NFL defenses are built around pass rushers, and he has certainly shown plenty of potential there with his growth as a redshirt junior.
So what is the big issue? Simple: Jones has been getting railroaded against the run for years now, and it might be such a liability against NFL competition that he can't get on the field for all three downs.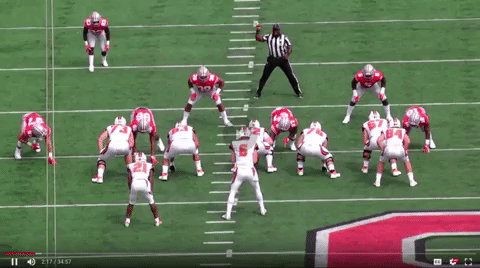 Part of it may be the system at Ohio State, one that often asked him to fire gaps and get up the field to be disruptive. But regardless of the reason, there are still plenty of times when Jones need to hold the point-of-attack or keep his depth to the line of scrimmage or shed a blocker and he just cannot do it. Every single game these issues show up, from Oregon State to Michigan to Penn State to TCU.
The issues are plentiful with Jones, beginning with his size. His frame is lanky for an interior defensive lineman, and he will likely need to put on some muscle at the NFL level, particularly in his lower half.
A high-effort player who competes with a strong motor, Jones still isn't the most physical defensive lineman, often failing to get his hands to his opponent's chest with some violence, controlling the 1v1 exchange. Instead, he gets body-to-body with blockers and the result is typically something like this: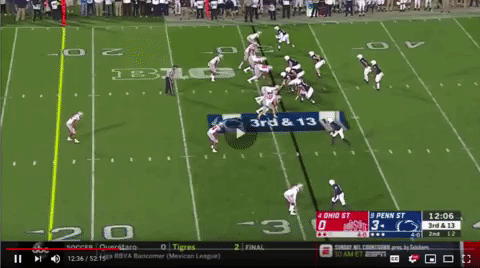 Or this, by a tight end whamming him at the line of scrimmage. Sure, he may not see it coming right away, but he's square and should be able to shed this block. Just doesn't. Terrible.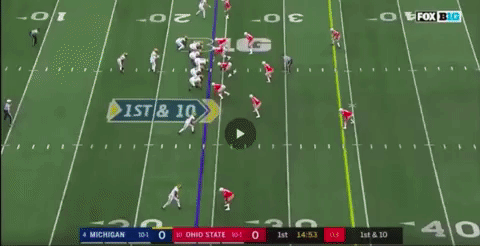 How about double teams? Sometimes he's quick enough to split them, but when he isn't, look out. Gets knocked back three yards here against Oregon State. Not pancaked or anything, but you have to hold the line of scrimmage in these situations. Jones consistently shows that he cannot.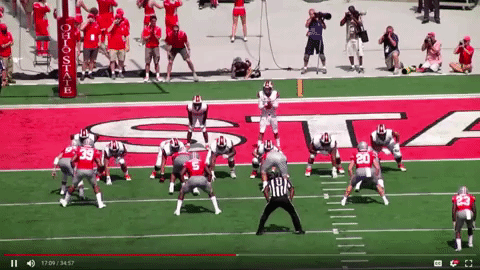 One of the biggest issues with Jones is that he has no sense of gap control or proper technique in the trenches. We talked about his pad level and hand placement, but he'll also fail to stay square and occupy space, leaving bigger gaps for his teammates to defend.
Here's Jones as a 3-technique, charged with defending the B-gap. He fires off the ball, beats the reach block, but then decides to spin out of his gap because he thinks the running back is bending it back.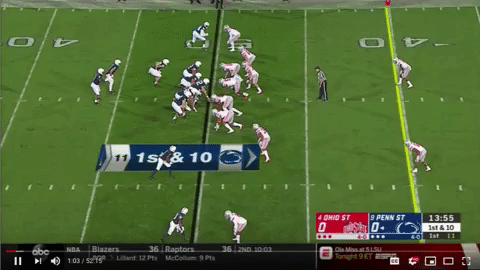 You can almost here Bill Belichick screaming "do your job!". Only an outstanding play by Tuf Borland to cross from the C-gap to the B-gap on this tackle prevents a sizable gain that would have been non-existent if Jones had simply done his job.
One of the more underrated aspects of playing defensive line is understanding your relationship to the line of scrimmage on any given play. Jones manifests in his gap just fine here, but continues to creep upfield to get around this block, rather than simply hold the point and fend off the blocker. Look at the rushing lane he creates (that isn't exploited thanks to his teammates) by getting too deep in the backfield and failing to stay square to the line of scrimmage.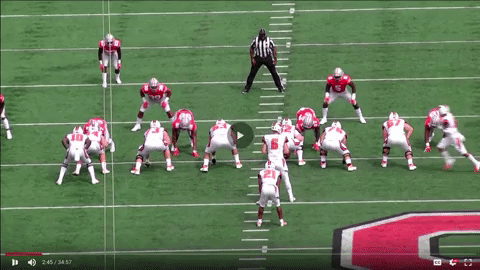 I have a handful of plays from every game cut of him struggling with the basics of his position in run defense, which leads us to the quandary in his evaluation: can we really value a guy with this level of liability against the run in the first round?
It's a fascinating question, especially because Jones isn't even on the caliber of someone like Quinnen Williams or Jeffery Simmons as a pass rusher in every game. Against Michigan he saw a ton of double teams on passing plays due to their love for max protection, failing to make a dent as a rusher in that game. More success was found against Penn State and TCU and of course Oregon State, and I have no doubt he can become a very strong long/late downs interior rusher in the NFL.
The question then becomes, are you willing to spend a first round pick on a guy who needs some work but could have a nice impact on the most important downs of a game, while potentially never becoming a desirable three-down player who makes an impact on a snap-to-snap basis?
The dichotomy in Jones' skill set is real, and it will be hotly debated over the coming months as he looks to be one of the more polarizing players in the 2019 NFL Draft class.