The game of football is often centered around individual performances. There are so many pieces that go into the puzzle of winning that people who are casual fans of the game just want to know the highlights. They want to know how the main players performed and that's it. But we know that there is often many moving parts around a team's star player or a star performance that ultimately makes it happen.
That scenario is exactly what happened with me when I went to check up on Boston College defensive end Zach Allen. Allen was getting first round hype going into the season. At 6-foot-5, 285 pounds, BC's senior defensive end was poised for a big final year after recording double digit tackles for loss in each of the past two seasons.
As I was looking for some things to write about this week, I thought to myself, "I wonder how Zach Allen has been doing." I was thinking that I would maybe be able to find a performance he's had in the last three weeks that I could dive deep into and get a good grip on how he's performed so far this season. As I pulled up the stat sheet for Boston College, to my surprise, it wasn't the senior star Allen leading his team in sacks, it was actually his teammate, Wyatt Ray, who not only leads the Eagles in sacks, but leads the entire country in sacks, as well.
With stats that require you to say "he has more sacks than Nick Bosa," that made me want to jump into the tape and see what Boston College really has on their hands with this Wyatt Ray fella.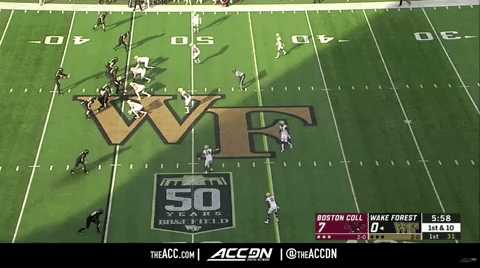 OK, OK, a nice little sack off a stunt move there from Ray.
Ray (No. 11), is a 6-foot-3, 255-pound senior defensive end. He's never had the production he'll finish with from this season, and yes I can safely say that even three games in. In just three games, he already has a career high in sacks with five.
Ray showed some nice burst on the play above. He definitely kicked it into another gear when he saw he had a chance at the quarterback, and made a nice little arm rip move with ease to get up the middle.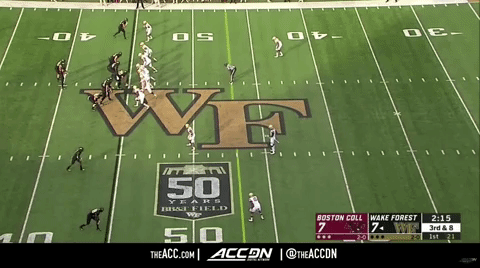 Here's another play very similar to the one that ended in a sack. In the play directly above, Ray once again came up the middle on a stunt, but this time from a stand-up linebacker position. Boston College will do this every now and then with both Ray and Allen.
Ray couldn't get home that time, but you once again saw the nice arm move to keep himself free of blockers as he went up the middle. A little detail of his pass rushing game to keep in mind -- he's pretty active and fast with his arms and hands.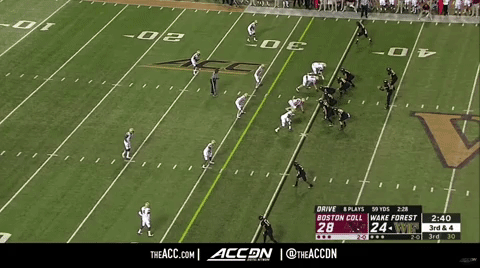 When it comes to getting off blocks, Ray is adequate at it with rip strength, but he's just a tad slow to do it, if you ask me.
In the play above, I thought he showed good technique to get his hands up and into the offensive lineman. His arms were fully extended so he could maintain control, and he watched where the running back was going. However, the reaction to fill the hole was just a little slow. I do want to point out, though, that Ray did his specific job well, as it was his job to set the edge and funnel the running back inside to where he knew he had help.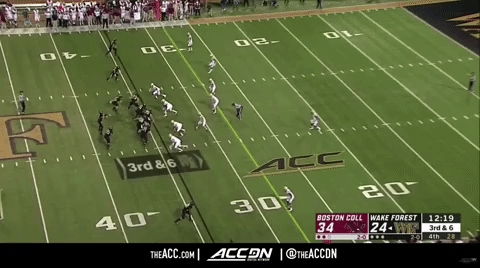 Ray had a similar rep later in the game and looked even better than he did on the previous one. He was quick to set the edge once again. He maintained leverage with his hand placement, and this time was able to rip off his block even quicker than before and got the tackle himself.
Overall I liked the run stopping ability I saw from Ray. He was pretty in control.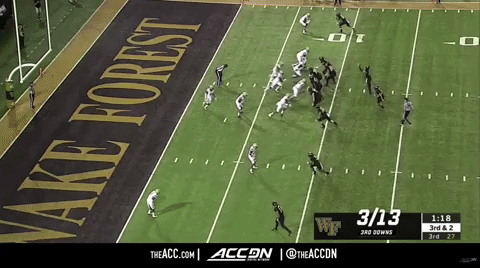 I wanted to use this play as an example to show that Ray has that straight line speed.
Yes, I realize he was unblocked on this play, but the speed at which he came screaming into the quarterback's presence almost led to a forced fumble on a play that was designed that way. If it's moving up the field, Ray can do that with nice burst and nice top-end speed once he gets going. He's definitely a good athlete when you get him in a certain direction.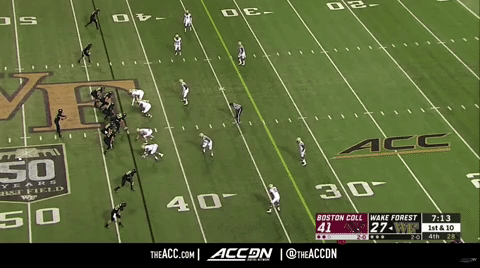 Alright let's get into some of the sacks.
When BC went up big late in the game, they let both Allen and Ray pin their ears back and just rush the edge and, boy, did that pay off for Ray.
In the sack above, which was one of his four sacks that game, Ray took advantage of the right tackle's bad approach to the block. The offensive lineman had his feet too close to even with a straight line at the line of scrimmage, and all Ray knew he had to do was beat him around the corner, fight away the lineman's hands and give himself the chance to turn into the quarterback at the back of the pocket.
That's exactly what happened.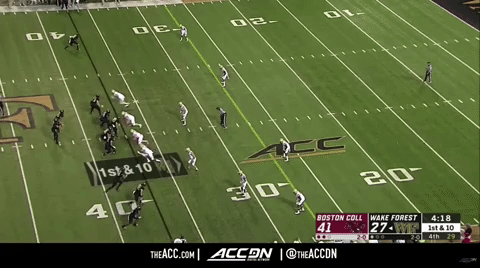 Whew buddy. I don't know if that right tackle was just having a bad day, isn't very good or if Ray really is all that, but that snatch move by Ray was NASTY.
It appeared that Ray initially wanted to just bull rush the offensive lineman, but when he got a few steps in, he seamlessly transitioned to an out-stretched outside arm for the stab and snatch. Really impressive, if you ask me.
With already three sacks under his belt that game, by the time we reached the late fourth quarter, Ray was just oozing with confidence, and you saw the best of him off the edge because of it.
With nothing holding him back in terms of gap assignments for potential run fits, Ray flew off the edge at the snap, in the play above, threw off the offensive lineman's arms, dipped and got his arm underneath the shoulder to rip free and flew into the quarterback in less than three seconds.
This kid can really play, and I'm excited to watch him against better competition as the season goes on.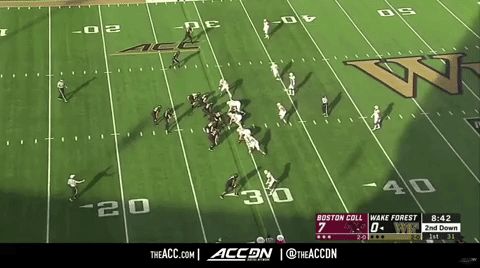 Though Ray was the show stopper against Wake Forrest, Allen did do his standard Allen things that weekend, too, he just didn't record many stats.
In the play above, Allen was coming off the edge at the top of your screen. You like the ability to turn parallel with the line of scrimmage for the stop at the line. My concern with Allen has always been change of direction and quick turns, as he is 6-foot-5, 285 pounds.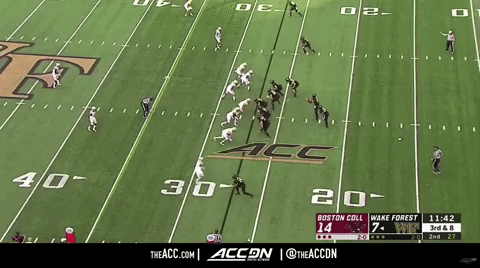 But when you get Allen moving, he's like a runaway train at that size. He has a relentless motor, and can really move in a straight line with speed and force. He might be more of a hybrid edge player in the sense that he's either a 4-3 defensive end or a 3-4 defensive end, where Ray is more of a hybrid 4-3 defensive end or a 3-4 outside linebacker, but both are getting it done in their own ways so far this season.
Zach Allen got all the hype going into the season as the edge player to watch for the BC Eagles, but three games in and Allen's name isn't the one at the top of college football's sack list.
It's Wyatt Ray's, and his presence, along with Allen's, gives the Eagles a Super Sack Bros. duo up at Boston College.