Every so often we as NFL Draft fans will get a prospect that we can see the success of from a mile away. They'll come into the draft process with great tape behind them and perform great at their combine or pro day works to just add to the faith you had in them and where they should be selected.
I believe we use the label "generational talent" too loosely, especially as of late, but when edge pass rusher Myles Garrett was coming through the 2017 NFL Draft, those who didn't overthink the heck out of it knew this was the type of player you just don't see very often.
After being selected No. 1 overall last year, the beginning of Garrett's NFL career didn't go according to plan. A high ankle spring in early September caused him to miss the first four games of the season. When Garrett did make it on to the field, however, he was as good as advertised with four sacks in his first three games. But, injuries continued to nag Garrett throughout his rookie season, including a concussion. Garrett only played in 10 games for the Browns last year, but still led the team in sacks with seven.
This year the Browns are certainly hoping for some better luck with health when it comes to Garrett, and on Thursday night in their dress rehearsal game against the Philadelphia Eagles, Garrett showed us that if he plays an entire season, he's going to be a big problem for opposing offensive lines.
Garrett made his presence known early in Thursday night's preseason contest with all kinds of pressure off the edge. His burst off the snap and ability to turn speed into power proved to be difficult to block, and plays like the one above were just the beginning of how effective he was at disrupting the pocket.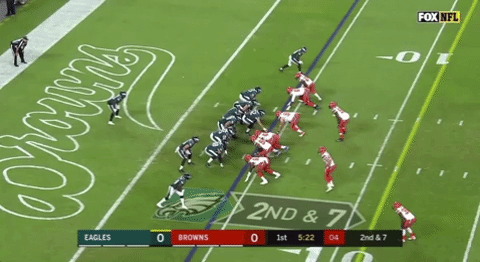 Garrett had two sacks in Thursday night's game, one of which went for a safety, as shown above.
Yes, Foles did slip, but even if he didn't Garrett's power on the inside move would have put him right in stride to where Foles was rolling out to on the play action and that play would have likely been a sack anyways.
Garrett showed on that play that he's a handful going inside or out, which allows the Browns to be versatile in how they direct him getting pressure -- chaos is key for collapsing a pocket.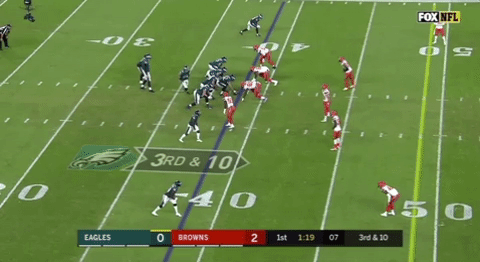 Goodness gracious.
In the clip above, Garrett put a giant grown man on skates like he was a D-III player. Coming from a stand-up position, Garrett was still able to get leverage while maintaining and accelerating his speed, and for a 6-foot-5, 275-pound man that is not seen very often. There was no getting in the way of Garrett when he used his bull rush on Thursday night.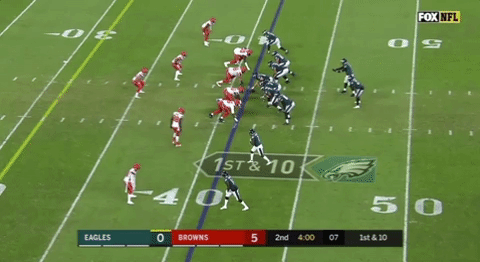 Speed, power, sacks -- easy as that.
When we talk about players that have the potential to be "generational" what you want to see are plays like the one above where Garrett just makes opposing offensive linemen look helpless. Garrett had speed off the snap and to the corner, he had power when engaging the block, he had the leg drive that just didn't quit, and he ended up straight throwing that guy off of him like a rag doll and getting to Foles for the sack. Every step of the way, Garrett was imposing his will.
Garrett was basically unblockable on Thursday night, and don't expect that to change come Week 1 and beyond.