You know what, I like first games. Some people don't, but I do, especially for evaluating prospects. Now, you don't want to let yourself get carried away; view a player early on and not allow your mind to hurdle over initial thoughts, if things drastically change as the season goes on. However, seeing a player pick up a football in-game for the first time in months and seeing how they perform gives you a sense of how natural they might be to pressure and the game itself, I feel.
Michigan State quarterback Brian Lewerke certainly has the first few cars and a handful of necessary conductors needed to get a hype train started as we usher in this year's college football season. In his first season as a starter last year, he threw for 2,793 yards with 20 touchdowns and seven interceptions. His stats weren't overly impressive, but the reason he's getting some draft hype already here at the tail end of the summer is just how he went about accumulating those numbers.
Lewerke -- and the reason why I really wanted to see how he did in his first game of the season -- seems like a natural. He throws unorthodox and touch passes without hesitation in a demeanor that is almost expected as he makes some of the game's most difficult throws.
Against Utah State, in his Spartans' season opener on Friday night, Lewerke threw for 287 yards with two touchdowns and one interception. But, as will be the case with most of his evaluation, specifically how he got those numbers matters.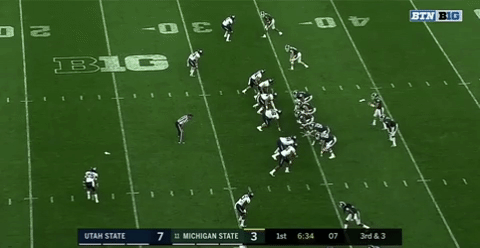 *kisses finger tips like a chef*
Ah, there it is, there it is.
To see the throw above from Lewerke that early in the game was ideal. Lewerke made a living last year off touch throws that required a crazy amount of anticipation, and that was exactly what the throw above was. Touch is so difficult to teach a quarertback if you don't see it early on in their career. Not only do we see it with Lewerke, he's very confident in it.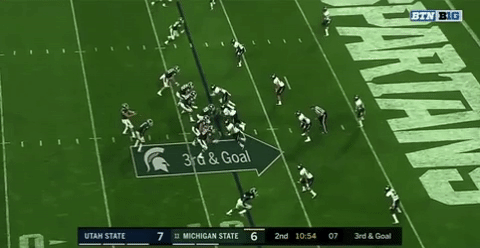 On Lewerke's first touchdown on the game, well, for one his blocking was so good I feel like you or me could have eventually found the receiver in the back of the end zone. However, I'll say it was a good job by him to eventually scan the field and find the open man within the zone coverage.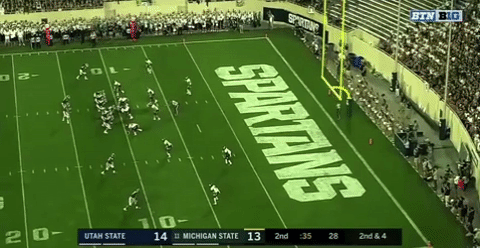 Alright, there's a lot to tell on this play, so keep up.
First of all, Lewerke showed nice pocket presence to not only get away from the defender, but subtly climb the pocket before he drastically had to move to avoid the edge rusher entirely. A small detail, but I liked it.
Second, what a risky throw that was. Something I really like in my QB1, Deondre Francois, is that he's fearless when he throws. Lewerke is, too, and that's why he's also a Top 30 guy for me right now. The things I see in him that I like, I like a lot.
Finally, Lewerke illustrated a skill that is even tougher to task and even more detailed than just say throwing with touch, and that is throwing to a spot. Most quarterbacks see a wide receiver, see where they might be open, judge their speed and focus on hitting them. Lewerke sees those things and tries to hit a spot. It's a subtle difference, but I think it's a more advanced form of passing.
Lewerke didn't throw that pass above to the receiver. He threw it to a spot he knew the play would be successful, and if it wasn't, it would be incomplete at worst. If he would have thrown it to the receiver, he would have likely thrown it high and therefore might have given the defender a better chance to knock it away or recover. Instead he aimed for a spot, knowing that it was his guy that would get it or no one.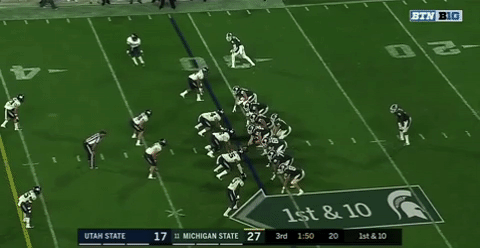 You take the good and you take the bad. You like when Lewerke throws with touch and precision as his main attributed (as opposed to gunning passes in there at one million miles an hour), but anytime you do that you give defenders a better chance at it, too.
It's a give and take for Lewerke's style, so you're going to see plays like the one above every now and then. He just can't throw those as much.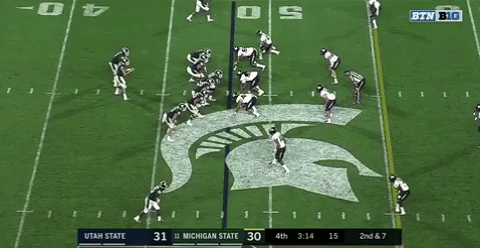 Man, that is just a sexy throw. The scanning of the field, the rollout, and guess what, the throw to the spot.
In his first game of 2018, Lewerke showed many of the same skills that were alluring about him last season. In his second year as a starter, we're hoping to see a season full of the same, and an even better awareness of potential turnovers, limiting them and potentially being one of the best draft-eligible quarterbacks in the country by boasting positive traits not many in the class seem to have.