Do you ever wonder why some people don't like moving? I'm sure some of the reason is because of all the stress that comes with packing -- but perhaps that's your own fault, you procrastinators out there. Even though there is certainly an excitement about a new place, there's always a hint of uneasiness, too.
Why? It's about comfort -- or lack thereof during a move to something new.
For NFL draftees, the experience of being drafted to a new team in a new city with new coaches and new people around you could bring up both the excitement and uneasiness that also comes with a move. People are confident when they're comfortable, and with that in mind, when there is a rift in a sense of comfort, sometimes people (players) won't be as confident as you know they can be. For players, that often affects early performance.
For Atlanta Falcons wide receiver Calvin Ridley, he already looks comfortable in his new home.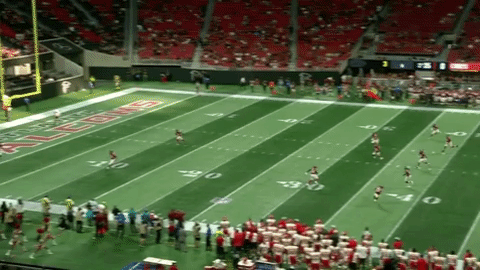 Atlanta, and Mercedes-Benz Stadium, to be exact, isn't unfamiliar to Ridley. The last time he was in that building he won a National Championship with Alabama.
With that in mind, from the first kick off of the game, Ridley looked comfortable, adjusting his path, stiff arming a defender and getting his team good field position in more ways that just the receiving game.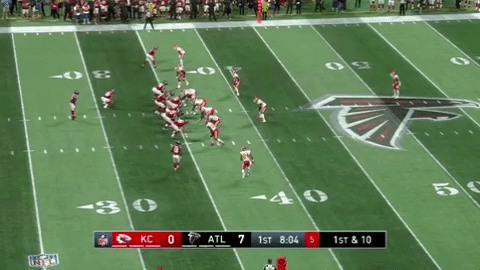 It didn't take long for Ridley to get comfortable enough to be heavily involved in the passing game, either.
Falcons wide receiver Julio Jones sat out this week's contest against the Kansas City Chiefs due to the fact that there is no need for one of the best players in the NFL to risk injury like that. This led us to question how much a player like Ridley would step into Jones' role in his absence.
Right off the bat we saw the Falcons were not afraid to go to the rookie out of Alabama early and often. On the first play of the game, they threw the ball to Ridley (though it was incomplete). On their second drive, quarterback Matt Ryan connected deep with Ridley in the clip you see above.
Ridley got open on that route in the exact ways he got open at Alabama, and anytime you can see the traits you boasted in a player you were high on this soon into their career, that means they're comfortable -- and that's a good sign towards achieving potential.
Ridley's first big catch above came in motion, with smooth steps off the line of scrimmage to eat the space between he and the defender, and then with one powerful foot in the ground he cut his veer to the outside into a skinny post-type path to separate from the cornerback.
That's vintage Ridley.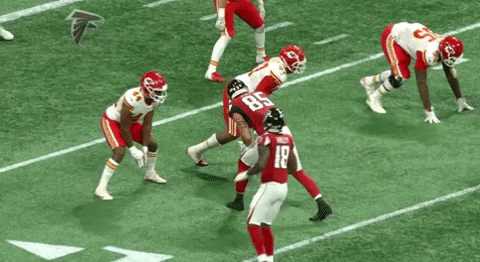 Ridley also scored his first touchdown against the Chiefs that night, and he did so by finding the soft spot in zone coverage.
Ridley was one of the oldest prospects in the 2018 NFL Draft class, and many lowered him on their rankings because of that.
That was silly.
The average shelf life of an NFL player is so low that you can't expect to get 10 years out of every player. Now, is it always better to see younger players dominating their competition at the college level? Yes, of course. But, Ridley not only dominated his competition while at Alabama, he showed savviness for the game and was advanced in his technique/route running. Those are learning curve things that sometimes take years to master in the NFL. Ridley doesn't need those years to learn; he'll already be producing.
It's always fun to get a glimpse of what we thought a prospect can be early on in their first preseason. For Ridley, we hope this is just the beginning, and if it is, the Falcons might have the best receiving corps in the NFL -- as Ridley plays a big role.