Potential is a dangerous things -- in belief and in production. You never know how it's going to turn out. You can watch a player, even going all the way back to high school, and see the flashes of what might be. But you may end up holding on to hope for an entire football career, as you observe them, never really seeing what you hoped you'd see in the end.
For a while, I wondered if that would be Florida Gators EDGE rusher Jachai Polite.
As someone who watches every Florida Gators game, since Polite first got on campus, he was a guy who I continued rooted for to reach his potential. He's a fun player to watch, he enjoys the game, he talks some trash, he backs it up. Heck, his twitter handle is even @RetireMoms, emphasizing the reason why he plays the game -- how can you not love that?
Early on in his career, Polite made his mark with a motor that just wouldn't quit. He would be making tackles five, six or seven seconds into a play, sometimes 20 or 30 yards down the field, if that's what it took. He worked hard, and that was a good place to start. However, though the effort was there, he was still raw as a pass rusher. As his playing time increased, his production slightly did as well. He had two sacks in each of his first two years, but went from 3.5 tackles for loss to 5.5 from his freshman to sophomore year. It was a nice jump, and I saw a little more of the flashes, but I was still waiting for that next step to be taken, knowing he had the intangibles around it. If he could, I had seen the ground work of a player who could be something special.
Fast forward to this year and not only did Polite take another jump towards his potential, he took a giant leap. In five games, Polite already has 6.5 tackles for loss and four sacks. At that pace, he'll end the season with double digits in both categories.
Not only is he taking college offensive linemen by storm, he's taking the scouting world by storm, too, and it's in the ways he wins at the line of scrimmage that surely now have him on the radar of many scouts and teams around the NFL.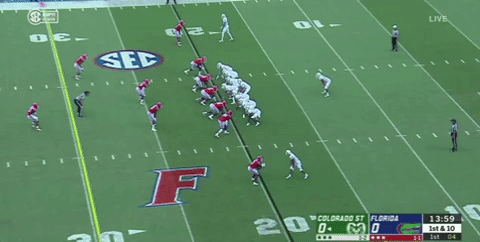 First and foremost Polite is not a liability on the edge, even though he is labeled a pass rush specialist. At 6-foot-2, 260 pounds, he's on the lighter side for a player you would consistently put on the edge, but I think he does plenty well still setting the edge at that size. He doesn't get handled and can often stand his ground, even against bigger linemen.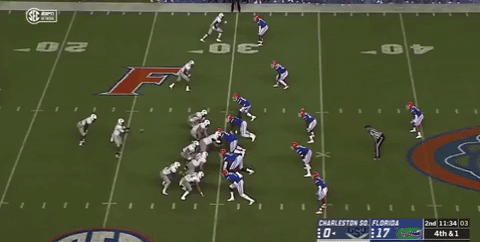 He's smart when defending the run, even when rushing attacks get complex. Polite has a rare combination of both effort and discipline. He's a player who can go all out and burst for the ball, but he doesn't let it become a problem -- he doesn't guess. Polite is smart and skilled, in that regard.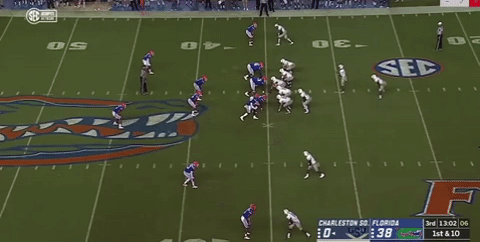 The clip above is another example of how Polite is sound at defending the edge and the run. But something else I wanted to point out was the fact that Polite constantly keeps his eyes on the ball and in the backfield, and it's almost nothing for him to get by blocks/players in motion. Polite can make moves to get off guys or brush them to the side without even having to focus everything on them, and that's not always the case with edge players. Some players would fully try to engage that blocker, but Polite had bigger fish to try. Just a little detail in how he operates that you'll notice more going forward. Polite always seems to think big picture and biggest impact, not just a singular responsibility.
Alright let's get to the good stuff.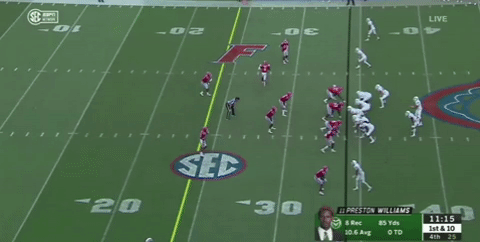 Polite is having a fantastic year in terms of flashing NFL potential, and plays like the one above are the reason why.
Polite is so explosive off the edge from that stand-up position. He does most of his best work from that 2-point stance, and he just seems so comfortable going from 0-60 and around the edge. The difference between Polite this year and years past is that now, when he gets the edge advantage with his speed, he knows the technique to plant, dip, rip and move into the quarterback all without losing momentum. This has resulted in backfield stats.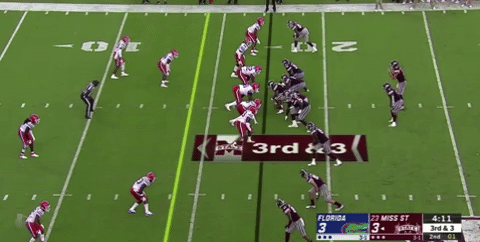 If you don't plan for speed as an offensive tackle, Polite will cook you; he's that explosive with his first step. His elite first step quickness allows him to get even and beyond offensive linemen, and his ankle mobility allows him to bend his body around corners at the edge of the pocket and, as stated before, collapse on the quarterback without losing moment. That is truly an elite combination of natural (even biological) pass rushing traits that many do not have.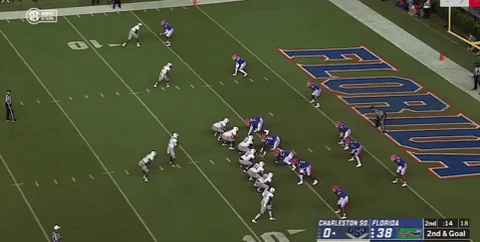 To me, though, what makes Polite one of the top edge rushers in this class is how he's the total package. He has the burst and the bend, but even around that, he's savvy with how he weaves his way in between blockers on the interior and when being double teamed, he has a motor that is tough to find for defensive linemen, and he's constantly doing the little things to make the best play possible.
Take the play above, for example. Polite didn't get home to the quarterback, but instead of just running at him and going for the sack he knew he wouldn't get, he had his hands up and batted that pass down. That skill and smarts.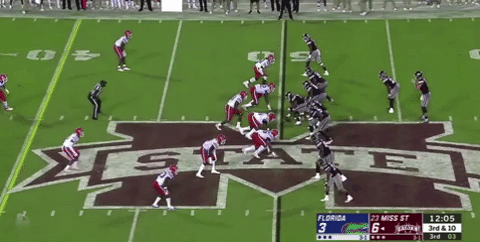 This may seem like a "duh" moment, but you'd be shocked how often this isn't the case with many defensive players.
Polite does whatever he can to affect the ball. If he knows he won't get there in time, he'll put his hands up to bat the pass down. If he's getting in there right as the ball is being thrown, he'll extend his arm to try to either affect the pass or force the fumble. He's always thinking of the best way to attack the ball itself to yield the best result for his defense. He's constantly thinking about best case scenario and you can see that in the way he plays.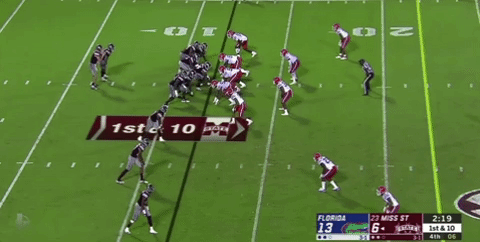 Polite is just a true junior, and this is really his first year as a focal point pass rusher on the Gators defense. So far he's more than living up to that responsibility, and perhaps his ceiling is even higher than I thought.
There are still things he can do better. He can expand his pass rush moves arsenal and he can hone in a bit more on the technique he already shows to make it even more difficult to stop. But, as of right now, all of those things are teachable. The things that aren't -- bend, effort, IQ, etc. -- all of that is already well on display.
In an edge rush class that is still sorting itself out behind Ohio State's Nick Bosa, keep Polite's name in your mind.
It might be a name you hear on Day 1 of the draft, as his road to Retire Moms continues to travel to new heights.