What made you get into sports? For me, it was the activity. I certainly liked running around and being active as a kid. But what motivated me after I got started was to be better -- to be the best. It was about outsmarting you, being faster than you, winning the game. As I grew older, it wasn't even about winning; it became a competition of just how I was winning. It was about the game-winning moment, the play of the day, the "oh my goodness you might as well just retire after the move I put on you."
Illinois running back Reggie Corbin seems to still be living in that phase, and the reason why is because he continues to do it so often, even as his competition has elevated with age.
Corbin isn't a big name in this year's draft class or in college football in general, but he should be. The 5-foot-10, 200-pound junior tailback has 952 yards on 105 carries with nine touchdowns in this, his first year as the starting running back. Of running backs who have at least 100 carries, only one back averages more yards per touch than Corbin and that is Memphis' Darrell Henderson -- considered to be RB1, by some. That means Corbin is averaging more yards per carry than Wisconsin's Jonathan Taylor, Utah's Zack Moss and, yes, even Clemson's Travis Etienne.
So what makes Reggie Corbin a player who picks up a first down nearly every time he touches the ball (on average)? Let's take a look.
GOODNESS GRACIOUS.
WHAT.
WHY DIDN'T Y'ALL TELL ME ABOUT THIS PLAY?
IT HAPPENED IN LIKE SEPTEMBER.
As you can tell, Corbin's top attribute is his change of direction. In fact, it's pretty damn elite. At first, you think that his mentality to make everyone miss is going to be a downfall, but it rarely is at this level of competition, and the reason why is because he's that good at setting defenders up and making them wish they stayed home sick that game.
At first I thought, "okay, so he's literally The Flash when moving laterally, but I bet the reason I haven't heard of him is because his home run speed isn't as good." It's not as good, but it is certainly good enough to pair with his agility, especially at his size.
Corbin also seems to use his agility in more ways than just making defenders miss. He also shows explosive short-area quickness when navigating the line of scrimmage to find running lanes. That's using a talent in a complete way.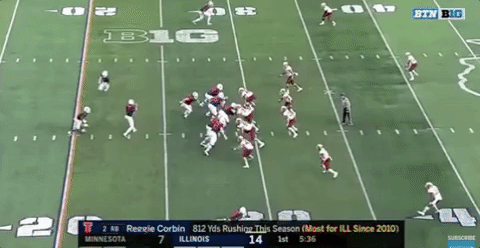 In Corbin's most recent game, he rushed for 213 yards on 13 carries against Minnesota. That game was the best he's had this season (obviously). In it, he put together a 3-course meal of his skillset and overwhelmed the Minnesota defenders.
My favorite style or nuance of the running back position that Corbin displays on a regular basis is setting defenders up to get juked, as seen in the two clips directly above. If you'll notice, Corbin doesn't just get by players, he makes them look absolutely helpless in the moments before he puts his foot in the ground to go either way.
You can truly see the cries for help in the moments the defenders go flat-footed, and if you look closely, you can see their soul leave their body as Corbin blows by them.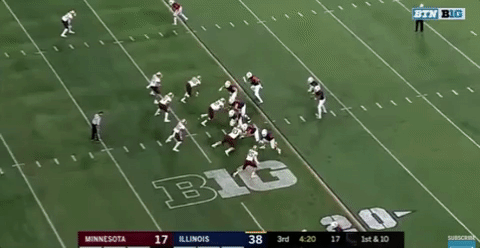 It looked like Corbin's running lanes were wide open against Minnesota, but honestly, he did as much work opening those lanes as Minnesota did by playing poor defense. Corbin creates space out of nowhere by working against the flow of plays. He beats players to space and can make his body go where defenders don't even think about going because of how much better Corbin is at changing his direction.
Corbin isn't getting much hype right now, and so if this is the first you're hearing of him, let it be a baseline for a player who can really make a difference, and is already doing so for his team. Any time you have a prospect who possesses a truly elite trait -- arm strength for quarterbacks, bend for pass rushers, etc. -- you have to take notice.
Corbin has been put on notice. Just make sure you don't blink. You might miss him.