When Arizona Cardinals' new head coach Steve Wilks said, "we're going to be aggressive in our approach in getting a quarterback" at the NFL Scouting Combine last February, when they signed both Sam Bradford and Mike Glennon just a month later, we thought that meant they were likely out of the quarterback market when it came to the first round of the NFL draft.
It turned out we underestimated just how aggressive the Cardinals planned to be.
Still, even after selecting UCLA quarterback Josh Rosen No. 10 overall in the 2018 NFL Draft, Bradford and Glennon were still on the roster, and the question then became how quickly (or not quickly) we would see the star passer from UCLA climb the depth chart.
Rosen made his NFL debut last week in the team's 24-17 win over the Los Angeles Chargers, going 6-for-13 passing with 41 yards after playing all but one series in the first half. Following his first NFL action, this is what his coach had to say.
"There's a lot of things he's going to be able to learn and grow from off this first game, watching the tape," Wilks said. "We expect him to get better, along with myself and everybody else."
My, what one week of time can do with the taste of NFL action now in your mouth.
This week, Rosen and his team were once again victorious, and Rosen's piece of that victory was bigger and better. Rosen went 10-for-16 with 107 yards, which included a touchdown to rookie wide receiver Christian Kirk, in his team's 20-15 victory over New Orleans on Friday night.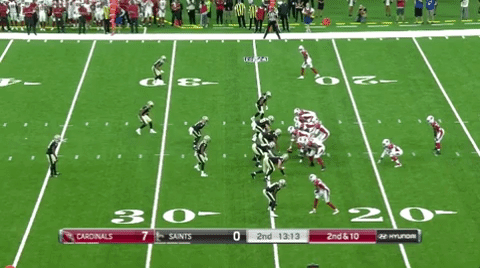 Rosen played the entire second half for the Cardinals on Friday night, and right off the bat you saw him take charge of the pocket.
Sometimes you'll notice young prospects turning into NFL players be scared of chaos, and no place is that more prevalent than in the trenches. When you see a rookie quarterback not be afraid to step up and climb a pocket to step into a throw (that they hit perfectly), that's a good sign for growth due to how they correctly deal with pressure coming at them.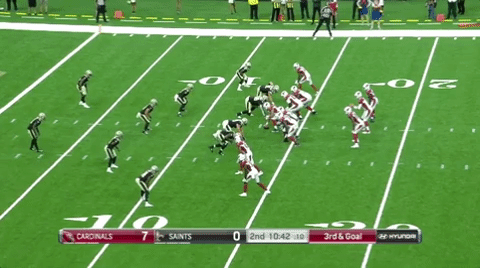 We talked about this in our Rookie Rewind of Atlanta Falcons wide receiver Calvin Ridley, but being comfortable is important towards playing your best.
After the Cardinals' offensive line gave Rosen some worries last week, he showed no carryover in being hesitant to trust them, and instead navigated better pockets this week to hit throws like the one you saw above.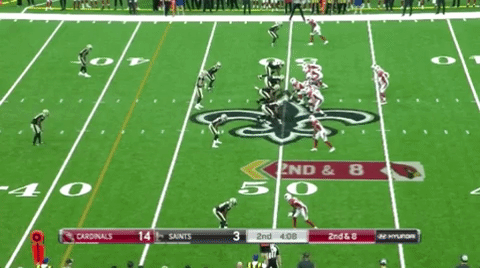 But, even on plays where the Saints' defensive line did get the better of one or more of the Cardinals' offensive linemen, Rosen's ability to feel and handle pressure without directly looking at it showed up in Friday night's preseason game.
This was one of Rosen's best traits during his time at UCLA, and the reason why many loved him as a quarterback. His ability to stay calm and collected, delivering passes right where they needed to go with pressure in his face is a trait worth getting behind as a coach and a franchise.
The saying goes "no pressure, no diamonds." The Cardinals know there's going to be plenty of pressure as they try to build a winner in the NFC West. But glimpses like the ones we saw on Friday help them believe they already have the diamond to get it done in Rosen.