Well, that was almost perfect.
Cleveland Browns' fans couldn't have dreamt up a better start for their future franchise quarterback, as Baker Mayfield looked extremely comfortable in his first preseason action, moving well in the pocket and throwing accurately all night long. The quarterback finished 11-20 for 212 yards and two touchdowns, including this perfectly-placed dart on the slant route to Antonio Callaway.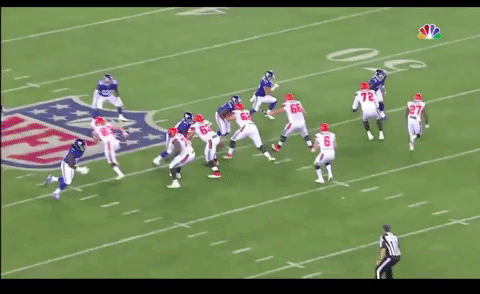 The slight hesitation to wait for the buzzing linebacker to clear to the flat in order to make the throw more ideal was veteran-level stuff from Mayfield. You can't place that pass better against tight coverage than the rookie did there, leading Antonio Callaway into a yards-after-catch opportunity that resulted in a touchdown.
If Leonard Johnson had tackled Callaway here, we probably wouldn't be talking about this throw very much. Sadly, we're mostly a results-based industry waiting for the next splash play. But throws like this are what quarterbacking is all about: accuracy, ball placement for YAC, attention to detail, maximizing the players around you by giving them opportunities to be great. I'll take this over 65-yard bombs across the body to the opposite corner of the EZ followed by five wild throws any day of the week.
This was Mayfield's night, and it was well-deserved. He wasn't perfect, and of course there will be things to work on. But he looked far more pro-ready than Josh Allen or Lamar Jackson did. That was expected, and it could be hard to keep him on the bench if he keeps playing like this.
For notes on Tampa Bay-Miami, New Orleans-Jacksonville, Houston-Kansas City, Cincinnati-Chicago, Los Angeles Rams-Baltimore and Seattle-Indianapolis, check out Trevor Sikkema's recap and analysis right here.
In the meantime, I've got scouting thoughts on New England-Washington, Carolina-Buffalo, Cleveland-New York Giants, Pittsburgh-Philadelphia, Tennessee-Green Bay and Dallas-San Francisco.
---
Antonio Callaway, WR, Cleveland Browns
It was a rough night for Callaway, until the aforementioned catch-and-run gave him some redemption. He dropped a screen pass from Mayfield in the second quarter, then failed to come up with a well-placed vertical shot that he seemed to lose track of in the air. The rookie's two-point conversion pass was outside Callaway's frame, but he got both hands on it and should have reeled it in.
Then later in the game, Mayfield threw a gorgeous strike on the move right down the sideline to Callaway, who showed excellent body control to get two feet down, but couldn't control a perfectly-placed pass all the way to the ground. Officials overturned the incomplete pass ruling despite the fact that the ball clearly hit the ground while moving in his hands (what is a catch? we still don't know). That's four balls (technically three) he should have come up with and didn't. Not an ideal start to the preseason for Callaway, especially when coupled with his latest legal trouble.
Nick Chubb, RB, Cleveland Browns
It's a good thing Mayfield was great last night, because Chubb was equally as disappointing. Yes, there wasn't a ton of space to run, but he clearly lacked burst and elusiveness on perimeter runs, and even tried to bounce outside once or twice when he clearly should have taken what he could.
15 carries for 11 yards is an awful night. What was most disappointing was Chubb's inability to break many tackles or create after contact, which was his college calling card. He didn't even look confident as a runner, which was something I never thought I would see.
Chubb did make one nice play as a receiver, on an angle route out of the backfield. That was nice to see, considering how seldom he was used as a pass catcher in college. It's just one game, and my opinion on Chubb remains high. He'll bounce back and hopefully get more confident moving forward. Better blocking will help too.
Saquon Barkley, RB, New York Giants
Barkley also didn't receive great blocking, but on the play that he did, he ripped off a 39-yard run on his first ever carry. The vision he showed to find the backside gap and then the elusiveness in space were both impressive.
Barkley's issue has always been decision-making and physicality. Both of those are still pretty questionable after last night, but I thought he played well in his NFL debut. He may never be the most consistent back, but if he can create splash plays like he did on his first carry, no one will care.
Denzel Ward, CB, Cleveland Browns
Ward missed two tackles (one he didn't attempt and should have) on Barkley in run support, but he was in the right position both times. In coverage he came up with a big stick in the middle of the field, just missed a PBU and crunched a receiver with another huge hit.
Then he got a flag for taunting. Love it. He's gonna be a good one, but I wouldn't expect him to look elite as a rookie, like Marshon Lattimore and Tre White did.
Will Hernandez, IOL, New York Giants
Pat Shurmur's zone scheme is going to be interesting for Hernandez. He has the movement skills to reach more athletic players, but the footwork and hand placement is still coming along. I certainly would not consider it an ideal fit for him right away, and that much was obvious Thursday night. He struggled a lot.
But offensive line might be the hardest position in the league to come in and play well right away. NFL defensive lines are overflowing with talent. Hernandez will get there.
Austin Corbett, LG, Cleveland Browns
I thought Corbett was pretty solid for his first NFL action. There were some things you'd like to see him do better, but he worked extremely hard, had some nice reach blocks and was a presence on some pulls. There are some pass protection things that will need work, but I thought Corbett was better than Hernandez in their first time out.
Josh Allen, QB, Buffalo Bills
It was a mixed bag of results for Allen, which was expected. The biggest positive was that he didn't make a costly mistake and protected the ball for the most part. Yes, there were times when pocket movement was abysmal, and if he'd been playing starters things probably would have gone a lot worse based on his process. He was also woefully off the mark on several deep throws, missing open receivers.
But Allen settled in and made some plays late. His arm is truly remarkable, and it will help him fit some throws in that would be ill-advised for other quarterbacks to even attempt. I didn't see anything from this game that would help his case to start right away, but he didn't destroy his chances for the job either.
D.J Moore, WR, Carolina Panthers
I didn't see a ton of Moore, but I did see one nifty play after the catch and one nice adjustment to a horribly thrown vertical ball. He finished the night with four catches for 75 yards, showing all the traits that got Carolina excited about drafting him.
Harrison Phillips, IDL, Buffalo Bills
Phillips ran through a backup guard for a sack late in the first half, showing off his power and relentless drive. He hustled all over the field Thursday night, but was mostly a non-factor at the point of attack. Recognizing blocking schemes is still one of his biggest issues, as he gets caught flat-footed constantly vs reach blocks.
Will he be a fan favorite though? Probably, yes.
Terrell Edmunds, S, Pittsburgh Steelers
I wish there were more takeaways from Edmunds' first NFL action, but he was in pretty basic, underneath zone coverage all game, and wasn't really targeted. The best thing about his performance is that he was under control as a tackler, wrapping up well and getting his target on the ground.
The Steelers mostly played him near the line of scrimmage and in the slot, which is good because it will keep things very simple for him, and keep him from taking the bad angles and making the mistakes in coverage he did as a deep safety in college. The bad news is the team still doesn't have a free safety, but that isn't Edmunds problem.
Dallas Goedert, TE, Philadelphia Eagles
On one hand Goedert ran through empty space in the Steelers secondary all night, so he didn't have to do anything special on his way to four catches for 66 yards and a touchdown. But he did show good attention to detail, looked athletic as a route runner and bounced back after his one drop. The Eagles are gonna scheme him ways to get the ball, and it's going to be scary to watch.
Mason Rudolph, QB, Pittsburgh Steelers
Rudolph's lack of arm strength was noticeable when tried to drive the ball, but he didn't make any dumb decisions in the parts of his performance I saw. His biggest splash play came on a YOLO ball to James Washington, which was just a case of him giving his receiver a shot on a dead play. Rudolph's pocket presence was skittish and he was too loose with the ball however, fumbling on one scramble and fumbling a snap.
James Washington, WR, Pittsburgh Steelers
Very good night for Washington. Two catches for 44 yards, one a leaping contested grab over an Eagles' corner. If he can win in the air and win vertically, that's all Pittsburgh needs him to do.
Harold Landry, EDGE, Tennessee Titans
If Landry isn't starting for Tennessee early in the year, he'll at least be a heavy part of the rotation. He has rare burst and bend, as evidenced on his strip sack of Brett Hundley. So many teams will kick themselves that they let him fall out of the first round.
Derrius Guice, RB, Washington Redskins
Guice was decisive, powerful and consistently created yards after contact. Washington ran him mostly into loaded boxes out of heavy personnel looks, and his 34-yard run was called back due to a hold. It was a great start for Guice as a runner, but the best part was that he appears to be ok after suffering a knee injury.
Joshua Jackson, CB, Green Bay Packers
Jackson's press technique is still a mess, and I'm going to have a hard time buying into him being an impact player this season because of how much technical work he needs. He got beat a few times, including Taywan Taylor spinning him like a top in his release early in the game, but Jackson was always going to be a project in a press man scheme.
He did have good coverage on Tajae Sharpe on one slot fade route, and his length and size are going to be a factor if he figures out the finer points of the position.
Michael Gallup, WR, Dallas Cowboys
Nice start for Gallup in Dallas! He got vertical early in the game, hauling in a 30-yard touchdown from Dak Prescott to establish some chemistry with the starting quarterback. Prescott let it fly when Gallup still looked covered too, seeming to indicate some trust there.
Mike McGlinchey, OT, San Franciso 49ers
It wasn't perfect, but 49ers fans have to be encouraged by how McGlinchey looked. The zone footwork was there, his pass sets were clean and he was physically aggressive. Blocking DeMarcus Lawrence is no easy task, but McGlinchey mirrored him up the arc beautifully on one rep, shutting down a counter move in the process.
Strike timing and body control at the second level are things to work on, but for a rookie offensive lineman, I liked what I saw from McGlinchey.
Other Player Notes: David Njoku, we are ready for your dominance...Tremaine Edmunds missed one tackle, instincts aren't there yet but boy he can move...Oren Burks was flying around for Green Bay, might not be super polished but he's gonna help them in coverage...Breeland Speaks at outside linebacker (or in the second round) still makes no sense to me..can't wait to see Derrick Nnadi out there...was hoping for a little more from Connor Williams, who got baptized by a DeForest Buckner swim move...the tools are there for Leighton Vander Esch, but he's gonna be a work in progress...Dante Pettis had to endure C.J. Beathard's struggles, but he was open a good bit Thursday night.