When you're a cornerback coming into the NFL, the height of the ceiling of your draft stock is usually determined by how you can impact the ball. You'll hear draft analysts reference "ball skills" as a major trait, and what they mean by that is they want someone who can get takeaways. You want a player who can intercept passes, force fumbles, and overall make plays when the ball is in the air.
In the 2017 college football season, no draft-eligible cornerback impacted the ball via takeaways more than Iowa's Josh Jackson. Jackson's eight interceptions last year were tops in all of college football, and that knack for making that sort of impact is why he was touted as one of the best cornerbacks in the class, and why he was eventually scooped up by the Packers with their early second round pick.
On Thursday night, in their preseason game against the Pittsburgh Steelers, the Packers already saw a glimpse of that pick paying off.
The draft process is a long one, and, at times, we who follow it closely have a tendency to find little wrinkles of traits or measureables that we may not like about a prospect and harp on it too much.
That might have been the case with Jackson.
Jackson has an upright stance out of his backpedal, he's a little bit stiff in his hips and he's not a natural when turning to run and track a wide receivers down the field. All of that was true of his scouting report.
And yet he made plays like the one we see above often.
Due to how stiff Jackson seemed to be getting low out of his backpedal and his 4.56 40-yard dash time, some saw his bigger size of 6-foot-1, 200 pounds and thought it was a waste as a player you couldn't trust much in press coverage.
But that's not Jackson's game, and that's certainly OK when you see him make plays like the one above. Jackson was an off coverage artist at Iowa. He baited quarterbacks into looking and throwing his way only to dash their hopes and dreams. He's not a player who is content with pass break ups, but rather, is starving for takeaways.
The Packers are even letting Jackson get some work in as a punt returner, knowing how comfortable he is when the ball gets into his hands.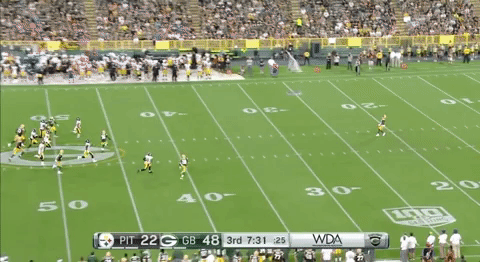 No prospect is perfect, but Josh Jackson -- and James Washington, as Jon Ledyard pointed out from this game, too -- is a reminder that the plays that impact the game the most are still more valuable than certain traits they may lack a bit (to an extent). If you can find a player who does that on a regular basis, don't let the little flaws impact a prospect's final evaluation too much.
The game of football is about plays that change the scoreboard and plays that change possession.
Josh Jackson made a play that did both on Thursday night, and it won't be the last time he does.