"After finishing his sophomore season with over 1,000 yard receiving, I thought that with Ryan Finley at quarterback, who some are touting as a first round prospect, Harmon would have an even better year in his first draft-eligible season.
That hasn't exactly happened so far.
N.C. State has only played two games due to Hurricane Florence's presence in the Carolinas, but Harmon is still only averaging 81.5 yards per game, which doesn't even put hm in the Top 50 nationally. What might be even more surprising is that Harmon as doesn't have a touchdown, either.
N.C. State's next foe is the Marshall Thundering Herd, so I'm expecting a big bounce back."
And this week, just like Tiger Woods, my thoughts surrounding Harmon now read:
He's back
As I predicted, Harmon did have a bounce back performance against Marshall with six catches for 150 yards. Oh, and, by the way, that performances moved his average well into the Top 50 in terms of yards per game.
Harmon didn't get that first touchdown of the season, but he got pretty dang close.
At 6-foot-3, 215 pounds, Harmon is a big, strong outside receiver. As you can see in the clip above, he was able to basically dictate his entire interaction with the defensive back with one arm. It's hard to not play close coverage against Harmon, because if you don't you'll never be able to disrupt him enough to affect the catch point, as he is very strong when the ball approaches. But, if you're not a technically sound press corner, pressing can be dangerous, too, as Harmon has the strength to bully you off the line and get into those smooth, long strides.
That wasn't a touchdown, but let's face it, it could have been.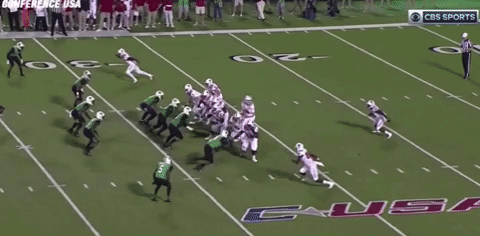 Harmon did most of his damage in the first half against Marshall, mainly with the two big catches we've highlighted above.
Harmon is a "big catch" guy. Though he's not the fastest burner down the sidelines, he's a true outside receiver in the routes that he's most comfortable with (go, fade, comeback, post), and the certain types of passes he likes thrown his way (passes that have air under them so he can go up and get it). Harmon is always looking to high-point the ball, but his execution of it is a bit funny. Harmon likes to jump for basically every sideline pass, which is a good habit, but he doesn't always time it well.
In the play above, you saw him leave his feet, but not at the timing perfect enough for him to fully extend his arms. Now, that's nit-picking by me, as Harmon still came down strong with the catch. It's not a "negative," it's just a little tendency thing I'd like to see him be more comfortable with when it comes to timing.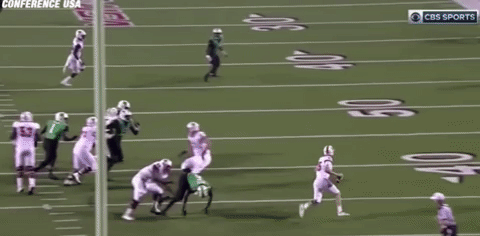 Harmon has really good body control for a receiver of his size, and that, combined with his strength, is what makes him one of the top wide receivers in the class. He may let more balls come into his chest rather than catch them with his hands than I prefer, but, again, that's just me being picky on a really good wide receiver who could be the best in the class.
Harmon displayed his abilities in full against Marshall. He showed that he could win vertically down field and off press, he showed his dominance at the catch point in the air, and he showed good body control and nice footwork at the sideline.
If you give me all those characteristics in a 6-foot-3, 215-pound wide receiver, the touchdowns and yards will come. I have no doubt about that.
Though Harmon isn't my WR1 anymore (as of right now), that's in no way due to the fact that I'm down on him. He's still a Top 50 player in this class, and a wide receiver who has all the tools to be an outside threat week-in and week-out in the NFL.