Earlier this week I put out the first mock draft for The Draft Network. We plan on doing mock drafts pretty regularly on this site, so when it came to setting up the schedule, someone asked the question, "so who wants to go first?", followed by a whole bunch of crickets.
Doing the very first mock draft of a draft season in early August is no easy task. There is so much time that will pass between now and when the draft will actually happen. Teams will change so much, as will the prospects that are selected. But I thought to myself, "what the hell, I'll go first and give it a shot."
For the most part, I enjoyed it. To order the mock draft I used Vegas' Super Bowl odds from worst to best, and even though the main reason I wanted to do the mock was to introduce prospects to the general public as they go into the college football season, as is the natural feeling with mock drafts, I couldn't keep myself from talking about team situations when linking some of the names.
I thought I did a pretty good job with most -- as good a job as you can say for an exercise that is 10 months away. However, there was one pick I wrote that got way more criticism than I expected -- even for a mock draft, which happens a lot for anyone who writes them.
The San Francisco 49ers.
The list had the Niners picking No. 24 in the draft, and as I thought about some of the prospects I could see going in that range, I thought of Jaquan Johnson the safety from Miami. I liked the fit since he's a guy who can play free, strong and nickel safety for an NFL team. I knew 49ers selected Jaquiski Tartt in the second round a few years ago, but he was more of a strong safety. I didn't really recognize any of the other names in the safety group on the depth chart, so I plugged Johnson in there with this reasoning.
The 49ers moving on from safety Eric Reid without much of a backup plan was a bit odd, but that's what happened and that's the situation they're likely still going to be in come the 2019 NFL draft.
If that's the case, a player like Jaquan Johnson would be perfect for them. Johnson has the ability to play as a free or strong safety, though he's best as a free safety. He has a knack for making plays on the ball whether that be interceptions or forcing fumbles. He has the skillset worthy of a late first round safety.
Whew buddy, did I catch some heat for that.
After reading all that, I thought to myself, "the 2017 seventh-round, special teams guy Adrian Colbert? That same guy?" It turned out to be the same guy, but after going out and doing some research following all the tweets I received (there were many more), my knowledge of him was quite outdated.
The 24-year-old Colbert took over as one of the team's starting safeties following Jimmie Ward's placement on IR after Week 8 in 2017, finishing with 37 tackles but no interceptions. I knew he was a converted corner type and since he only came on a fill-in role after an injury I didn't expect to see much.
Yeah, again, I was wrong.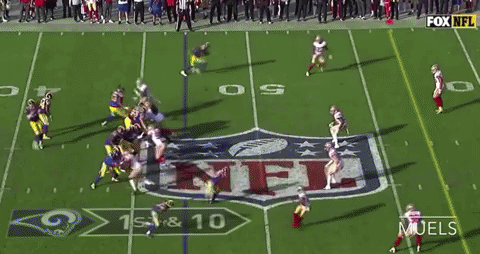 Violence! Speed! Range!
After going back and watching a few games on Game Pass, I was right in thinking that Tartt played more of a strong safety role. Colbert played a lot of deep safety, which I thought could be beneficial to him coming from the cornerback spot, but I had no idea he'd have such an impact hitting, too.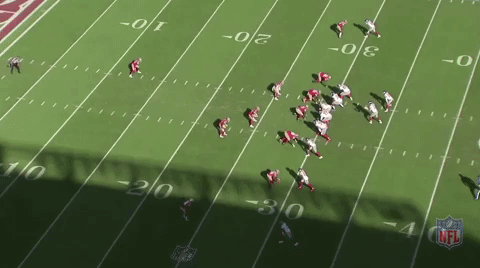 Colbert can get to a sideline quick. The anticipation isn't totally there for him to get to a spot early enough for takeaways instead of big hits, but that's nit-picking on a guy who just started playing the safety position, so I wouldn't even say that's something they want to upgrade. What he showed in his first year still had impact, and his willingness to hit coming from a cornerback background was not something I expected.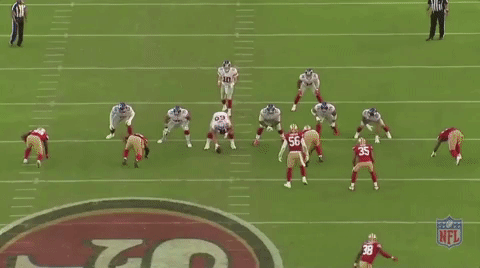 Of the handful of games I watched, the Niners game in Week 10 against the Giants was the most impressive for Colbert.
You saw the hit that knocked the ball loose on tight end Evan Engram first, and directly above you can see him knocking the ball and the lights out of wide receiver Tavarres King. That is impact play kind of stuff that I selected Johnson to the 49ers for, but Colbert showed he can already do that.
Beyond just the splash plays, Colbert seems like a fun guy who really gels well with the rest of the team, too. The 49ers had him mic'd up for one of their mandatory mini-camp practices, and he seemed like a guy who loves coming to work every day. Good talent and good attitude; he's checked those boxes for me after watching him.
As for what 2018 holds for Colbert and a potential starting spot, his head coach, Kyle Shanahan, didn't want to tie his hands just yet with a lot of versatile defensive backs on the roster, but that didn't stop him from praising the job Colbert did last year.
"I'm not going to make any guarantees, but if anyone watches the level he played at last year was very good and he got better the more he played," Shanahan said. "We were very happy with him as our middle-third player. Before Jimmie got hurt, he was playing like that, too. But Colbert's came in, especially with our corner situation, he's had all of the reps. I'm not going to tell him he's arrived. You get better or worse, so he's got to continue to get better. But, we were very happy with him as our middle-third safety and if someone comes out and beats him out and plays better, then that's not the coolest thing for Colbert but that's a good thing for the team. That's a good problem to have to deal with."
It sounds like Shanahan is pleased with Colbert's performance, but is always open to upgrades, as he should be at every position.
For me, I definitely learned a thing or two thanks to you Niners fans who read the mock. Don't expect me to go back on my mock picks too often (I do my research beforehand to hopefully not have that happen). But, I do mocks to help educate people on what they might not know, and I'm not ignorant enough to think that can't be flipped around on me every once in a while, too. Y'all watch the same game I do, sometimes even closer if you have a microscope on just one of the 32 teams for most of the year while we try to get a national grasp.
I guess the Niners did have a plan after all when parting ways with Reid, it just took me being wrong in a mock draft to see it.
They got a good one in Colbert. We'll see if he sticks with that starting unit.