What does the NFL value in a quarterback prospect? Perhaps more than any other question, when it comes to the predictive part of being an NFL draft analyst, that is the question we must figure out. No position draws greater intrigue during the draft process than quarterback, and no fanbase anticipates any first round move as much as they do the selection of a signal caller that *should* lead their team out of the depths of darkness and into the light.
Is Oregon's Justin Herbert capable of being such a player? And if so, does he possess the traits and abilities the NFL covets at the position? We've got a long way to go in Herbert's evaluation, but so far this season he's making a strong case for himself.
---
The Competition
Beating Bowling Green and Portland State as a Power 5 quarterback isn't going to get any scout to pound the table for you, but doing it in the way Herbert has? You might be surprised. I think level of competition is an important part of evaluating all positions, but there are certainly things that can be learned about a player in even their weakest matchups.
For quarterbacks, I'm not sure how much the NFL even cares about level of competition. Josh Allen (Wyoming) and Carson Wentz (North Dakota State - FCS) were both selected top 10 by teams that traded up for them, and Paxton Lynch (Memphis) was also a first round selection. That's three players over the past three draft classes that were first round picks despite being non-Power 5 passers, not even mentioning Blake Bortles, Derek Carr and Jimmy Garoppolo who were all top 64 picks from the same pedigree in the 2014 class.
There is a difference between the situations of those players and that of Herbert, who plays for a Power 5 school, but hasn't faced many tough tests yet this season. Three ranked teams remain on Herbert's schedule, challenges that will be key for our evaluation of him, despite the fact that the NFL may already be sold on Herbert's stock. Why?
Because there is one thing the league tends to value above all else at quarterback, and Herbert has that in droves.
---
Arm Talent
To put it bluntly, Herbert's pure ability to throw the football is elite, and the NFL cares about that more than anything else. Passes look gorgeous coming out of his hand, and he can vary touch and velocity like a seasoned vet. As a huge bonus, you don't have the high variance level of play snap-to-snap that you saw with Josh Allen and even Blake Bortles in college. Herbert is much more consistent in his approach and execution.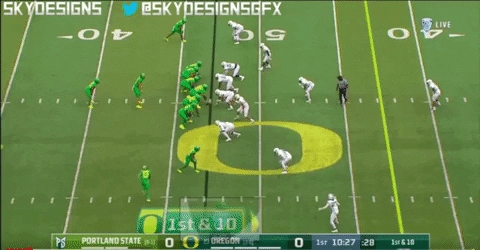 Play action, with unblocked pressure coming from the backside. Herbert doesn't panic, stands in and delivers and on-the-money strike that his receiver drops. The ball is perfectly placed, leading his receiver away from coverage and up the field to maximize his potential yards after catch.
Yes, it's against Portland State. But who cares in this situation? To make a perfectly accurate throw under pressure to a receiver moving away from you is a very difficult thing to do as a quarterback, against any level of competition. This will translate to the NFL.
How about this throw? This was Herbert's best throw of the game against Portland State, leading his receiver beautifully to the boundary for a big conversion on 3rd-and-10.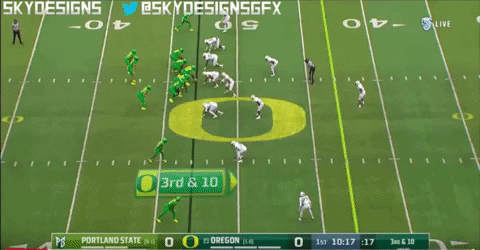 Tight window throw with the defender giving up very little separation and the sideline closing fast. This ball has to have max velocity and perfect placement to work. I don't think many, if any, quarterbacks in this class can make this throw. Herbert does it perfectly.
Even in 2017, Herbert's tape is littered with high degree of difficulty throws to all levels of the field. To borrow the scouting lingo cliche, Herbert truly can "make all the throws". His arm strength is excellent for velocity and distance, and he's a good enough athlete to get off-platform and put passes on the money as well.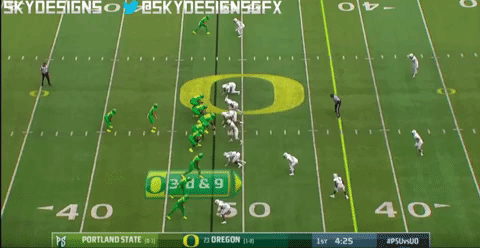 Love this play from Herbert. Feels the edge pressure, steps up in the pocket, works to an optimal throwing lane, then squares his shoulders and fires to his target right between the numbers 15 yards downfield. Again, the perfect accuracy sets up a yards-after-catch situation and leads his receiver away from coverage. Against anyone, this is a difficult pitch-and-catch, yet Herbert does it perfectly.
So accuracy and velocity are strengths, including the ability to do either off-platform or under pressure. What about touch?
I think Herbert is still finding range on his deep ball, but boy did it look good against both Bowling Green and Portland State in flashes.
This one required a little more pace, to arrive in time to hit the receiver before he ran out of bounds. I'm not sure you can throw a ball better. That is just a disgustingly good play, even from a clean pocket.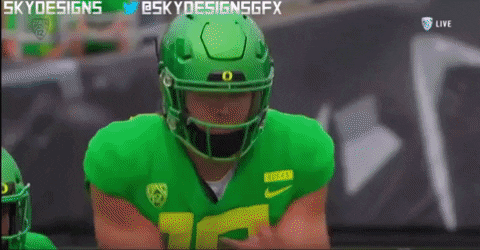 This is a pure touch throw. Perfect in every way. Granted, it's another clean pocket throw off play action, but that's a small window with good coverage from the defender. Herbert puts it exactly where it needs to be with timing and touch.
---
Mental Processing
In the "Arm Talent" category, which I used to include many aspects of play including accuracy, placement, touch, velocity and ability to throw off-platform, Herbert checks all the boxes. And not just this season either. Before the season began I said that he had the best tools of any quarterback in the 2019 class, including Drew Lock.
So what's the issue? Well, here's where the level of competition comes into play. Right now, Herbert is able to hit his first read the vast majority of the time, and has rarely had to move through progressions or decipher more difficult coverages. He's been in rhythm and pressure hasn't been a major issue. That will eventually change in certain contests this season, as it did last season when he struggled at times.
Herbert faces Stanford in two weeks, a team that will absolutely mix-and-match their coverages. A date with Washington is five months away, where five defensive backs with NFL potential will challenge his inconsistent group of wide receivers. How will Herbert respond to the uptick in competition, especially in terms of what it will force him to do mentally - speed up his process and make good decisions in more complex situations? That's what remains to be seen with Herbert.
---
The Bottom Line
In reality, the NFL may not care about anything beyond Herbert's elite tools and his football character. Even if he shows that he isn't mentally ready to be a franchise quarterback this year, many coaching staffs will believe they can fix that part of him. As long as Herbert impresses them in meetings and continues to make good decisions with the football while showing off that golden arm, his draft stock may be safe.
That's why I think Herbert has a very strong chance to be the first quarterback off the board this season, if he declares. He already possesses the traits the NFL desires more than anything else at the position, and his toughness and work ethic are rumored to be top-notch at Oregon.
There may be some rough edges here and there, but Herbert is the league's prototype at the position. It remains to be seen if he will enter the draft early or go back to school for another year. I was told today by a source that his education is very important to him, and returning for the 2019 season at Oregon is a very strong possibility. Nevertheless, if the junior decides to make the leap, I think the NFL will be ready to welcome him with open arms, potentially as the top quarterback in the class.