You know, here at The Draft Network we watch a lot of film. We probably watch too much film, honestly -- our social lives might be able to confirm that.
Every now and then we'll be watching game tape for a specific prospect and someone else, either on the same team or the other team, might pop out instead. The first time we see it we'll usually just rewind the play once or twice and tip our hat. But, if it keeps happening again and again, and eventually we find ourselves watching this other prospect instead of the guy we came there to study, that calls for some extra research.
"Who the heck is this guy?"
For me, the first prospect that made me ask that question in this draft cycle was Wake Forest running back Jay Burn, or as you probably know him, Matt Colburn II.
Colburn is a senior running back for Wake. He's the 5-foot-10, 200-pounder who, in 2017, went from an afterthought when he was on the field for just three snaps in a loss to Georgia Tech to the workhorse who ran for 721 yards in the team's final six games of 2018. He was the team's leading rusher in 2016, as well, with 626 rushing yards on 151 carries, but after ineffective games against Boston College and Florida State early in 2017, they went away from him -- not for long.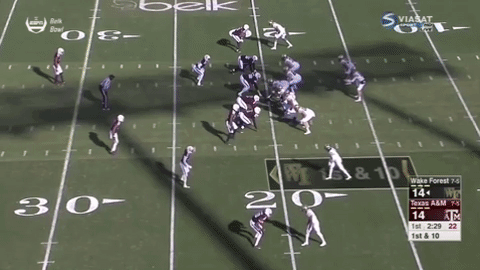 We're guessing the main reason they went back to him is because of plays like the one above.
Coburn is unique. Not in the fact that he's freakishly fast or strong, but in the fact that when you look at him you think he wouldn't be a tough task, and then all of a sudden he's shrugging off your arm tackles and beating you to the angles in pursuit to the sidelines.
But Colburn isn't just unique on the football field. He's also unique in the fact that he has an alter ego or a second identity, one that he uses to express himself in other ways.
That way is through song (rap and R&B, specifically), and on stage Colburn's goes by the name: Jay Burn.
"It's kind of cool, like I'm a football player but I'm also Jay Burn. It's a cool duality," Colburn said in an interview with Conor O'Neill of the Winston-Salem Journal. "I would say (music and football) are definitely my No. 1 passions, what I love the most."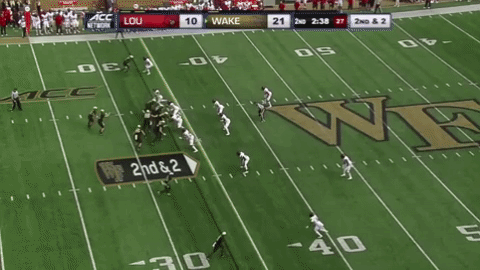 Coburn is listed at 5-foot-10, but I wouldn't be surprised if he measures in a little shorter than that, even. He has a very compact frame and with that comes very short strides when running, but due to how he's built, they're still very powerful strides. Therefore, Colburn can churn those legs and still have so much control of where he's going in the short areas while bursting in whatever direction he's going. It also allows him to display great balance through contact.
Colburn plays with a lot of emotion. Not with out-of-control emotion, but you can just tell that making plays and helping his team is something he's passionate about. After the play above (where he refused to actually go down), he was pumping up the crowd and jumping up and down. He also pointed to the sky before he ran in a touchdown against Florida State. Being an expressive player is what allows him to tap into the relentless style in which he carries the ball.
"Music is definitely an escape," Colburn said. "Music is definitely a chance for me to get away and express myself in a different manner. Just like football, I can express myself physically, you know, music is a way for me to do that mentally and emotionally."
That sort of passion for things is likely what has driven him to be well-rounded in the detailed parts of playing running back, like improving as a receiver enough to play some slot duties like he did in 2017, or the fact that he's currently on a 340-carry streak without a fumble.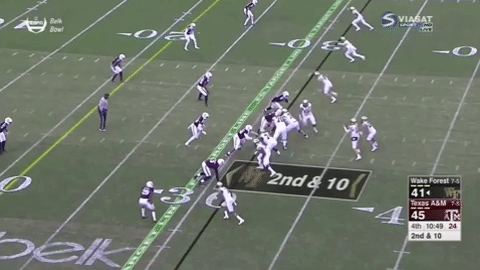 Colburn's signature move is his jump cut.
His tape is filled with him putting both feet in the ground, hopping laterally and then immediately accelerating, and he's made plenty of defenders embarrassed because of it. With his shorter strides, he's often in more control than players pursuing him. That's why you'll see a good amount of clips like the one above in his tape.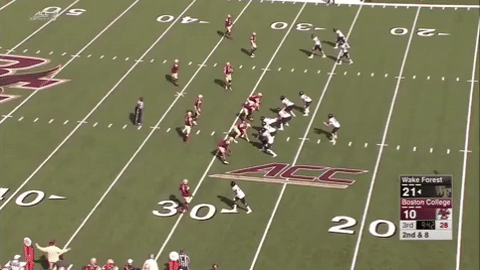 As you could probably infer after watching the previous clips, Colburn is a guy who is going to give you his all on every single play. Whether it's runs to the sideline, runs up the middle for short yards, in pass protection or pass plays out of the backfield, you're going to get high effort above everything else with Colburn. You can see that in the clip above as Colburn played lead blocker against a linebacker and stood him up on the spot.
Colburn doesn't naturally check the box as the "ideal" running back prospect, and because of the type of running back he is, he's been overlooked and passed up -- perhaps even when he's been the better player to choose from. But Colburn's experience with music has its parallels with football, and having both outlets have made him wiser to situations outside of his control.
"Music and football definitely have their highs and lows," Colburn said in an interview with Lou Bezjak of The State. "You could spend hours practicing football and have a bad practice. Or you can spend hours in studio and don't like how this is going. Both are good avenues for me to express myself. I'm blessed to be at a university like Wake Forest and play football. I'm also blessed to have people like Millz and Nick to help me be creative and produce this music. It's a blessing."
Unlike 2017, Colburn's leash as Wake Forest's starting running back will surely be much longer in his final season coming up. He led the Demon Deacons in rushing in each of the last two seasons, and the only thing left is for him to do that again, but with a 1,000-yard season.
As for whether or not there's an identity crisis between Jay Burn and Matt Colburn, scouts shouldn't worry too much about that. Even Burn wants football to be first for now.
"First, my goal is to graduate, and then my biggest dream is the NFL," Colburn said. "I'm chasing that 100 miles an hour. Music is something I will chase on the side, and if it takes me somewhere, than that it is God's plan."