You know, I was a little worried. I've never done this much summer scouting for an upcoming draft class, and because of that I know so many more names going into the college football season than I ever have before. Not that that's a bad thing, in nature, as it has made me aware of the key players to watch in just about every game I turn on. But, I was somewhat worried that the early weeks of the season were going to be stale. That I wasn't going to experience that shock factor of discovering an under-the-radar prospect live on primetime television at the same moment everyone else was -- which is a fun element of being a college football fan.
And then Trevon Hill showed up.
Here at TDN we've scouted more than 400 prospect going into the season, and yet hearing Hill's name after his first sack against the Floria State Seminoles on Monday night was the first time I'd even heard his name at all -- it wasn't the last, even on that night.
Hill is a redshirt junior pass rusher for the Virginia Tech Hokies. After some well-deserved research following a great performance against FSU, I learned that this 6-foot-3, 245-pound edge defender came into the season with 15.5 tackles for loss and eight sacks over the course of the last two seasons. Hill's limited production is probably why his stock, especially towards the draft, was so quiet this summer. But, in his 2018 debut, he showed some traits to get excited about.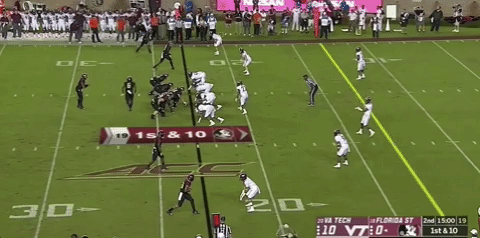 Anytime you can get to the quarterback from around the edge in less than three seconds, you're doing your job pretty damn well.
Hill definitely jumped the snap to give himself a head start on the sack shown above, but you can't totally dismiss his production on that play, because he still had the body bend around the edge to make something of it. Getting up, under and around an offensive tackle like that is impressive no matter what. It shows a conscious effort to maintain lower leverage and demonstrates good body flexibility.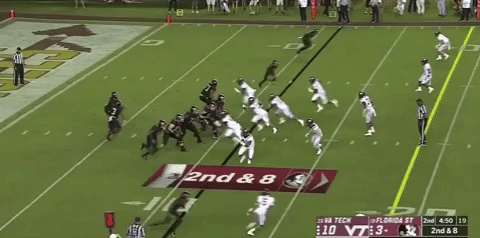 On Hill's second sack, not only did we see more bend around the corner, but we also saw fast, violent, disrupting hands go straight into his shoulder dip and bend, which is a key combo for any speed edge rusher. Hill comes off the snap with good burst, and can really turn that into momentum towards the pocket. That's a top-tier trait for an edge rusher, especially since the NFL likes them big, but size often sacrifices flexibility like that.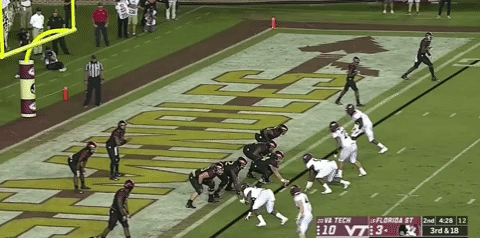 Hill didn't make an impact on this third play due to the fact that the ball came out very quickly, but if it was a normal drop back in any way, Hill had that shoulder dip and quick turn down once again, and likely would have gotten home.
Florida State's offensive line is not great, which is something we have to keep in mind. But you always want to scout the traits over the stats or even sometimes the competition. With some of the ability Hill put on display on Monday night, you could have him go up against some of the best tackles in the country and he might still get the better of them.
Brian Burns, Clelin Ferrell, Zach Allen and Joe Jackson are getting all the ACC edge hype right now, but Trevon Hill made his statement on Monday that his name deserves to be in that conversation, too.