Remember when Larry Johnson recorded 416 carries in a single season back in 2006 with the Kansas City Chiefs? Man, do those days seem like forever ago. Now, in the much more finesse age of NFL football, running back carry loads are much less. You'll still see some backs eclipse the 300-carry mark every now and then, but true "bell cow" backs don't really exist anymore.
Some of that has to do with how the college game has first adapted to a committee -- or specialization -- look to their rushing attack, and what we're seeing in the NFL is years and years of drafts infiltrating the league with that flavor of play style. Due to the fact that it's hard to find a running back that can truly be a Pro Bowl level player at every facet of the position, teams have realized it's much easier to find a handful of guys who do a certain element of playing running back well and instead design packages for them to be at their best. This makes it easier to rebuild a run game since you don't have to sit around and wait for a one-in-a-blue-moon back, if you don't have one.
But, just because the game is molded more towards running back rooms by committee doesn't mean bell cow backs are extinct. In this class, Iowa State's David Montgomery is proving that there are still a few of them out there in the wild.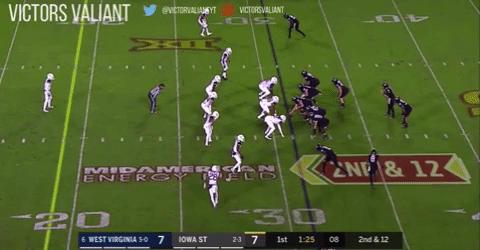 At 5-foot-11, 215 pounds, you'd figure that Montgomery would be a guy who knows how to run between the tackles and take some contact. He does, but that doesn't mean he can't get outside the tackles, too.
Montgomery is a tackle breaker in the sense that, when he's moving laterally, he's hard to bring down -- arm tackles don't work. Square up or get thrown. There aren't nearly as many plays of him straight running guys over as much as there are plays like the one shown above where Montgomery runs through contact but with a change of direction. This preference is honestly more healthy for what you would call a "physical" back, and a style that allows him to rack up as many carries as he does.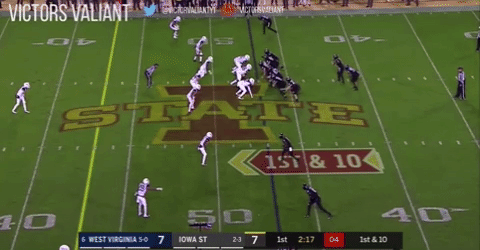 Last season Montgomery carried the ball 258 times, which was 15th most in the country, and second in the Big 12 behind only Oklahoma State's Justice Hill. This season, with 111 carries, Montgomery is 21st on that list, but he's played two less games than most backs. If you take his attempts per game average, he's third in the nation. Montgomery only has one game this season where he didn't record at least 20 carries, and in it he recorded 17.
Montgomery had a career high in yards on the ground with 189 against West Virginia last weekend, and that came off 29 carries. The reason why Montgomery can rack up that many carries is because how smart he is with his physicality. He's breaking tackles, yes, but he's doing it in ways that allow him to live another day, if you will. In order to be a bell cow back, you have to be more than just physical and durable enough to take a beating. You still have to be smart with it, too.
Montgomery is.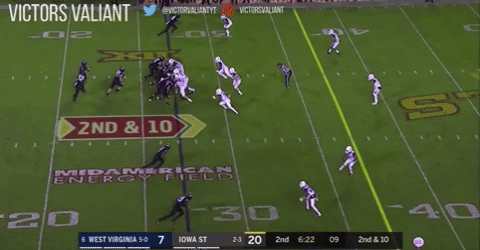 There is more than one way to make defenders miss. Sometimes it's with the ability to break off of contact, but other times it's by avoiding contact altogether with some slick moves.
Montgomery is more powerful and balanced than he is quick and agile, but I would say that he is definitely shifty in what he does. When he gets in open space, he can make guys miss more than I thought he could going into the season.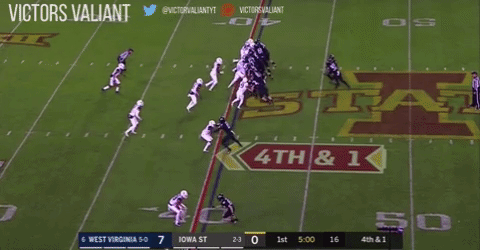 The last element that I wanted to touch on when it comes to being a bell cow back is that you have to be dependable. When the game is on the line, when it's third or fourth and short and you need to pick up the yards, every back that I would consider a "bell cow" picks those yards up more than they don't. You have to be dependable mentally just as much as you are situationally.
The play above was early in the game against West Virginia, but it was a crucial moment. On 4th & 1, Iowa State decided to go for it right at WVU's 40-yard line to set the tone of the game. Montgomery got the ball, and he did more than just set the tone. He picked up that yard and 35 more.
Then, later in the game, in the fourth quarter, on 4th & 6, Montgomery delivered again. To be a bell cow you have to want the ball in your hand with the game on the line and you have to be able to produce. Montgomery has and can do both -- and don't forget to notice that shimmy shake at the line of scrimmage to cause that linebacker to be grasping at air.
With Oklahoma's Rodney Anderson out for the year with a torn ACL, the 2019 running back class is still open for its RB1. I wasn't as big on Montgomery going into the season, as I thought he was too limited athletically, but even though he's not the most athletic back in the class, he has bell cow traits physically and mentality that not many other running backs in this class can boast at his level.
That makes him an alluring choice for the NFL.