Mentality is everything. In life and in football, you'll be put into situations that aren't favorable for you every now and then. But how you approach it -- even through failure --  is what ultimately determines how experiences can be successful or deteriorating.
The cornerback position is all about a learning mentality. When you sign up to be a cornerback, you're signing up to get beat. You know that you're going to be on the wrong end of some highlight reels. But the best cornerbacks in the world can have a bad play against them, and in their best CamNewtonNodding.gif impression, they can tip their hat and still have the confidence inside them to believe the next play will be theirs to make instead.
For the most part, being a rookie cornerback in the NFL is all about taking your lumps. The jump in competition from college receivers to NFL receivers (especially starting caliber ones) is usually quite vast. When you're a starting cornerback in college football, even for a good school, you might match up against one, maybe two NFL starting receivers during your entire career there.
In the NFL, it's every week.
The Green Bay Packers selected cornerback Jaire Alexander No. 18 overall in the 2018 NFL Draft. When you select a cornerback that high, you're usually looking for them to start sooner rather than later. But, the Packers went out and signed Tramon Williams, an experienced cornerback, and also had Kevin King coming into his second year, which they certainly haven't given up on. The team also has Davon House on the roster, who was with them last year and is an experienced defensive back, as well. With all that experience there, you figured the Packers might ease Alexander into a starting role over time.
They shouldn't. They should start Jaire Alexander right now.
Calling for a guy to start then showing a play of him getting torched in coverage. A bold move, Trev, even for you -- you have to follow me here.
Remember how I talked about the cornerback position being all about mentality? This is where it starts for Alexander in the NFL. Alexander was more athletic than anyone he faced in college. Even in the ACC, he was clearly a better athlete than most receivers, and he could play off coverage relatively stress free knowing he had the recovery speed against them to make up for it and even bait quarterbacks into throwing passes his way for possible interceptions. In the NFL, he doesn't have that same gap in makeup speed due to the elevation in competition, and he learned that on the first play of the game against Raiders' wide receiver Amari Cooper in the Packers' third preseason game.
But Alexander didn't let that play get to him. On the very next play, which was a nice defensive stop, Alexander was the first one clapping and high-fiving his teammates. He was clearly still engaged instead of beating himself up after giving up a big catch during his big start.
Why? Because Alexander already realized what he did wrong and learned from it in his head. He knew the next time he had a chance like that he'd fare better -- he did.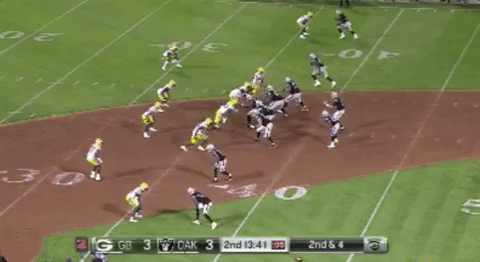 Later in the game, Alexander was tested again, but this time he was the one with the ball in his hands behind the roaring crowd.
Though the coverage was different by nature, as Alexander was closer to the line of scrimmage, he played that route much more confidently than the previous one, and that was evident by how close he remained to the receivers throughout. I believe that came from Alexander's mentality, not only to learn from mistakes, but also for him to not get down on himself and let the bad plays haunt him.
Being a first round cornerback, you usually have it all from an athletic profile. Scouting you and deeming you worthy of a first round pick based on athletic ability is the easy part. The part teams take a risk on his how players deal with things mentality, especially failure, since in the NFL, some of these guys will be experiencing routine failure in football for the first time in their life.
The Packers knew Alexander had the size and the athletic ability to make it as a starting cornerback in the league when they drafted him, and if you ask me, after Friday night's preseason game against the Raiders, they should now know he has the mental makeup to go along with it.
All that stands between Alexander and him reaching potential is experience, and the Packers should start him right away.