When I scout college football players, I like to start with the biggest and best opponents on their schedule. In my mind, there is very little reason to watch a player you're projecting to the highest level of football against their weakest collegiate competition, unless there is a schematic or stylistic aspect to watch for outside of the individual matchups.
When scouting cornerbacks, especially in the SEC, those types of opponents can be hard to find. It's not that there aren't talented wide receivers across from them, it's that the passing attacks in that conference are often simplified to accommodate extremely limited quarterback play and extremely robust run games.
So I watched LSU cornerback Greedy Williams against Auburn, where Will Hastings and the reticent Tigers passing attack gave him no issues. Arkansas and Florida weren't particularly challenging, and while the lower tier opponents on the schedule looked great for his stat sheet, they didn't help educate me on who Williams would be at the NFL level.
But Alabama and Texas A&M provided some ups and downs. Matching up with Calvin Ridley at times throughout the game did not end well for Williams. And against Ole Miss, easily the SEC team with the most firepower in their passing attack, Williams' weaknesses, talented thought he may be, were fully exposed.
Press Technique
I have three serious concerns with Greedy Williams' coverage abilities right now, but I believe all of them are fixable. The first is his inconsistency in press coverage, where he'll often get into trouble by opening his hips too early, punching with the wrong hand or not jamming at all.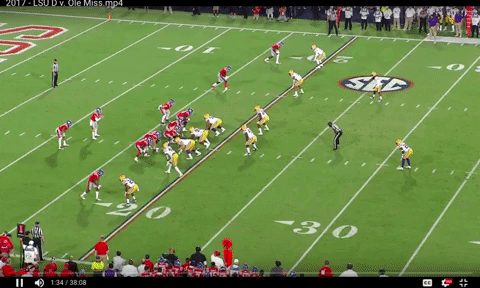 It should be noted, Williams' ability to redirect and recover after a slight misstep are outstanding. Here he opens prematurely to the sideline, but still immediately reacts to DaMarkus Lodge's inside release. That's a pretty seamless transition for Williams, despite his lack of ideal technique.
Nevertheless, separation is created (the play ends up being a run) and Lodge has excellent position on the slant route if the ball were to go to him. When a receiver releases to the left, a cornerback wants to impede his progress off the line of scrimmage by using their left hand to slow the release. This also allows the corner to easily open with the receiver, staying in his hip pocket.
Because Williams guesses on the release and opens to the boundary, his left hand is essentially useless on the play, giving him no way to slow Lodge off the line of scrimmage. The result is a clean throwing window, although Williams' athletic ability might still give him a shot to make a play here.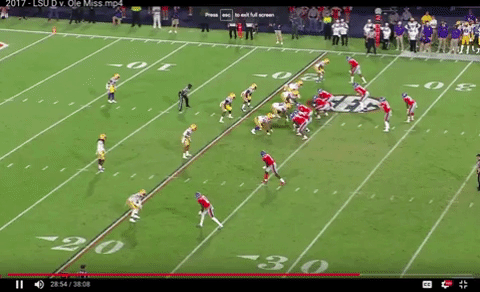 Lodge was the receiver with the most NFL-ready releases that Williams faced all season, with the exception of maybe Calvin Ridley. I only have the broadcast version of his game vs Alabama, and the angles don't tell the story of Williams' struggles like these clips do.
Williams' technical flaws were exposed in slivers of other games, but nothing like what Lodge's polish revealed. In the NFL, if Williams continues to guess on releases and play with such undisciplined hips, receivers will beat him up off the line of scrimmage.
Staying in phase vertically
Twice vs Alabama, Williams was targeted deep, had great coverage step-for-step with the receiver, and failed to look back and play the ball. Both times he could have been called for defensive pass interference and was not.
Against Ole Miss, Williams was tested vertically several times, as their offense loves to air it out on the outside. Again, Williams drew Lodge in coverage almost the entire game, and again Lodge beat him three times down the field.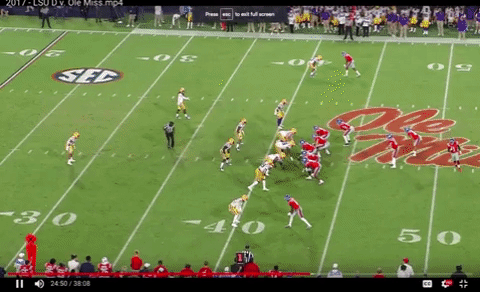 On this play Lodge runs what looks like a PCP route (post-corner-post), adjusting the last post break into a vertical due to the safety sitting in the middle of the field. Williams is in good position the entire play, until Lodge breaks vertically and the LSU redshirt freshman looks back for the ball at about the 25.
At this point Williams loses Lodge in coverage, and I don't think it's because he doesn't have the wheels to stay with him. I think he looks back for the ball early and fails to stay in phase with his man. This happened earlier in the game as well, when Lodge separated late from Williams after the corner failed to stay in phase down the field.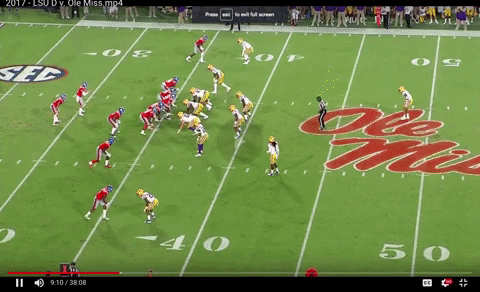 Lodge drops it, but Williams again seems to have issues at the top of the route. It is difficult to know everything about why he fails on this play, but one of the catalysts is that he again did not get a good jam on Lodge at the line of scrimmage. Then, with Lodge a few steps into his release, Williams tries to stab at him and the receiver alertly knocks his hand away. At the LSU 45, Williams again tries to get hands on, but at this point Lodge has cleared him enough that the corner can't find any good surface area to jam.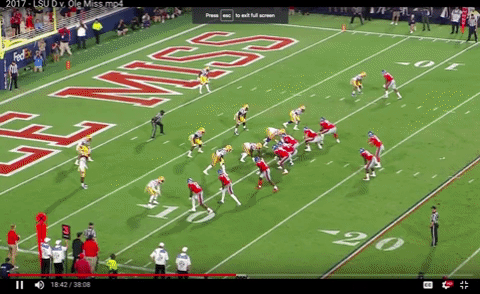 Here's another from the same game. 3rd-and-goal from the ten, 3x1 set with the single receiver in a reduced split. You can bet your house on a fade route. Williams doesn't seem surprised by the route, but fails to get hands on at the line of scrimmage, feebly attempts to get hands on at the five (Lodge fends him off) and again gives up separation at the top of the route. Lodge drops it again.
Again, I don't think it is a lack of speed with Williams, as he showed plenty of wheels in other games and even in this one on a few occasions, Here is an example of him playing the nine route perfectly, getting his head around and knocking away an underthrown, back shoulder pass, which is extremely difficult for a corner to adjust to.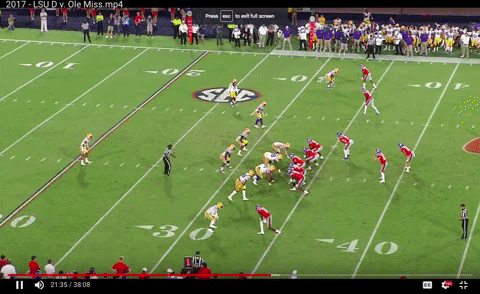 Now that, is a play, folks. Whew.
There are certainly plenty of flashes of what Williams is capable of, which is why he's deservedly getting top 10 hype. He needs to focus on staying in phase at the top of routes, letting the receiver's eyes take him to the ball, and then getting his head around to make a play. It's an understandable learning process for him, and certainly fixable, but if it doesn't get better, big plays are something you can't give up in man coverage at the NFL level.
Effort/Focus
It is always difficult to criticize a player's lack of effort, even when it was painfully clear they could have done more on tape. We don't always know what is going through their mind or what physical ailment they are dealing with, but based on the information available to us, Greedy Williams' effort left a lot to be desired in certain moments last season.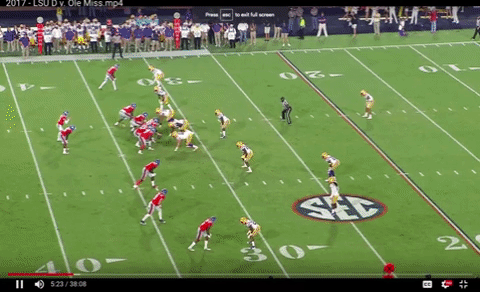 Third down, Williams falls asleep at the top of the route and allows Lodge to work back to the quarterback and make an uncontested catch along the sideline to move the chains. Just can't happen at the next level.
LSU is up big at this point in the game, but the best corners in the league never want to surrender a catch. Williams lets Lodge work back to the ball, then makes a pretty sad attempt at an ankle-nipping tackle that the receiver easily avoids to pick up the first down.
Against Calvin Ridley, Williams failed to commit to an open-field tackle after giving up a reception, which led to a long catch-and-run for the wide receiver. I could have chosen any number of plays in run defense, where he is a much better spectator than participant.
Some great corners haven't been crazy about tackling over the years, so Williams may be able to get away with some weaknesses there. But the lapses in coverage aren't going to be explained away at the next level, or even next season. As a redshirt freshman, this is part of the learning process. But if Williams wants to go pro after his redshirt sophomore season this year, moments like these won't help his cause.
Williams best matchup of the season revealed how far his game still has to come to match the hype. Rarely do you see a 6-foot-1 corner with his length and size move the way he does, or make some of the peak plays that he does, but press technique, staying in phase vertically and consistently finishing with strong effort in coverage and in the run game are important areas of playing cornerback. If Williams has his eye on being a top ten pick, it'll be his improvement in these areas that eventually make or break him in 2018.