It's not too often that a football player named Fred and the number 48 result in anything worth seeing on the field, but the fact that they do in this case should tell you a little bit about just how good 49ers linebacker Fred Warner is.
The BYU product has burst onto the scene in preseason action after an impressive camp, to the surprise of no one who watched him pre-draft. Warner's size, agility and explosiveness were outstanding for a linebacker, and he possessed the rare coverage skills and ball production that the NFL covets at the position.
The big question mark with Warner was how a move to an off-ball role would impact him, after he played a lot of overhang/edge defender at BYU. Snapshots at the Senior Bowl in Mobile showed an excellent mental processor with the physicality and instincts needed to play between the tackles, but how Warner looked against NFL speed would be another matter entirely.
So far, no problem.
Already slated to start at MIKE linebacker and call the defense while Reuben Foster serves his suspension to start the season, Warner was outstanding against Indianapolis in the dress rehearsal preseason game. From instincts to mental processing to range, Warner is already further along than most rookie linebackers I've ever scouted, which is especially impressive when you remember he's essentially learning a new position.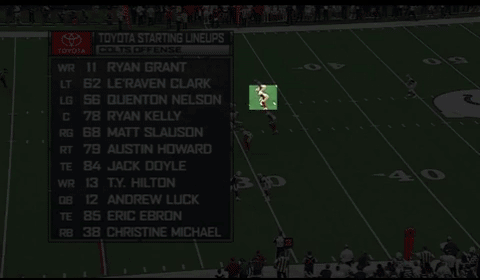 That 1990s-looking graphic covers up the beginning of the play, but I believe the Colts pulled an OL and Warner sliced through the gap to make the tackle-for-loss. In Mobile he was outstanding at IDing his key, playing forward and then pulling the trigger to get downhill and make a stop around the line of scrimmage.
That's one of my favorite things about Warner: he's smart, he doesn't hang back and he shows excellent timing and understanding of angles as he climbs to the ball carrier. His feet are always active, looking for his gap to open up so he can put his natural athletic gifts to good use.
One of the biggest reasons that I (and Ben Fennell!) loved Warner's game coming out of college was how well he used his hands to stack and shed blockers inside the box and on the edge.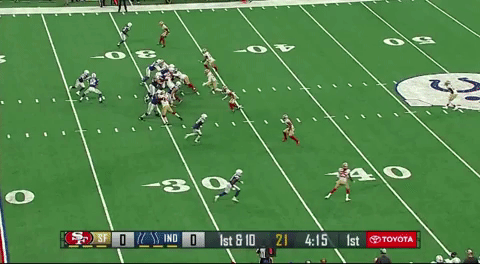 Ex-Auburn guard Braden Smith gets discarded here, as Warner comes into the block with arms extended, hands placed inside and hips low to win leverage and diminish his surface area. He is outstanding at playing off of blocks and keeping his frame clean so he can finish reps inside.
Most linebackers have to beat linemen to spots with their processing because working off of blocks is so difficult due to the size discrepancy. Warner is almost 6-foot-4 and just under 240 pounds, so his ability to win in multiple ways is a big advantage over others at his position.
The center pulls here, and Warner traces his movement with his eyes while playing forward. The lineman takes him to the ball, where Warner is in good position to make a stop near the line of scrimmage on 2nd-and-8. Watch how he dips under the down block of the tight end with reduced surface area to still manifest in his gap and stay in position to make a tackle. Only an egregious hold (basically a tackle) from the blocker keeps Warner from making this play.
That's veteran level processing and block deconstruction from Warner, and these are just a few of the plays he made the other night. His tape against Indianapolis is one of the best I've seen from a rookie this preseason.
But he isn't perfect either. Warner is coming along just fine in the football IQ department, but he still misses tackles he shouldn't, and doesn't always show big-time hitting power. If not for his concerns in these two areas, I probably would have had a first round grade on him (I had a high second on him).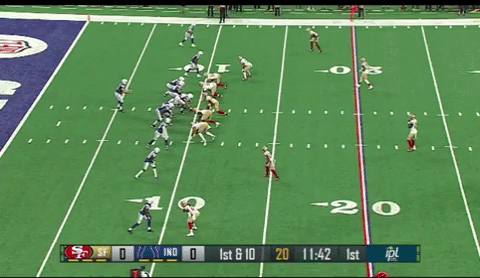 That's a tackle Warner has to make. He can hold that play to five yards, and instead surrenders a first down due to his mistake. That was the only tackle he missed against Indy, but it did remind me of the ugly misses he'd have every so often at BYU. That'll need to be cleaned up, but generally speaking his form is a strength as a tackler. Driving through contact is the area that I think he needs to show more attention to detail.
Between Foster, Solomon Thomas and DeForest Buckner, the 49ers already have a bright future in their front seven. Adding Warner to the mix went under the radar as he didn't carry the same first round billing as the other three, but he is already on his way to proving to be an impactful piece of the puzzle. He'll do just fine as the MIKE while Foster serves his suspension, beginning the process of building his resume into a top 20 linebacker across the league.