It is no secret, especially amongst Indianapolis Colts fans, that I was not high on Darius Leonard coming out of South Carolina State. So when the Colts took him with the 36th overall pick despite the fact that he wasn't in my top 150 players, I thought it was one of the worst selections in the draft.
Since then, Leonard has been on the field for every single defensive snap in Indianapolis, while being dubbed by the Colts' fanbase and his teammates as the "next big thing" at linebacker in the NFL. An 18-tackle performance against Washington on Sunday would seem to suggest that Leonard's impact is being felt already, filling a much-needed role on what has been one of the worst linebacking corps in the league for years now.
Does the tape match up with Leonard's impressive box score numbers? I broke down every snap he played against Washington to find the good and the bad by the young linebacker.
---
The Good
The best takeaway from Leonard's play so far in the NFL is that he looks far more impressive as an athlete than his pre-draft testing numbers would have indicated. Despite jumping well at his pro day, Leonard posted short shuttle and 3-cone results that were far below even average results for a linebacker, according to mockdraftable.com. His 4.7 40 at the Combine also failed to impress, especially considering Leonard is already light for his position.
As an evaluator, I thought Leonard's athleticism was a strength on tape, but evaluating him next to other FCS players can be deceiving. That's why I strongly prefer to let testing do the talking for FCS (and lower level) prospects, as it puts them on a level playing field with the caliber of player they'll be facing in the NFL. When Leonard struggled, that hurt his scores in my numerical grading scale for the one area I believed he had promise in on tape.
The good news for the Colts is, he's moving on the field extremely well, showing range and fluidity that already make him a valuable asset in zone coverage. Leonard is seeing the field really well on passing downs, which is allowing him to make the most of his natural gifts. Watch him work through the crossers here to find the ball.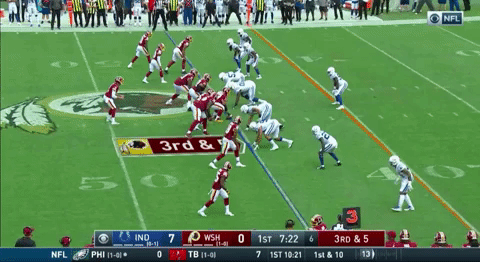 Great diagnostic ability, angle to the ball and finish. That's a terrific play in a big moment early in the game, with the Redskins moving toward field goal range and needing a conversion.
This was all game long from Leonard too. Processing route combinations, reacting to them effectively. Washington tries to pick him with the slant here, and he works under it to pick up his assignment (the ball goes elsewhere).
There were a couple instances in the game where Leonard tried to jump underneath routes and bait Alex Smith into interception-worthy throws. I personally love that from a linebacker. Sure, there will be some route combinations that teams will run to take advantage of that aggression, but Leonard isn't reckless about it, and has the closing speed to not have to cheat up early in his zone drops. This play on Chris Thompson to end the game was impressive (Leonard is off-screen at the snap).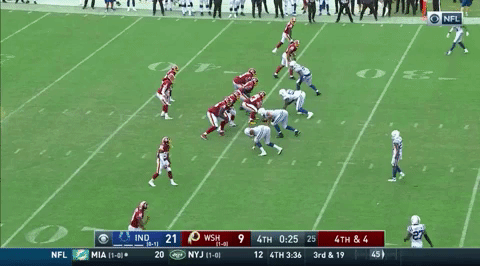 Hello! Yes, I know Smith telegraphed throw and the Colts are hoping he goes there with the ball in this situation anyway, but you can see Leonard's burst to the ball as his long strides eat up the distance. He's going to nab an interception on one of these underneath throws before the season is over.
Outside of impressing in coverage, Leonard is also tackling very well so far this season. His long arms consistently help him get runners down outside his frame, and he's been more physical already than he was in college. I wish he was a more impactful hitter, especially in run defense, but getting ball carriers on the ground consistently is still a major strength.
Right now, Leonard is doing his best work in space, showing good pursuit skills and enough range to make plays to the boundary. Even when he's late to process his keys and come downhill and fill his gap, his athletic tools allow him to make plays when nobody gets a hat on him. 
Leonard also got better as the game went on. Early in the game he failed to recognize jet motion his way and got pinned down easily, resulting in a big gain for Washington. Later in the game, he saw jet motion pre-snap, re-aligned to match the motion, and made a nice stop for only a 4-yard gain.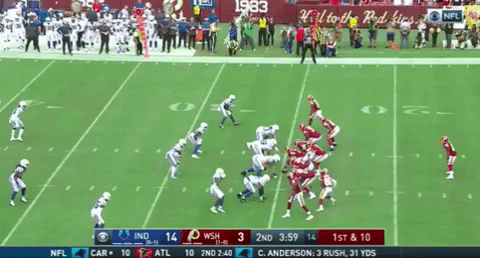 I know Jordan Reed is a terrible blocker, but using one hand to take on this block while still maintaining his speed to the sideline is a good sign. Believe it or not, awareness of angles and trajectory to the ball is one of the hardest things about playing linebacker. Leonard does a nice job not getting caught up in the mess and making a tough play.
These are the things, not his 18 tackles or lucky forced fumble or unblocked sack, that should be getting the attention of Colts fans. It's impossible to sustain production based on a pass protection error from your opponent or the other team's tight end holding the ball like a loaf of bread and your arm accidentally knocking it loose. Those things are awesome for the team, but not especially relevant for evaluating the player's abilities. Leonard did a lot of good things in Sunday's game, and looking outside the box score will help identify what is sustainable for him week-to-week.
---
The Bad
I have rarely seen a linebacker bite on play-action fakes as hard as Leonard. Washington didn't really take advantage on Sunday, but teams who watch the Colts are going to see this tendency and go after it. It's ok to creep forward a step, but Leonard bites so hard on some of these that he puts himself in recovery mode right away. He's not trusting his keys (high hat for pass, low hat for run), and instead is getting caught up watching the movement in the backfield.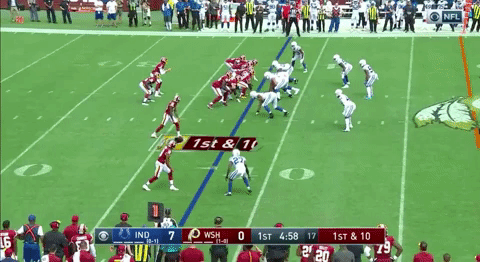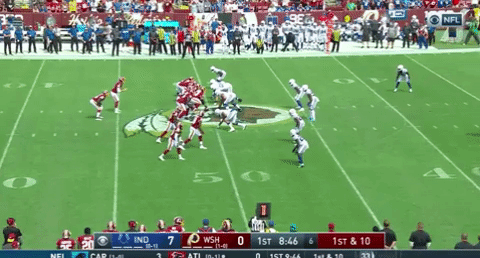 And the same thing against jet motion, huge bites despite not being responsible for the potential end-around on this play. Just do your job, as Bill Belichick would say. Leonard gets pulled out of the box here, but terrific work by the Colts defensive line to blow the play up and then the safety filling quickly bails him out.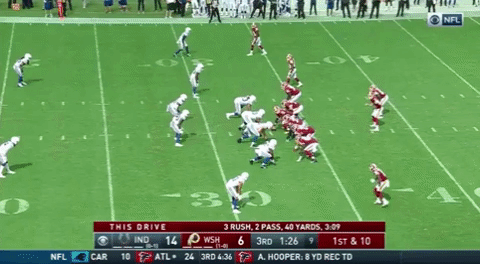 As a run defender, Leonard is still a major work-in-progress. Washington trailed the vast majority of the game and rarely tried to establish a strong inside rushing presence. When they did, Leonard wasn't very effective and struggled with his mental processing and ability to get off of blocks.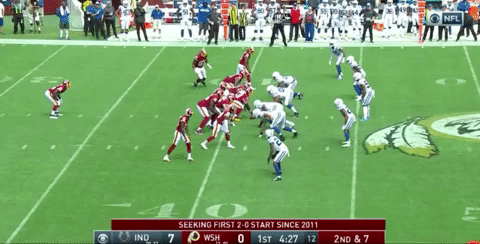 When the LG doubles the 1-technique with the center here, that is Leonard's (right ILB) window to attack. Hesitate, and it gives the guard time to work down to the second level and eliminate you from the play. Leonard doesn't trust his keys, and as a result gets swallowed up in the process.
His efforts to take on blocks are still far too feeble, and he's easily handled 1v1. I don't expect Leonard to physically man-handle offensive linemen, but he's got to process faster to beat them to spots and not take on blocks so square.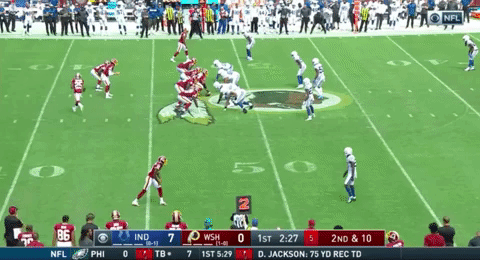 Again, I'm not expecting Leonard to rock Trent Williams and make a tackle-for-loss, but you've got to bring more fight than this to a blocker. If Leonard gets out of the blocks faster, he could keep his outside shoulder free and leverage the C-gap. Instead, he gets steered way downfield and can't impact the play until the runner has almost picked up a first down.
Later in the game, tight end down block takes him out. Way too easy. Have to arrive at this block with more physicality, keep your outside shoulder clean and play upfield. Instead, it's an 8-yard gain on 2nd-and-12. That's not even a great block by the tight end. Leonard has to stop playing patty-cake and start bringing the fight to his opponents more, all while leveraging his gap. 
---
The Verdict
Leonard played a good game on Sunday, and should be commended for it. The most exciting thing about his game is that athleticism rules in the NFL at linebacker, and he more than checks the box in that area despite his testing. Because of his coverage ability, he will not miss many snaps this season, which will allow his tackle numbers to stay inflated.
The size and movement skills for a play-making NFL linebacker are there, but run defense is still a major question mark. If Leonard can't get better at processing and taking on blocks, as well as staying assignment sound in the face of backfield deception, teams are going to adjust elements of their attack around his weaknesses.
Yes, some of this stuff is potentially fixable, but many players never improve in these ways. Not being an instinctive second-level defender was a big reason why I was low on Leonard's tape, and then the poor pre-draft workouts damaged his evaluation even more. He's shown the ability to shed one label already, but time will tell if he can become a more complete player.
Colts fans should look past the box score and still be excited by what they see, all while recognizing that important growth still needs to take place before Leonard justifies the 36th overall selection that was used on him. But for now, Leonard is certainly on a better track than I envisioned this early in his career, and the magnitude of the NFL absolutely does not seem too big for him. Coming from a small school, that's a very encouraging early sign.