Not many expected a third-round, undersized defensive tackle from a non-Power 5 conference to be the first standout rookie of the 2018 NFL season, but then, not many expected Deadrin Senat to be here at all.
Senat, like many of the young men who grow up in Immokalee, Florida, should probably be in jail right now, like his brother and many of the friends he grew up with as part of the gang called the Village Boys. But he isn't. Despite losing both of his parents, including his mother in a tragically sudden incident due to complications from a spider bite when Senat was 13, the defensive tackle persevered, leaving behind the gang life to pursue excellence on the football field.
That mission is now closer to being accomplished than ever before.
Spurred on by the desire to care for his older sister and her three kids, as well as honor the memory of his mother, Senat dominated at South Florida before moving onto the NFL as a third round pick this past spring. It didn't take long for him to earn his way into the Falcons rotation, as his technique and block recognition gave him the opportunity to see the field early on.
Then, on Thursday Night Football to open the NFL season, this incredible human being who just happens to be a pretty dang good football player, gave All-Pro center Jason Kelce everything he could handle for four quarters.
My favorite trait of Senat's in college, outside of the built-in leverage he plays with at six-foot, 314 pounds, was his vision through contact. What I mean by that is his ability to win first contact at the line of scrimmage with his eyes up, constantly locating the football so he can get in position to make a play.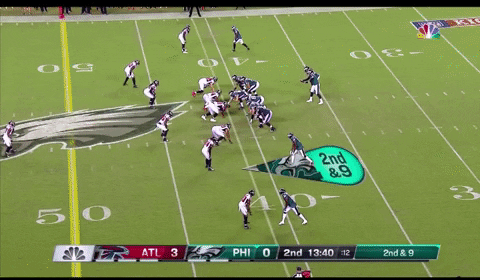 In this play, Kelce tries to block back on Senat and seal him outside, but the defensive tackle stays leveraged, reduces his surface area and uses his hands to work over top of the block to make a stop after a short gain. Look at the body control and agility to shuffle laterally and get in position for the tackle. Top-notch stuff.
If Kelce has had one struggle in his career, it has been against powerful, squatty nose tackles who can get under his pads early in the rep. That describes Senat to a tee, as the defensive tackle consistently won initial contact against Kelce at the line of scrimmage all night long.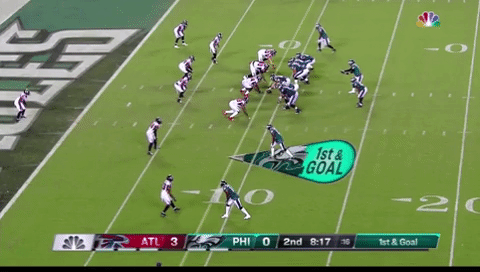 Great first step off the line of scrimmage, excellent pad level and perfect hand placement to anchor the weakside A-gap and force a hold on Kelce. The call was ticky-tacky, but Senat gets off that block if Kelce doesn't get his left hand inside the defender's right shoulder pad. Either way, Senat does his job perfectly to force Darren Sproles to stop his feet and cut back while still in the backfield. Veteran-like work.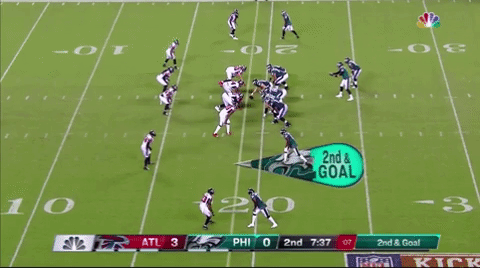 Power, leverage, hand placement, awareness, vision, range, finishing ability. All of those traits on display in one play during Senat's first NFL game against one of the best centers in the NFL. I mean, this play is just exceptional for anyone, let alone a rookie.
I love that Senat drives Kelce a few yards deep, but doesn't bury him and lose the ball. So many young defensive tackles would go out in their first game overly-excited to reverse-pancake an offensive lineman, but Senat's awareness to be mindful of his depth to the line of scrimmage and to where the ball is at all times is so impressive.
Does Senat have work to do as a pass rusher? Absolutely. He may never be a great three-down player, but the fact that he's anything at all is an incredible story in and of itself. Senat's ability to dominate the run, play with energy and range and provide Atlanta with a legitimate starting option at nose tackle next to Grady Jarrett is a huge hit for the Falcons in round three.
In fact, it's turning out almost exactly like Senat predicted it would when I chatted with him at the NFL Combine in early March.
"A lot of people are saying that I'm not tall enough or I'm not the perfect height for this position. But I've been told that my whole life and I'm still proving a lot of people wrong, I just need an opportunity, and once I get the opportunity I'm going to take it and run with it."
So far, so good, Deadrin.