It's an offensive league. I don't think there's any doubt about that, at this point. When an offense gets a trend going of what works, say RPOs, no huddle offenses, stretching the field with certain concepts, coming up with mismatch packages for certain players, it take the defense way longer to adjust than it does for the offense to create, because when you create it, you likely already have the pieces on the roster to make it happen. When you're trying to counter it you often have to wait a draft cycle or two after to really get the guys you want.
I feel as though this has been most prevalent with the tight end position. The usage and skillset of tight ends has gone to places we have never seen before in the game of football. What you would practically call "in-shape offensive linemen" in size are now not only red zone threats to catch touchdowns, but are also receivers running all sorts of routes all over the field.
This has had a major affect on the linebacker position. Linebackers are now somehow being asked to be as fast as running backs and wide receivers, at times, and yet also strong enough and reliable enough to stop the run in the trenches. This also makes scouting linebackers particularly tricky.
The 2019 crop of potential draft-eligible linebackers has a few names that are notable, but it's not strong and well-known at the top, at least not yet. Mack Wilson from Alabama and Devin White from LSU seem to be the guys getting the most recognition, but there's another linebacker who I think, if nothing else, should be on your radar, especially with what we just talked about.
Michigan's Devin Bush.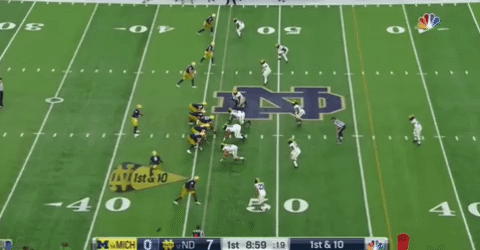 Bush, a 5-foot-11, 225-pound junior, is a bit of an old school linebacker with some new school tendencies. At his nature, he's a hard hitter. He's a player who likes to see where a running back is going and smack him between the tackles. He has a good motor for getting off blocks, but you can also see, at times, that his lack of bigger size can sometimes get the best of him, in that area.
But when he can get a free shot at a running back or quarterback, he can turn speed into power on a regular basis.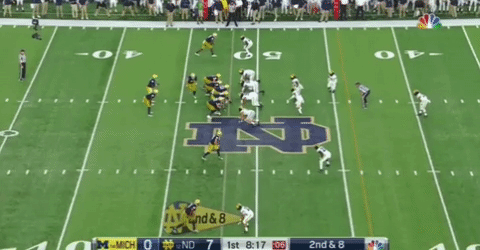 When I say, "when he gets a free shot" I don't mean that in just simple, straight-forward ways, either.
As seen in the clip above, Bush had to track his assignment all the way to the flats, but you still saw the speed-to-power type hit he was able to lay on the running back due to the fact that he created that free shot with how he pursued the back. That clip showed, again, power in tackling and also gave us an intro into how effective Bush can be from sideline-to-sideline.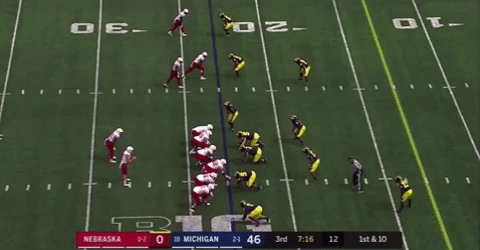 Bush definitely has speed. It's not super quick-twitch or speed that is going to blow you away with 0-60 acceleration, but when he gets going, he can get up to a nice top speed, as seen in the clip above.
Speed is important for linebackers in a few ways. One type of speed you need is certainly that sideline-to-sideline kind of speed, which Bush shows pretty regularly; he checks that box.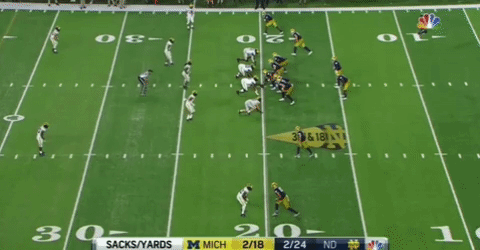 The next kind of speed is speed when dropping directly back into coverage. This is an area that is crucial to find value at the NFL level and determines just how high your ceiling can be -- as it determines how reliable you can be in different situations. This is an area where we just don't have many example on film for Bush yet. In the play above, Bush did not look as comfortable that far away from the line of scrimmage. He looked flat-footed.
Michigan plays Bush as a guy who takes everything in front of him at the snap. He'll drop back into zones, but normally no deeper than where he is already aligned at the snap. So we don't get to see Bush retreat up the seams much. Perhaps he's just not comfortable in that role because of lack of reps. But if it's a lack of ability, we need to know.
This is an important area of Bush's game that we'll have to keep an eye on as the season goes on. As started in the opening few paragraphs, the usage of tight ends in the NFL has changed the usage of linebackers, too. Bush will have to be a guy who can drop back into coverage, if he's going to play consistently at the next level.
I wouldn't say Bush is sudden, but he is smooth.
Bush is a player that Michigan asks to blitz quite often, and though he gets clogged up in gaps, at times, he also has a knack for finding little windows of space between linemen, squeezing through them and making plays in the backfield. It's plays like the one above that have accumulated his 14 tackles for loss over the last two years.
I think that in a linebacker class that is still searching for its top guys, Bush's name deserves to be recognized. He's smart, always seems to be around the ball, can get sideline-to-sideline, has a edge to him as a guy who plays with aggression, but the big question is how he fares in drop-back zone assignments.
As we're seeing every week in the NFL, offensive coordinators are planning their next big mismatch play or concept as often as they can. If you're a weak spot, you'll get exploited.
I like Devin Bush. I seem to be higher on him than most with him as my No. 3 linebacker. But I'm still waiting to see just how much I'll like him come draft season. He checks a lot of the boxes, for me, already, but that one box we're still waiting on could be the difference between a regular contributor and someone you're looking to possibly replace every year in the NFL.