It's been a while since the Jets had this much juice in them. Following an absolute routing of the Detroit Lions in their season opener, by the score of 48-17, New York's mean team in green was flying high on Monday night.
Anytime a score is that one sided it's likely due to the offensive not turning the ball over and the defense getting turnovers themselves. That's exactly what happened, as the Lions finished the game with five turnovers compared to the Jets two.
There were plenty of storylines to choose from in this one. For one, Lions' quarterback Matthew Stafford looked dreadful, and that is a major concern going forward. On the flip side, boy, did the Jets defense look good. They had five interceptions from four different players (linebacker Darron Lee nabbed two), and one of which was returned for a touchdown.
But, as this is a draft-centric site, the big takeaway for us was the performance of rookie quarterback Sam Darnold.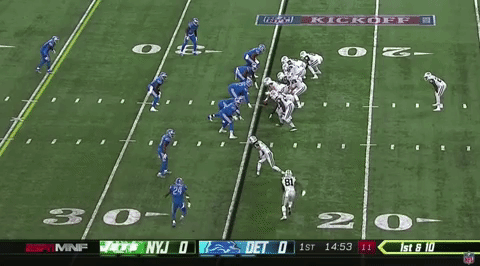 I could've sworn Patrick Mahomes played for the Chiefs, but on that pass it looked like, no, wait, that was Darnold.
The play you see above was Darnold's first pass of the game. As if we need to state the obvious: it wasn't great. That truly was Darnold's "Welcome to the NFL." You can't be doing anything remotely close to that in this league unless you're absolutely cannon-ing a pass from sideline to sideline -- and few quarterbacks even have the arm to do it. Open space just doesn't exist for long at the NFL level, and Darnold learned that the hard way.
The good news is it didn't take Darnold much time to re-group. He was pretty sharp recognizing where open space was, but he did serve up his receivers a few times in that game. It is part of the job as a receiver to catch through tough contact, but quicker decision making for Darnold during the action and in the pre-snap will give his guys better chances for yards after the catch, and will help them not get leveled as much, as seen above.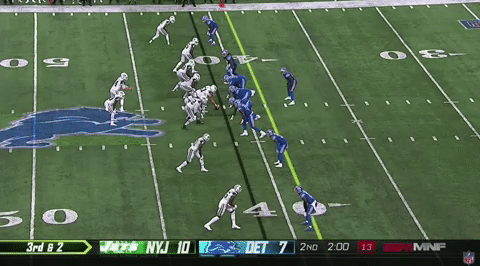 Darnold is a rookie, so this sort of thing is expected, but it is also worth pointing out, as you'll likely only read articles of how incredible Darnold was against the Lions. All I'm saying is he was good, but you see where he needs to improve.
The play above was the big one, for me. It was a play that ended in a touchdown for Darnold and his team, but it showed a few areas that need to be improved on.
First of all, he has to get rid of that ball sooner. You can literally see the hesitation in his steps above.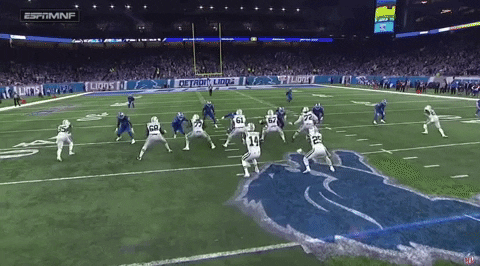 Jets wide receiver Robby Anderson had that safety beat almost two full seconds before Darnold threw that ball. It can't be that slow. He has to recognize that his guy has the separation advantage much sooner.
Not to mention Darnold has to have better ball placement. The pass was good enough to be caught, but it was also bad enough to be batted away, if the safety had played it better.
A successful play, but one that also revealed little things you can see Darnold still needs to work on. But we certainly saw areas of Darnold's game, even in Week 1, that made him the Top 3 prospect he was.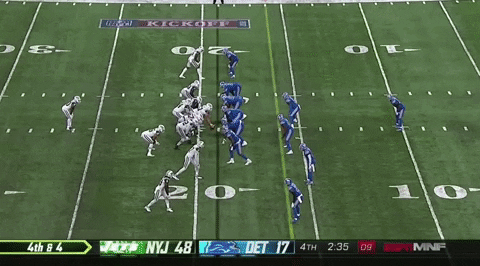 When I watched that throw live I couldn't help but smile due to how "Sam Darnold" it was. Going against the grain, falling away from his throw, right to the sideline where it needed to be. Darnold hit so many of those unorthodox throws while at USC, and he showcased that ability in his first game. He's a guy you can trust to delivery in some not-so-ideal passing conditions.
Ultimately Darnold is 1-0 as a starter in the NFL, and any quarterback who's made it that far will tell you that is hard to do. But, the Lions' defense is really bad. It was a nice first team to go up against, but just because it was a good day in the end didn't mean it was a perfect day for Darnold.