I try to be as honest as I can with my scouting reports. I never want a narrative or a preconceived thought of a player to influence my decisions and outlook on them more than the tape does. I have no problem going into an article thinking I'm going to write about one thing, only to watch more tape on a player and completely flip my subject of what I was going to write.
That's the case with this article about Stanford RB Bryce Love.
Due to the growth of #DraftTwitter and the audiences those involved have gained over the years, every year around this time -- and even earlier -- people cape for a prospect they may like or have a head start on more than others. But, as other people start to recognize these players, reports and narratives have a tendency to become this pointless ego-measuring contest of who is highest on them or who found them first. This often then stretches the expectations of a player to places they never should have gone, thereby putting that player in a bad light when they don't live up to such expectations.
Bryce Love rushed for over 2,000 yards last season, which has only happened 28 times in the history of the NCAA. Due to the fact that he put up such monster stats and was a Heisman runner-up, the expectation of Love going into his senior season was that he could be a first round running back, maybe even RB1 in the class.
That expectation was completely without context, and due to the fact that I had to fight the narrative of Love being an RB1-type, I was down on him overall, and didn't even have him in the Top 75 in my latest Big Board.
After going through all of his games in greater detail this week, I wish I would have had the time to do that before, and I wish people didn't prop up a prospect to unrealistic levels just to make themselves feel good.
If those weren't in the back of my head, I could have enjoyed Love's NFL stock for what it should have been: A specialization, rotational back that has the chance to be a very nice mismatch weapon with the right offensive coordinator.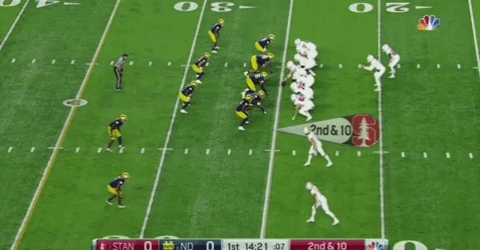 Bryce Love's 2018 stats suck. Through four games he has just 327 yards on 76 carries, which is an average of just 4.3 yards per carry, by far the lowest in his career. Looking at his stats and combining that with the narrative I'd heard of him going into the season, I figured his production this year was just the result of him not being a real feature back and last season being an anomaly.
But, you can't scout guys like that. Everything needs context.
As you would expect with a 5-foot-9, 195-pound running back, running between the tackles is not his strength. Yet most of this season he's running between the tackles in plays like the one you see above. You can't bounce everything to the outside when you're the team's No. 1 back, and, with that in mind, of course Love has to go between the tackles. But when you have your scouting hat on and not your college football watching hat, you have to try to visualize where a player will be used in the NFL and what they may be best at -- because sometimes that's very different from what you're watching on Saturdays.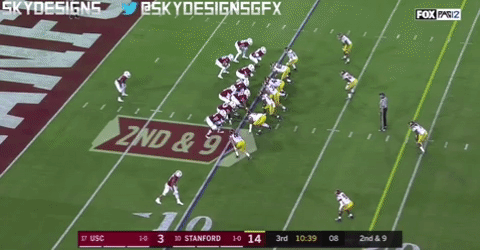 As you would expect, runs to the outside into space are the best friends of a back whose best trait is his 4.4 speed.
Before this, I went into Love's tape thinking: "Yeah, but who cares if he can run to the outside and in space? Space is limited in the NFL. What about between the tackles?"
What I should have been asking is: "Who cares about between the tackles?" Judging Love's NFL outlook equally with runs to the outside and runs between the tackles is like being hesitant on buying a Lamborghini because of its safety features or its ability to haul a trailer. What are you using it for? The reason you're buying it is what it can do on the open road, and the reason you're drafting Bryce Love is for what he can do in space -- manufactured or self-created.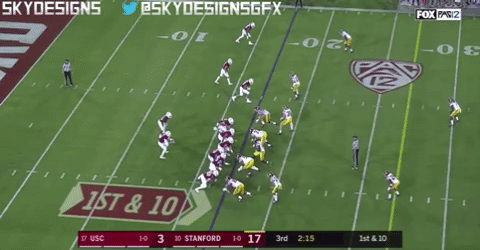 Love isn't just great in space because of his straight line speed, either. He hasn't gotten space often in 2018, as you would expect for a defense preparing for the guy who rushed for 2,000 yards the year before. But when he does get space, Love has the football IQ to set guys up for juke moves, then has the agility to hit them.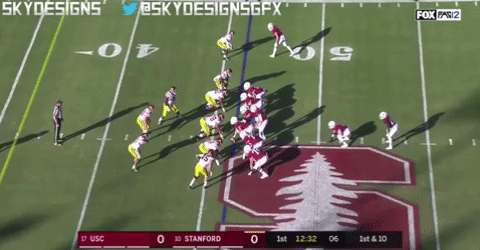 But there are plenty of prospects who are fast to the outside in college that don't always make it to the NFL. What separates Love from the average, to me, is his balance. Look at the last three clips of the USC game I've shown above. In all three of them, you see Love take contact but never go down, not even out of bounds. Love's balance for his small frame is noticeable, and that's the difference between a small, fast guy who is good in college but can't make it in the NFL and one who has the chance to. Love has well above average balance through contact.
That's the trait that gave guys like Alvin Kamara and Kareem Hunt the chance to be what they are beyond their skills elsewhere.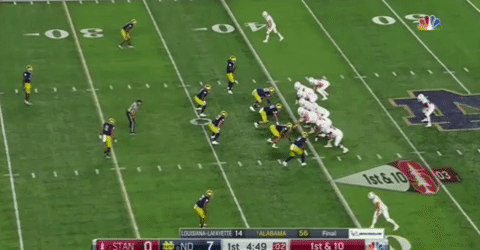 Love has the vision, the feet, the moves and the speed to make it all happen when you give him space. Love in a zone blocking scheme or with a team that like to use counter runs with pulling guards could be a great fit for him as a change-of-pace player, as well as him getting some reps as a slot receiver.
Is he going to be a guy you see run through the pile Marshawn Lynch-style for extra yards on third down? No, but why on Earth would you hold him to that standard? You know that's not why he's going to be drafted or how he's used in the NFL, so why would you make him check a box he'll never need to check? Does that mean he's not going in the first round? Yes. Should that have been the understood reality the whole time? Also yes.
In an age where offensive coordinators are looking to use the mismatch of speed and agility out of the backfield and in the slot, Love will certainly be an alluring weapon to pick up as the latter parts of draft weekend unfold. Think of guys like Tarik Cohen, Phillip Lindsay, Duke Johnson, Theo Riddick and plenty more.
If I had a do-over, I'd put Love somewhere in my Top 75. He's not going to be a first round running back, and that's perfectly OK.
Don't expect a Lamborghini to haul like a RAM. Stop making prospects check boxes they don't have to check to win at the next level.
Let Love Win.