If y'all follow me, you most likely know I'm not the biggest fan of the Big 12 conference -- as I start this article by saying "y'all". However, those boys out there can put up some points, I'll give them that.
To accumulate all those points you need multiple parts. You have to have some fearless quarterbacks who aren't afraid to sling it. You need talented playmakers out of the backfield to carry the load. And you need electric pass catchers to seal the deal.
On Saturday, as the best of the Big 12 was out to play, we saw plenty of that from a handful of draft-eligible Big 12 prospects.
These were our main takeaways.
If any of you read my 5-Play Prospect column on Florida State quarterback Deondre Francois, you'd likely know by now that I'm a fan of fearless passers; quarterbacks who aren't afraid to make the throw necessary to win games rather than take less risks and have a low margin for error. Hesitation and fear does not exist in the mind of West Virginia quarterback Will Grier, and because of that we've seen him put up some crazy plays but also some regrettable ones, in the end.
The Mountaineers earned their 35-6 win with ease, and Grier's 338-yard, 5-TD stat line was a main catalyst of that.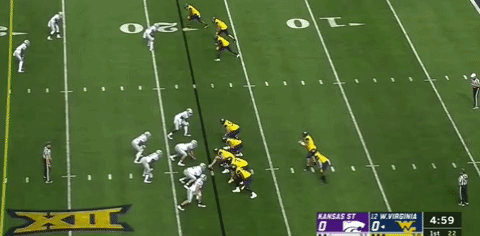 That play is so Will Grier, isn't it? Within that play, you can see the touchdowns, the yards, the wins, but you can also see the ill-advised throws, the turnovers, the unnecessary.
As long as Grier is in the Big 12, we won't learn much more than we already know about him. He'll go crazy with stats, but the highs and lows will likely remain in our minds. He'll be a first round prospect to some and a project to others. For now, he'll put up video game-like numbers with no slowing down in sight. But, as for the NFL, they know there's likely a lot of cleaning up to do in his style.
There are some guys where you just watch them play the game of football and you can tell that their movements, their approaches and their goals of the details within each play are just different. It's like they just "get it".
That's West Virginia's David Sills, to me.
Sills originally came to WVU as a quarterback. After not getting much playing time as a QB, he made his way onto the field as a wide receiver. He then transferred out of WVU to go try to play quarterback at the JUCO level, only to transfer back to WVU to be a full-time wide receiver.
To be able to play multiple positions takes natural ability, and due to the fact that Sills isn't the most athletic guy, the way he's been able to be good at both is with his IQ of the sport.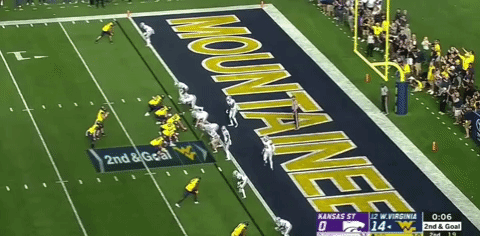 Sills just gets playing the wide receiver position. He knows how to flip his hips to manipulate, he understands that he needs to be precise and explosive out of his routes, and he's a natural pass catcher with good hands.
Sills won't blow up the Combine, but he'll play in the league due to how natural his nuances are. He understands the little things about playing wide receiver better than some more talented than him ever do.
We always say scout the traits, right?
Well...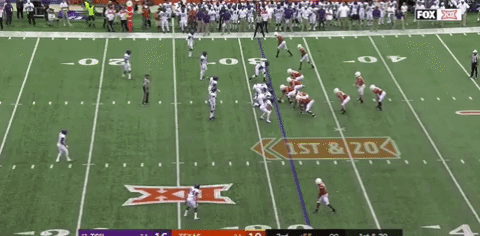 How about a 6-foot-6, 220-pounds wide receiver doing that?
Texas' Collin Johnson might not be the most explosive from cut-to-cut, but plays like the one above show you that, at times, at the very least, he has the chance to give you something most wide receivers in college or pro football don't have the size and ability to do.
Johnson has never accumulated the stats his talent likely deserves, but a seven-catch, 124-receiving yard day like the one he had against TCU can be stepping stones to a Top 50 selection with more plays like the one above sprinkled in.
Texas Tech WR Duo Wesley & Vasher Are Intriguing
The first week I watched Texas Tech play Ole Miss I thought T.J. Vasher was going to be a singular focal point for the Red Raiders.
Then Antoine Wesley, Vasher's 6-foot-5, 200-pound running mate, broke the school single-game record for receiving yards with 261 a few weeks later.
All things accounted for, both of these guys can play. At 6-foot-6 and 6-foot-5, both of these guys can be considered legit red zone targets, but after multiple weeks now of showing acrobatic catches at the sideline, heavy yards after catch and reliability for plays all around, it's clear that these two have what it takes to be NFL caliber receivers, in some capacity. Both of these wide outs are skinny in their frame, and they'll need to bulk up a bit, but if you have get-away speed at 6-foot-6, I'm not sure I'd be looking to change much.
This duo put up a show again against Oklahoma state and were the catalysts for a big upset due to their unique skillsets of size and speed.