Thirty one years is a long time. I wasn't even born 31 years ago. But, for the first time in 31 years, something happened on Saturday. For the first time in over three decades, a sight that many Wildcats fans have never seen in their lifetime happened. The Kentucky Wildcats defeated the Florida Gators.
And much of that was to the credit of running back Benny Snell.
Snell is Kentucky's 5-foot-10, 225-pound life blood ball carrier on offense. As a sophomore in 2017, Snell rushed for 1,333 yards and 19 touchdowns with 5.1 yards-per-carry average. Last year Snell showed good ability to go north and south with a lot of power behind his shoulder pads, but top speed and lateral quickness, as well as some vision concerns, limited his stock as a potential NFL player head into 2018.
So far this season Snell looks like everything you thought he could be and then some.
Against Florida Snell gained 175 yards rushing on 27 carries with a 6.5 yards-per-carry average. But even more than the carries themselves, when they came in the game and how Snell operated within them is what really told the tale.
Snell was called upon to start drives, to keep drives going and to get them in scoring distance. He was a true three-down back for the Wildcats against the Florida Gators, and his bulldozer mentality proved to be too much for the home team defense, as he eventually wore them down with a heavy plate of carries.
But we all know what Snell can do when he's going heads up against a defender. It's the fact that Snell showed patience and poise, as well as improved vision against Florida that really stood out, to me, and what ended up being the difference maker in that game.
Snell has rushed for more than 175 yards twice before, and both were not only in big games -- against Ole Miss and Tennessee -- but both were with big carry loads, as well, and both ended with high yards-per-carry averages. This shows you that Snell can be a workhorse-type back. He is a player who feeds off his success, and it must have felt like you were trying to tackle a train by the end of that game.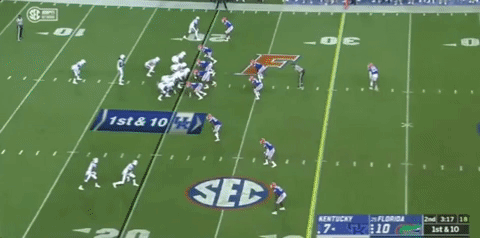 Snell is a determined between the tackles runner, but he seemed more comfortable moving side to side on Saturday, and was better with choosing running lanes, too.
Going into the season I thought Snell would just be a Day 3 kind of back with only power as his strong suit. Now, he's showing more skill with improved comfort in the offense in 2018. He's poised for an even better year than last year and even even higher draft grade this offseason because of it.