You know, the West Coast is slept on. I know that L.A. is, like, the second biggest city in the United States or whatever. But I'm talking about in general. Places like Portland, Scottsdale, Lake Tahoe are cool cites to visit, and then I don't think enough people realize just how cool nature is out west. Not to mention the time zone means that you get to wake up on a Saturday or Sunday and have football on your TV right away -- better set your fantasy teams the night before.
And speaking of football all the way out there (I live in Florida), us East Coast people also have tendency to overlook what's going on out there. With television schedules and mainstream news built around East Coast primetime, some really good games tend to fall through the cracks. As a result, some really good prospects tend to fall through the cracks, too.
Normally I'm not a big Pac-12 guy, but this season I've found myself really liking a few of the prospects out that way. Stanford wide receiver J.J. Arcega-Whiteside is one of them. I currently have him all the way at No. 2 in my wide receiver rankings. And, of course, Justin Herbert is the best quarterback prospect in the nation. But there's another player who, as I've watched more, I've found myself increasingly intrigued by their game.
That is Washington cornerback Byron Murphy.
Murphy is a 6-foot, 175-pound redshirt sophomore who played in six games last season as a freshman. He's a guy who has flashed some really unique traits in the film I've seen from him this season, and that drove me to dive deeper into each snap of a few of his 2018 games.
Let's take a look at five (or so) different plays from Murphy so far this year and see where he stands as a prospect.
Play No. 1: Mirror, Mirror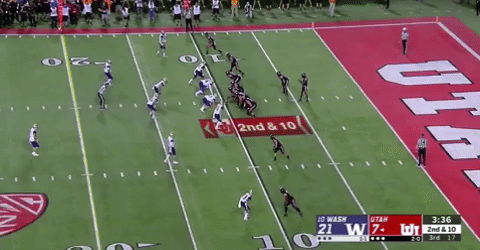 If you ever hope to play man coverage in the NFL, or outside coverage at all, for that matter, you have to have both the athletic ability and the position technique to "mirror" opposing wide receivers.
I couldn't find the best examples of mirroring in Murphy's tape to showcase, but that's due to the fact that the tape I had of him was limited, not because he can't do it.
In the clip above, we at least see some of the traits needed to mirror, traits that Murphy shows off with ease. Murphy is at the top of your screen, and right at the snap you can see he flipped his hip completely, explosively and smooth as the wide receiver started to take his first steps. Then, as the wide receiver stuttered slightly, Murphy did, as well, all while keeping even with him down the sideline.
The play above is at least an example of what Murphy is like in close man coverage, as opposed to a shuffling Cover 3. In it, we saw his quick feet, fluid hips and straight line speed which allowed him to mirror the wide receiver's movements and stay with him up the sideline.
Though Murphy can play close man coverage, he's most comfortable in a Cover 3 "shuffle" technique, as shown in the first clip. He's great at keeping his eyes on the quarterback, at all times, and the reason he can do that while still covering receivers is how fluid he is to flip his hips and change direction and how good of an athlete he is.
Play No. 2: Instincts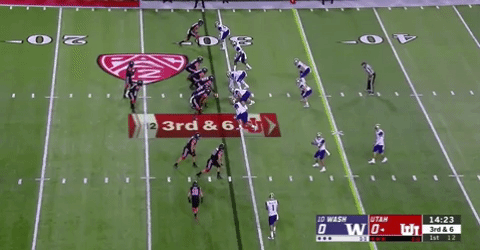 When you pop in Murphy's tape, you likely can't get many plays in without immediately noticing his instincts. His eyes are always moving to where the ball is and where it could be, and his ability to put one foot in the ground and explode in any direction (we'll get there) allows him to not only see things but also act on them correctly and with impact.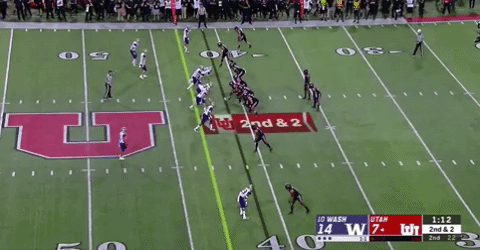 From an instincts standpoint, Murphy reminds me of some of the plays I saw from Alabama's Minkah Fitzpatrick over the last few years. They play different positions, but Murphy and Fitzpatrick both could see where the ball was going to go before most other people, and they were able to be a force on plays when no one else could.
Whether it's on screen passes, jumping routes early or adjusting zone coverages, Murphy has a sixth sense for playing the position, more than any other cornerback I've seen in this class thus far.

Murphy doesn't have many takeaways in his career. He has just two interceptions in two seasons, both of which came last year. But, on the interceptions he's had, one of them (shown above) highlighted his instincts well. Murphy was in his Cover 3 shuffle on the sideline to the top of your screen, and really wasn't even suppose to be over towards the middle, as seen above, but he recognized where the ball would be going and cut the route with ease.
That was all instincts.
Play No. 3: Hit Stick (The Good)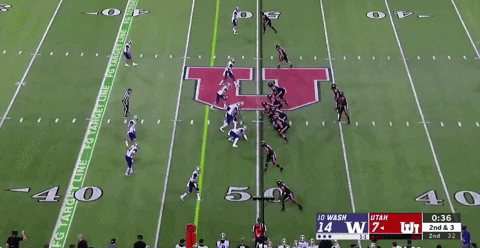 WHEW BUDDY. THAT HIT.
That stick was pure. Murphy led with the shoulder, made contact with the receiver at the chest/shoulder and old-school laid him T.F. out.
That's the kind of stuff that gets you jacked up if you're his teammate, and his strut to the sideline while talking to himself afterwards was the icing on the cake of a great football play.

Murphy is a sell-out tackler, meaning that when he tackles, which isn't always the case (we'll get to that, too), he's normally throwing all his body weight into someone to lay a big hit.
When it comes to tackles outside of that, however...
Play No. 4: No Wraps (The Bad)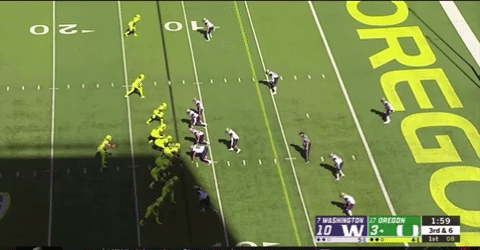 Don't let the big hits fool you, Murphy is not a reliable tackler. Part of me doesn't blame him. I mean, he's likely taking some punishment back for every tackle due to how small he is in weight, so it's probably not a whole lot of fun hitting a running back or wide receiver coming at him right in the thighs or the midsection. But it also makes him somewhat of a liability knowing he struggles with that.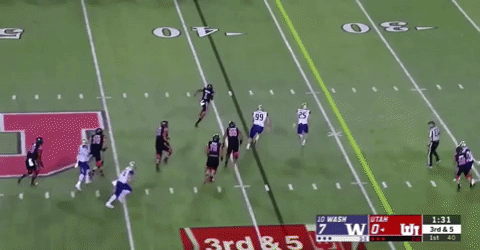 As you can see in the clip above, Murphy isn't yearning for contact. In fact, if he doesn't have to make contact, he often doesn't. Again, punishment on a little body, so I get that it's probably an element of protecting himself, too. But it's a tackling sport, so that has to be a factor.

Murphy is what Benjamin Solak calls an "ankle bitter," and the play above is a great example of that. Murphy will put his head down and fly into an opposing ball carrier's feet/ankles in order to either clip them or trip them up as his primary form of tackling.
You can expect a lot of good things from Murphy's game, but don't expect him to wrap up consistently against ball carriers already in motion.
Play No. 5: Elite Recovery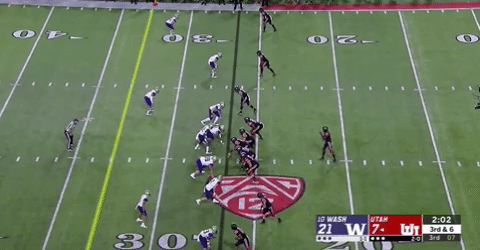 The final part of Murphy's game I wanted to highlight is a very important one for the position.
Murphy's recovery speed is elite. With his instincts and eye discipline coming hand-in-hand, Murphy can read and react to where a play is going with his mind and make sure he gets there with his body.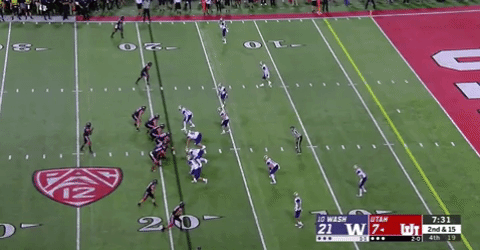 Murphy also isn't a guy who just "worries about his zone" while in Cover 3. With his eyes being where they need to be, he'll see a quarterback wind up, and Murphy will already be in motion towards the ball. It's what allows him to make plays like the one above, which there are plenty of over the last two years.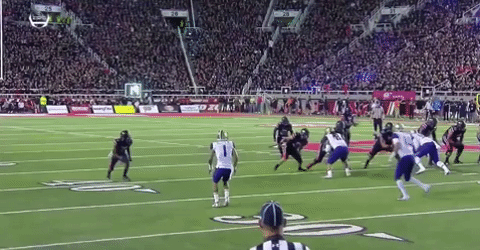 Closing speed and recovery speed are so important for a cornerback because without it you'll just give up too many catches in the NFL. Even on plays where you might be "beat" with separation, if you can close on the ball you can still give yourself a chance to force incompletion, as shown above. Murphy's mind as well as his quick hips allow him to get the most of his recovery speed and give him range like few other cornerbacks have in this class.
I know I brought up Minkah Fitzpatrick's name earlier, but that wouldn't be my comp for Murphy. I'm normally not bullish on players comparison because so many guys are unique in their skillsets and athletic ability, but Murphy's overall game reminds me a lot of Vernon Hargreaves. Cover 3, close coverage, shuffle cornerbacks with explosive hips and feet who are ankle bitter tacklers. Hargreaves was thicker than Murphy is, as Hargreaves was 204 pounds at the combine, and Murphy seems to be a better athlete than Hargreaves is, so there are differences. But, in terms of the style of game they play, I see a lot of the same things in both.
Hargreaves was taken No. 11 overall in 2016, and though I don't think Murphy will go that high, I could see him being a first round cornerback. He plays Hargreaves' style with even more natural athleticism.