It's almost Halloween time, which means it's basically Thanksgiving, which means you might as well just put up your Christmas tree now and get a head start on the best holiday of the year.
But, unfortunately, even though I try to milk Christmas for a week after it's already over, it does come to a close. Right after Christmas, however, comes another holiday, one of new beginnings, fresh starts, and a chance to hit the reset button. I'm, of course, talking about New Year's Day, and the infamous New Year's resolution tradition.
The stamp of the new year gives us the chance to reflect. It allows us to enjoy the great things that happened the previous year, but it also gives us the time to set new goals for what might be ahead. The theory behind resolutions is great. I'm mean, people wanting to better themselves in a variety of different ways? Trevor can't possibly hate on that, can he?
Wrong.
The most common New Year's resolution has something to do with fitness. It can be a goal to run a marathon later that year, or maybe something like getting bigger and hitting the weights harder in the gym. Whatever it is, big or small, you people crowd my gym for like three weeks before calling it quits like everyone else does, and the only thing that ends up getting raised is my time in the gym waiting for equipment and my annoyance level in the process -- I'm being dramatic and (mostly) kidding.
But last year there was at least one person that took his New Year's fitness goals, acted on them and followed through. That is Utah running back Zack Moss.
The Utes' 5-foot-10, 215-pound junior running back -- who is the cousin of Sinorice and Santana Moss -- was coming off the best year of his career as a sophomore in 2017 with 1,173 rushing yards on 214 carries He also added 10 touchdowns on the ground, and was truly poised to be the Utes' workhorse back for the next two years due to his size and his physical running style.
But when I watched his tape last season, I saw a power back that was stiff in the hips, had limited body flexibility and a player who struggled to move laterally or show burst down the field and in open space.
In 2018, I don't see that.
So I thought to myself, huh, he must have lost weight this offseason and gained quickness that way. But, according to a report this summer, Moss made it his goal this offseason to not only get quicker, but do so by adding weight, making his body as strong as it could be in every way, elevating his overall athletic profile in the process -- a lofty goal, but something most people just can't do with their genetics.
He did, and this is the new Zack Moss.
Play No. 1: What Once Was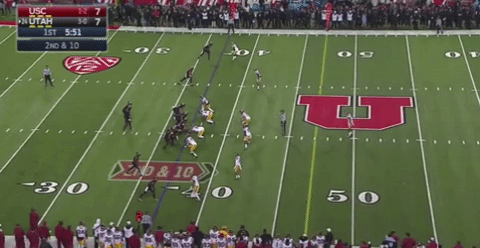 Last season, albeit with 1,000 yards under his belt, Moss just was not that impressive as a runner. He was a bigger body who could scoot, which is always an interesting combo and a tough one for defenses to handle, especially in college. But he wasn't special in terms of traits around the stats.
The clip above is somewhat of an example of where Moss was limited. His stop-and-start speed was slow to build, his top speed was a lower gear, and it took him too long to round to the outside and up the sideline. There were a lot of athletic limitations in that play, and there was a good amount of that last year in Moss' tape overall, even though sometimes he'd get good yardage out of it.
Play No. 2: Straight Line Stiff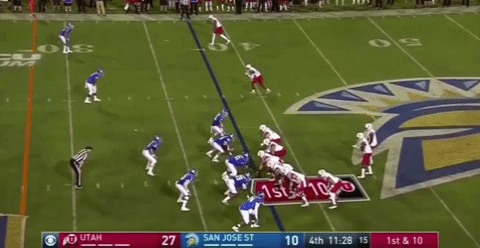 The play above was another one from 2017. In fact, I'd say it was one of his "highlight" plays where he accumulated a good amount of yards. But, again, you can see the limitations.
Watch as he put his foot in the ground when he got to the second level. There just wasn't an juice there. It was as if he was rounding his cut anyways. He just didn't have the flexibility or the suddenness. He was all momentum and no suddenness.
I watched Moss last year and didn't see much beyond a late Day 3 player.
Play No. 3: New Speed With New Vision
This year things look totally different. Not only does Moss' body look better, his athletic ability and production has followed suit.
You can see an example of the improved top speed and burst in the play above. Last year, I fully believe Moss would've been cut off at the angle on that run. But this year he broke it loose for the score.
And that's suppose to be at a heavier weight this year? That's rare.

The play above is such a good example of the change in Moss over the last year. No way he takes that first cut, as seen above, it that were the scenario in 2017. No way. He didn't have the athletic ability or the mental confidence to do something like that.
But this season he does. He's truly new and improved.
Play No. 4:  A Wrecking Ball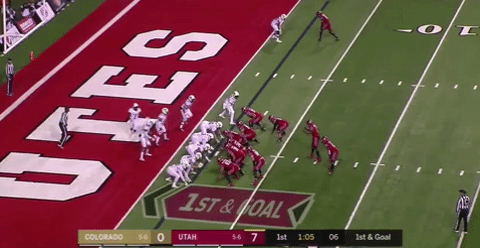 Even though Moss is operating under the "new year, new me" body, his calling card is still his truck stick.
Moss is a power back who will lay you out. If you don't come at him with all you got, you're going to end up on your back. There is no standing this guy straight up. Either bring momentum or he'll bring it to you.
Play No. 5: A Wrecking Ball (With Balance)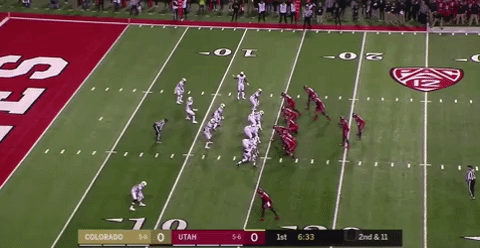 But the best part about Moss is that he's not a reckless bulldozer. He's one with balance.
Even more so with his added weight and new found athletic ability, Moss is able to take contact very well and not only drive through but stay up and get extra yards. He's a determined runner and that shows up plenty in plays like the one above. His added burst this season has only increased his ability to run through contact and his vision through it all is allowing him to have his best season yet.
In a running back class that is certainly up-in-the-air, new Zack Moss should be on your radar as a potential Day 2 back. I still have my reservations about just how fast he is, because NFL speed is a different beast. But, as of 2018, he's a guy who can do a little bit of everything now.