You ever spend your entire life living in the shadow of a family member's skills and success only to watch time go by year after year and realize that you'll never amount to what they were and that you're just not good enough?
Same.
No, but really, it is hard to sometimes follow behind the path of a mother, father, brother, sister, cousin or some other distant relative who may have gone before you in the same area of life you strive towards. This can be anything from maybe a family business, a series of accomplishments, volunteer and community work, etc..
An area where this situation can certainly be amplified is in sports. Players do well, get drafted, become All-Pros, make it to Hall of Fames, and then they have kids and when we see the last name, where they're from and who they're related to, we often think of "the second coming."
Such has certainly been the case with Texas Longhorns wide receiver Collin Johnson. Collin is the son of Texas Longhorns legend Jonnie Johnson. Jonnie played defensive back at Texas from 1976-1979. He earned All-American honors as both a junior and senior in '78 and '79, and was drafted No. 17 overall in the 1980 NFL Draft because of it.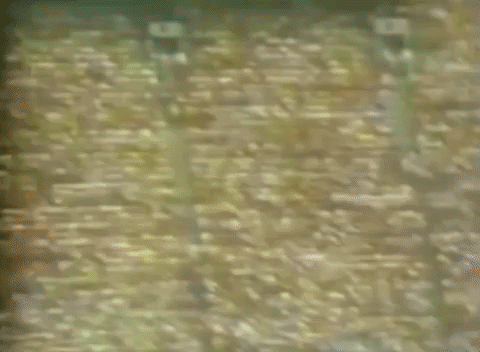 As a rookie for the Los Angeles Rams, Jonnie still has the longest play in Rams history, a 99-yard interception return for a touchdown. He played nine seasons with the Rams, earning All-Pro once in 1983, and after his retirement was indicted into the College Football Hall of Fame in 2007.
Those are some big shoes to fill for Collin. As he is now in his third year at Texas, he's not only been in the shadow of his father's collegiate accomplishments, but will also continue to have those comparisons at the next level. Thankfully, though, Collin doesn't have to deal with exact parallels, as he doesn't play the same position his father did.
One big difference between Collin and his father is that Collin is 6-foot-6 compared to his dad who is just 6-foot-1. His dad was an incredible athlete at his size. As you can see in some of the clips above, he made people miss all over the field with change of direction and acceleration. Collin may not have that exact kind of athleticism, as he is much bigger, but he's athlete in... other ways.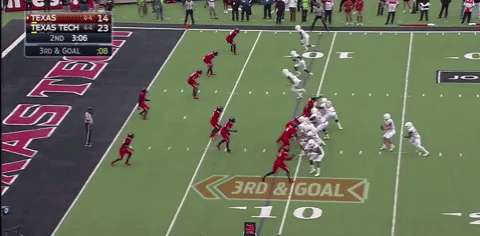 So with rare size and NFL DNA running through his blood, let's put Collin Johnson through the 5-Play Prospect film room to see what he's really made of.
Play No. 1: Just Throw It Up (Single Coverage)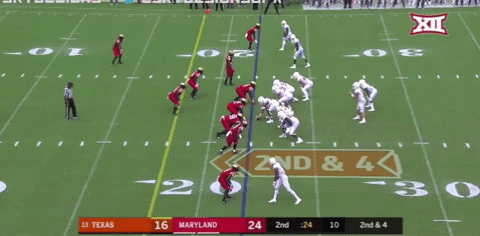 Tall players win when the ball is thrown to points where only they can get it. I know this isn't a ground breaking concept, but it's such a distinct advantage of Johnson's that I wish Texas would take advantage of more -- he only has seven career touchdowns in three years.
Johnson can make acrobatic catches through contact, as we see in the clip above, pretty regularly. Now, would you like him to go up and get it with his arms extended? Sure. But Johnson converts those basket-type contact catches way too often for me to really tell him he should be doing something different. Catching through contact is hard enough. When you're tall, smaller defenders will always be trying to grab at you without getting called. If you can consistently reel it in like Johnson does, you get the check mark in that box -- however you get it done.
Play No. 2: Just Throw It Up (Double Coverage)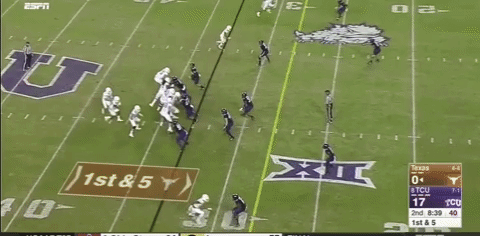 Just going back to that whole height advantage thing, when you throw more defenders in the mix, they're actually not allowed to get on one another's shoulders and stack up to take away the advantage -- just throw it up!
You want to know what a red zone target looks like? The clip above is the example. Johnson not only has a knack for creating small separation with where he runs his routes, but he's also typically very good at locating the football and giving himself the best chance at it while executing his natural advantage against defenders.
Collin Johnson is the epitome of "just throw it up."
Play No. 3: Over The Shoulder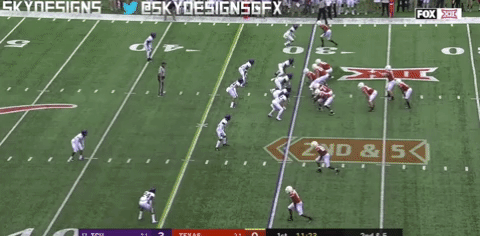 Not only can Johnson stop, turn and locate the ball in the air in ways we've already highlighted, he can also do so in stride over his shoulder.
Over the shoulder catches take a lot of concentration. Some guys just can't do it. This significantly affects their route tree and the way they can be effective. When it comes to ways to locate the ball, that part of Johnson's route tree seems wide open.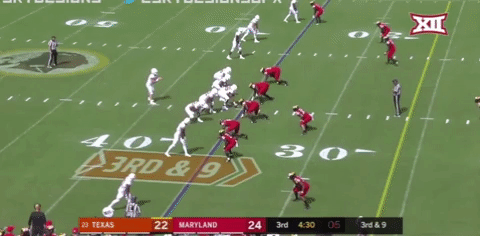 Collin Johnson has some of the same "big man" catching tendencies that Mike Evans has. Evans is a guy who cradles catches over the shoulder, and almost goes down with them, as seen above. It limits yards after the catch, but it gives them a higher guarantee to come down with it. I see that same sort of trade off with Johnson. He's not the athlete Evans is anyways, but even then he knows he's not really a burner. He's a guy who does his best work running before the catch, going up, getting it and securing it.
Side note: I loved the hand raise in the play above about five steps into the route. That's confidence. He wanted that ball and he knew he had his man beat.
Play No. 4: A Mover, But A Stiff One
How do I put this nicely...
Collin does not have the quick twitch agility that his father did -- there, that works.
For one, duh. Once again, Collin is five inches taller and 40 pounds heavier than what his father played at. His movements and changing of direction isn't the worst, you can just tell it's not his bread and butter.
I chose the play above as an example because, at the beginning of the play, you can see how slow he was to flip his hips and change direction. He really should have been tackled right at the catch.
Johnson is at his best when things can stay linear and he can move in a straight line. Go routes, posts, and in routes that allow him to round his route path are his three best bets. Asking him to do a full comeback route, a quick out route and even a long slant is taking what he does best of of the equation.
He's not as bad of a quick-twitch athlete as some have told me, but it's certainly not where his game thrives. If you can keep him in a relatively straight line, he can even put his foot in the ground and make a move here and there, but anything beyond a change of a 45 degree angle to the direction he's going and you're going to slow things down too much to be advantageous. He's just not that kind of an athlete with rangy flexibility.
Play No. 5: A Chance For The Spectacular
*LeBron James Miami Heat voice*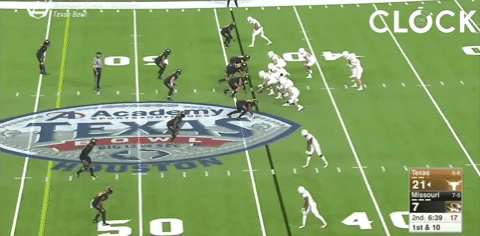 "Not one...
"Not two...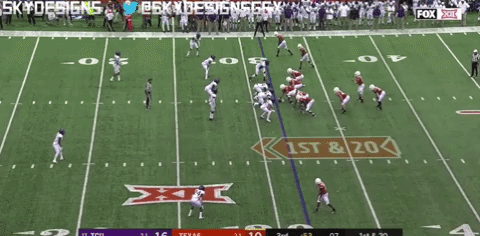 "Not three..."
How many 6-foot-6 wide receivers do you know that make catches like that on the regular? Because I know about one, and it's Collin Johnson.
Johnson is not only tall but he is talented. He works through contact well enough to truly boost his size advantage, he plays the ball well in the air with his back turned and also when facing the line of scrimmage. He's not a quick guy, but he can be fine down the line -- he'll play on the boundary anyways -- and most importantly he's competitive as hell and will do whatever he needs to to make a play.
Johnson has athletic limitations, but what he does well is well within the recipe for success each Sunday on an NFL football field.
Johnson is a good wide receiver prospect no one seems to be talking about in this class, and displaying more of the talent he's flashed already means he won't be living in father's shadow much longer.
He'll have his own to create.