Everyone loves a good David & Goliath story. It's why the ratings for March Madness are so high during the first two rounds of the NCAA tournament every year. Everyone wants to root for their underdog, the guys who might not be as big or as athletic as some of the premier players on the field, but dammit they can get it done -- and they're fun to watch.
College football has their own Davids against Goliaths, too. UCF certainly took that storyline to a whole new level last year after running their table to an undefeated season, beating one of the best SEC teams in their final conquest.
But it's not just teams that spawn such an underdog storyline in college football. There are players who take on the David role every year, and sometimes their Goliaths aren't just the other players they're going up against. Sometimes it's their narrative, their outlook.
Sometimes it's their draft perception.
I've had some time to watch a decent amount of the bigger name prospects in this year's draft class as part of what you could call a "Summer Scouting Series", and so far, when I think of a David & Goliath player storyline, I think of the 5-foot-10, 190-pound, former 3-star recruit in Stillwater, Oklahoma, running back Justice Hill.
It's hard to think that a back who rushed for over 1,000 yards his true freshman season, and is currently coming off back-to-back 1,000-yard years going into his first draft eligible year is considered a David, of sorts, but it appears that is the case with Hill. If you look at the consensus running back rankings going into the 2018 college football season, you likely won't see Hill's name in the Top 5, sometimes not even the Top 10. I haven't watched all of the draft eligible backs yet, and there is still a year to go, but I can tell you one thing.
I like Justice Hill.
These are five reasons why.
Play No. 1: Gallop & Go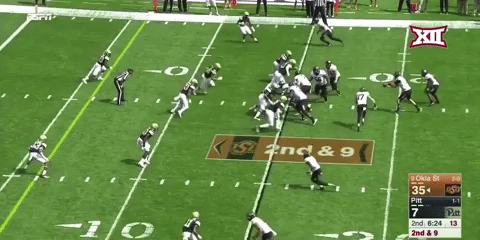 Simply put: this kid's got moves.
Hill is an artist at making guys miss in the open field. He loves to shuffle his feet and sometimes can just leave defenders grasping at nothing but air. Hill has good control of his strides, and because of that he's able to one-cut/jump-cut/gallop-step (whatever you want to call it) his way into open space.
Play No. 2: One-Cut Wonder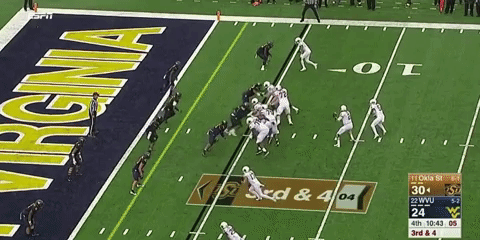 It's tough for me to totally judge Hill's vision as a back, because, at times, his offensive line does him no favors for off-tackle plays and plays up the middle. The rest of the time the offense knows it's in the Big 12, and as long as you have the athletes to do so, you're always going to bounce to the sideline in that league.
For that, I have to go off traits and flashes of examples of where I can see Hill put his foot in the ground, see a lane and burst through it, usually throwing off arm tackles (as seen above). It's because of plays like the one above that I have faith in Hill's ability to learn to be a true one-cut back, even between the tackles. I'm not sure how much of that he'll be doing at Oklahoma State, but I do think that when he arrives at the NFL, improved vision and improved confidence to cut between the tackles will come for him.
Play No. 3: Strength and Balance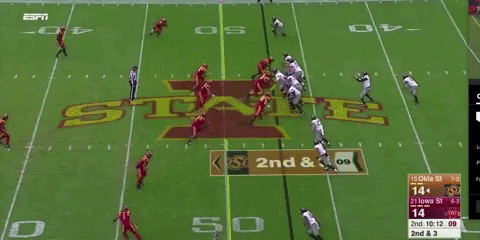 One of the reasons why I was such a big fan of Alvin Kamara in 2016 and John Kelly in 2017 is because of both of those backs ability to turn balance through contact into chunks of additional yardage. I see the same type of mentality in Hill. Now, Hill reportedly weighs about 20 less pounds than those guys do, so that, in itself, is a risk of a projection. There's a big difference between taking on NFL tackles at 215 and doing so at 195.
We'll have to wait and see what he officially weighs in at during the Combine. I hope it's a lot closer to 200 or 205, because contact balance is a trait that I really like out of Hill on tape.
Play No. 4: Pass "Protection"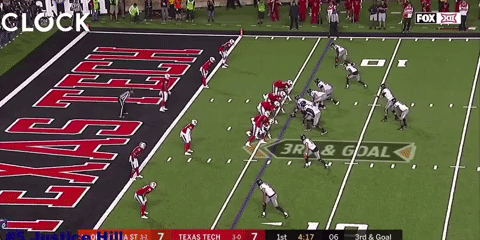 If there's another category in which Hill could stand to gain some weight, it's in pass protection.
Right now it doesn't exist. Hill is simply just an inconvenience when it comes to handling rushers off the edge. If Hill isn't going to be a full-time back in the NFL , which he's not, he's going to have to find a niche. I still like his skillset enough to find it somewhere, but being as unreliable as he is in pass protection takes away an opportunity to get him on the field on obvious passing downs.
31 catches in 2017 shows he's comfortable as a receiver, so that helps counterbalance his issues in pass pro somewhat. Hill sees open space well and works to it as a route runner, so from there it's just about chemistry with a quarterback.
Play No. 5: Adequate Speed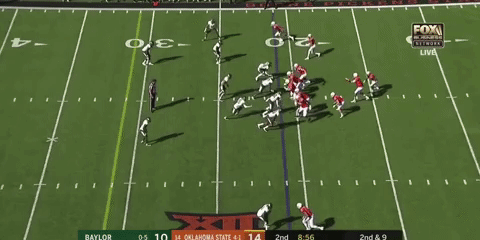 Hill isn't a burner like you might expect for a guy his size, but I do think his speed is adequate. He doesn't have the same top gear someone like Bryce Love has, but I do think that Hill's overall skillset translates to the NFL better than Love or Myles Gaskin, who rely on pure speed more than completeness as a player.
Hill's weight come Combine time is what I'm most interested in when it comes to his NFL outlook. If he's over 200, that's great, but even if he's under, I can live with that, too.
How many feature backs in the NFL are sub-200 pounds? I'll give you a hint: it's zero. But the NFL isn't all about feature backs anymore, and I think we should stop looking at it as such when it comes to the majority of running back prospects.
Hill will likely present an NFL team with an overall skillset and a mentality for yards after contact that are coveted, even at a less-than-ideal size.
He might not be a Top 50 pick, but he's a David that has a chance to make a name for himself, even in a league full of Goliaths.