You guys ever play the wildly popular, early 2000s video game NFL Street? Of course you have, what a silly question.
Street was such a fun game because it allowed you to play the game of football and control some of your favorite players in settings quite untraditional and unorthodox. You have players playing with no pads in cargo shorts or basketball shoes or ripped up jerseys with weird hair styles or hat choices. It gives you an outside-the-box experience with your favorite NFL players.
But there was another element of the game that made it fun. That was the gameplay itself. Players would handle the ball carelessly when they showboated with throws behind the back, spinning the ball on their fingertips as they ran down the field, crazy spinning jumps and jukes off the wall, and much more.
The end goal of the game was certainly to score more points than the other team -- first to 36 points is usually how it worked. But there was a smaller goal within that main goal that would help you achieve victory.
That was obtaining something called "Gamebreaker."
When you activated Gamebreaker, it's as if all your stats and abilities went through the roof. You basically became unstoppable.
On Saturday night, it sure seemed like Notre Dame interior defensive lineman Jerry Tillery was on Gamebreaker against the Stanford Cardinal.
Tillery, the 6-foot-5, 307-pound senior defensive tackle for the Irish, finished the game against Stanford with four sacks. That nearly matched his season total (and career high) from all of last year in just one game.
Tillery was a man on a mission that night, and due to his eye-popping performance, I decided to put him through this week's 5-Play Prospect formula to see if that was just a fluke, or if Tillery started a fire that could burn for the duration of the college season and into the 2019 NFL Draft.
Play No. 1: Burst Off The Ball
I'm not going to beat around the bush here and try to hide it. If you have good get-off when the ball is snapped, you're already a winner in my book.
As players who play on the defensive line anywhere from 290-320 pounds, if you can get off the ball and into an offensive lineman before they can get into their stance, you have a chance to get the better of them on every play, even if you don't have many moves after that. Quick-twitch physical reactions to movement and the ability to tell your body to go in a split second is absolutely a positive trait for trench players.
On the first two plays of Tillery's night against Stanford (he's No. 99 in the middle), I saw him burst off the ball and into his gap quick enough to cut through the offensive line and make an impact in the backfield. For Tillery to do that at 6-foot-5, 307 pounds, I'm a fan.
Play No. 2: Big Man Movement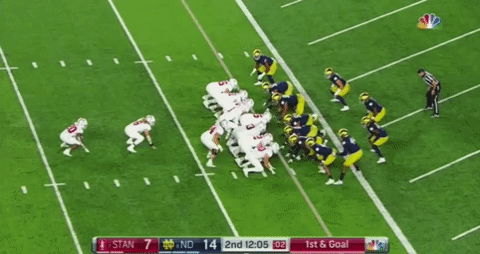 The play above may not have seemed like much, but it's one where I picked up some details about Tillery that I liked.
I'm not sure if you guys know this, but 6-foot-5, 307 pounds is big -- some would say "big af." When you have that much size, how you carry your weight matters, and Tillery carries it really well.
What I noticed from the play above was that Tillery was low in a 4-point stance, as to get as much leverage as possible, was hit at the knees, stumbled, got back up and immediately transitioned into a sprint towards the ball to the outside. To me, most big men don't move that fast. Most big men get hit at the knees, need a few steps to recollect their balance and then can move over to the sideline. For Tillery, it was down, up, sprint.
Big men who move well aren't common. Tillery seems to be one of them.
Play No. 3: Can't Teach Length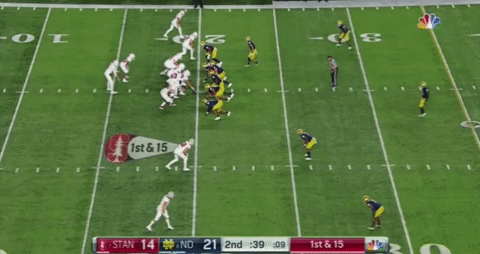 Due to the fact that he's 6-foot-5, Tillery has some long arms. But there are many defensive linemen who have long arms that have no idea how to use them or what kind of advantage they can obtain.
Tillery knows.
In the play above, Tillery got up and into the face of the guard in front of him quickly. He then started to walk his lineman back in a bull rush, but once he knew he had him off balance and that his hands were in the right place, he extended his inside arm fully to gain separation and control. That allowed him to create distance between his chest and his offensive lineman's arms and therefore did not allow the offensive lineman to recover or counter by getting his hands on Tillery. Tillery then was able to throw off his man off with ease when he got even with the quarterback and came up with the sack.
That's using your assets to your advantage.
Play No. 4: Strength With Length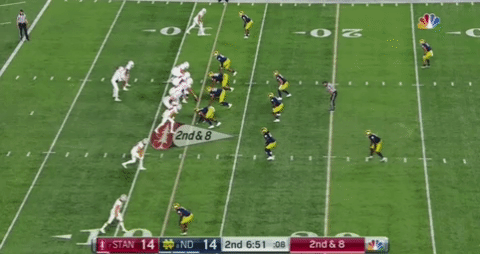 Taking the next step, it's the strength that Tillery shows with his length that make it a deadly combo.
As the right defensive tackle in the play above, Tillery put a push-pull move on the left guard that rendered him helpless. If the quarterback didn't get the ball out of his hand so quickly, that would have been a sack.
Tillery had his arms extended fully at contact, kept them straight with a good punch, and then was able to yank the guard right by him -- all very quickly.
Play No. 5: Gamebreaker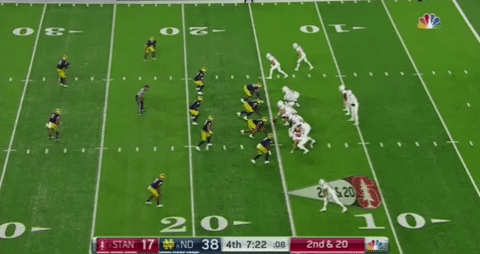 By the time the fourth quarter rolled around, Tillery was on Gamebreaker against the Cardinal, and there was no way he was going to be stopped.
Tillery is a better pass rusher than he is a run defender, at this time, but I wouldn't say he's a big liability in any way.
Guys of Tillery's size playing with the reaction speed, length and strength he showed against Stanford do not come around often. That game was by far the most productive game of his career, so we'll have to monitor how often production happens with him. But, if those flashes and backfield impact we saw in that game pop up a handful of times again in 2018, he's another name to keep in mind in an already stacked interior defensive line class.