Down in the south we have this grocery store called Publix. It's not as fancy or expensive as a Whole Foods or a Trader Joe's or a Fresh Market, but it's a step up from a Winn-Dixie or a Walmart. They have more than just food, as most grocery stores do these days. They have great deals that you can find each week, and the quality of their products is top-tier.
But beyond the common things you'd expect to find in a grocery store, there is an element of Publix that truly makes it a must-visit for those whose time may be brief in its area reach and a reason why this grocery store is such a staple for those who live around one.
The sub sandwiches.
#PubSubs are the best. It's the best sub I've ever had for something as convenient as it is, and the consistency of how good they are from store-to-store is nearly flawless. Though they have great turkey and bacon, ultimate cubans and Italian sandwiches, there's one sub that rules them all: The chicken tender sub. Four perfectly cooked chicken strips, crispy on the outside and juicy on the inside, chopped up -- tossed in ranch and buffalo for me personally -- on the warmest, softest bread you can buy with all kinds of toppings at your disposal. It's what makes Publix a true must-have experience.
However, sometimes those sandwiches come at more than just the $9.62 cost you pay at the register. Sometimes, on a busy day, I'll run into the store to see a line of five or so people deep at the deli. I'll sigh and roll my eyes a bit as I walk to the end of the line, and as I listen to each order in front of me, sometimes I get nervous. I get nervous that, when I finally do make it up to the front of that line, now more hungry than ever, with the smell of the deli all around me, I'll say those words, "hi, can I have a whole chicken tender sub, please?" only to hear "we just ran out of tenders, it'll be about 15 more minutes for fresh ones to cook" in response.
After all, waiting is the hardest part.
I imagine that was the feeling surrounding LSU's senior running back Nick Brossette for the last four years. Broseette was the hometown kid, playing his high school ball a mile from Tigers Stadium in Baton Rouge. In his five seasons playing varsity football, the 4-star Brossette finished his high school career with 8,704 yards and 163 total scores. In the end, though, he wanted to stay home and play for the Tigers.
Though Brossette wanted to be a Tiger, him arriving on campus was much like me arriving at a Publix. At first, there's the initial line of people you have to wait behind. As Brossette came in behind Leonard Fournette, this was something he could see coming. He could understand those who were there before him deserving their spot for carries on the pecking order, but just as the line looked like it was done, just as I arrive to the front of the deli, Brossette was told he would have to wait even longer, this time for Derrius Guice, and I would have to wait for new tenders to be cooked.
The unexpected wait.
But, last week, for the first time since his final 141st rushing touchdown four years ago, Brossette sprinted the most exciting 50 yards he had in years, as he broke a long run for a score in the team's first game of the 2018 season against Miami.
"I just knew I had to be patient," Brossette said. "Being patient, being humble. I showed a lot of people out there."
Brossette ended that game with 125 rushing yards on 22 carries with two touchdowns. After the game, Brossette talked about everything that went into the last four years of determination for him to get the opportunity he had on Sunday night.
"I just had to believe in myself," Brossette said. "I just want to thank my teammates, my offensive line, and Coach O for giving me the opportunity.
"You gotta have your family support you," Brossette said. "That's what my family was doing. I had a lot of people calling me, telling me I was going to have a great season. I have a lot of people believing in me."
So with guys like Leonard Fournette and Derrius Guice in the line of LSU running back royalty before him, how is Brossette looking as the next man up? Let's take a look in this week's 5-Play Prospect column.
Play No. 1: Physical Football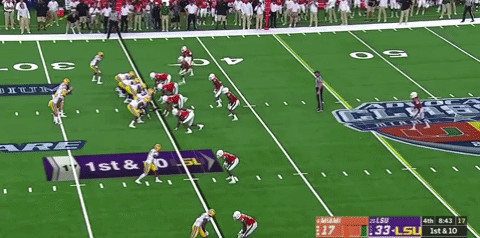 For anyone who has watched LSU over the last three years, you know their running backs aren't afraid of being physical. It appears Brossette is keeping that lineage going strong, as 75 of his 125 total rushing yards came after contact.
At 6-foot, 220 pounds, Brossette can certainly pack a punch when he lowers his shoulder or when he gets his legs churning at contact. He isn't overly violent when breaking tackles, but his balance is good and he has the size to bounce off smaller tacklers.
Play No. 2: Years of Patience

Brossette waited years to get his shot at LSU. What's a few more milliseconds for him to wait for the blocking to form to maximize each carry?
I thought Brossette did a very nice job of letting his blocking create creases in front of him before he attacked the gap. As a player who has waited as long as he has to show his stuff, combined with how inexperienced he was with in-game carries, it would have been natural to see him want to rush things a bit. But Brossette didn't do that against Miami. He let the big boys in front of him do their thing so he could do his.
Though he doesn't have many carries under his belt, Brossette showed the patience of a true senior against Miami.
Play No. 3: Willing Blocker
Due to his size, you would hope Brossette would have a good foundation to become a reliable pass blocker.
Brossette does show a willingness to pass block, and if he gets smaller defenders between his shoulders he can stand them up, but there were times when big defenders or just more experienced rushers got the better of him. This is the area that his inexperience showed up in the most against Miami.
Play No. 4: No Tunnel Vision
Having vision as a running back is never something that is just assumed -- ask Trent Richardson. LSU's run scheme also involves plenty of pulling and movement from their offensive line, which often means you need to have a sense for where a hole is going to be as a running back before it even forms.
On the play above, and in a handful of other plays during the game, Brossette showed he knows how to trust his blocking and get to where space might be. He isn't a guy who is going to just panic and run full speed into his offensive line when the hole doesn't form right away. He's going to find the best route to the first down.
Play No. 5: Small Park Homers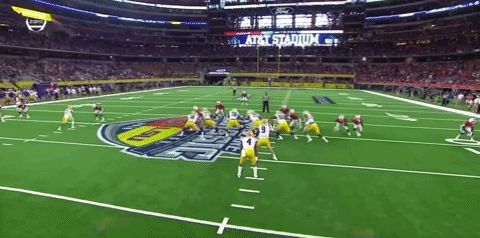 Finally, while I don't think Brossette is the fastest guy in the world at his size, his speed is adequate, especially for college football. He isn't violent in his burst or acceleration and his top speed isn't going to be best-in-class, but he's still an athletic guy for a 6-foot, 220-pound back, and he's smooth in his speed.
He can hit home runs like the one you saw above, if the space is there for him. He might not be an elite athlete, but he's enough of one to keep you honest.
We're one game into Brossette's big year at LSU, and after a game like the one he had against Miami, I would be shocked if he wasn't the frontrunner of that committee moving forward. Though he may not be a "top" running back in this class, his game tape, his ability and his story make him worth knowing, at the very worst as a potential late round player, for now.
Brossette's put in the work behind the scenes with little glory over the last three years as those in front of him became household names. Now, because he never gave up, he's getting his time, and hard work like that always deserves recognition.