"I ain't felt the pressure in a little while, it's gon' take some getting used to."
Everyone loves a good comeback story, but few know what it takes to make them happen. For Florida State quarterback Deondre Francois, he learned every minute, every hour, every week, month, and ounce of pain it took to make a comeback, starting with the moment Alabama's Ronnie Harrison came down on his leg in the last play we've seen from him in nearly a year.
Francois tore his patellar tendon in his left knee with just five minutes to go in an all-but-over season-opening game against Alabama back in 2017. It was hard to watch. Not just because you saw a college kid who had already been beat to hell that game lie on the ground and not get up, but also because of how well the young Francois performed as a redshirt freshman the year before, and how 2017 was suppose to be the next step for him as one of the best quarterbacks in college football.
"It started off tough," Francois said. " That was my first surgery, so I didn't really know what to expect... it's slow process. I knew I had to take my time with an injury like this... I'm trying to do everything I can to help me be back on the field faster."
The push for Francois' comeback onto the field since his injury seemed to be more urgent as the year went on. When Francois went down, James Blackmon came in and started the rest of the season for the Seminoles, and though he had his struggles as a young quarterback, he started to play very well down the stretch.
As the offseason came around, to add to the turmoil, head coach Jimbo Fisher left FSU to go to Texas A&M. As new coach Willie Taggart entered the picture, things didn't look good for Francois. With a new head coach in town, there was no underlying reason for the team to go back to him after his injury, and after Blackmon's improvement late in 2017.
Francois was finally cleared to practice this summer, and though he was behind in terms of learning and practicing Taggart's new offense, Francois performed well enough to be named the starting quarterback again, news that certainly flooded his memory of all the pain, the discomfort, and the doubts that floated in and out of his mind over the last year -- his comeback.
But wining FSU's starting quarterback job wasn't the end of Francois' comeback story -- it was simply a turning of the page. Getting back to that first snap under center is an achievement, no doubt, but for Francois to write the ending of the comeback story he desires, he'll not only have to play again, but play better than he had before.
If you ask me, what he was before, as just a 19-year-old starter in the ACC, was pretty damn good. In fact, compared to this current quarterback class, knowing what he was two years ago and thinking of what he could be as he's matured, I have him ranked as my No. 1 quarterback going into the 2018 college football season.
Here's five plays that tell the story of where he is, where he needs work, but most importantly, what Deondre Francois could be to FSU and the NFL.
Play No. 1: Fearlessness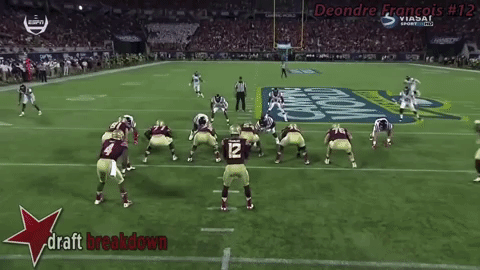 There are a couple of things to point out that I like from the clip above, but the main takeaway should be Francois' fearlessness.
Whether it's aggressively attacking coverages or standing tall in the pocket knowing he's about to take a big hit (we'll get to that), Francois is not afraid to hit the throw he thinks he needs to make, and the one that will benefit his team the most. He's patient in his timing with routes, and his mental clock is pretty good -- whenever Florida State's awful offensive line isn't completely letting him down.
Another side note here is how compact and technical Francois is when standing in the pocket. He shuffles his feet constantly, as to always be ready to move and adjust course, he keeps his eyes downfield, and his throwing mechanics are up and out. There isn't much wasted technique from Francois, and that was from him as just a redshirt freshman in the clip above.
Play No. 2: Poise With Pressure
I swear I could show you 200 more clips like the one above of Francois getting absolutely hammered by a blitz and yet making a catchable throw.
I'm not sure I've seen any quarterback take the full-season beating Francois did in 2016, and yet after it all he was still standing. Francois does have a tendency to wait a split-second too long to get rid of the ball, at times, but some of that is just patience with route development, too, knowing that he has to hold it until the last second for his man to get open.
There are small nuances of timing that I think he can get better at -- and something that will keep him upright a few more times -- but overall the calmness to deliver passes under pressure was incredible in 2016, and even in most of the Alabama game in 2017. That is a trait that cannot be taught that Francois naturally deals with very well.
Play No. 3: Adequate Arm Strength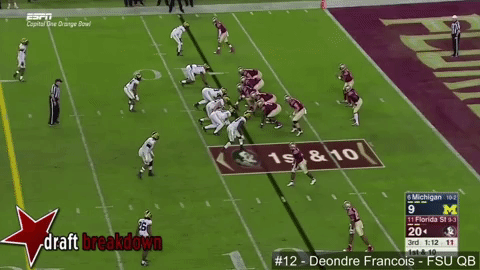 Francois doesn't have quite the arm of say Drew Lock or Tyree Jackson, but Francois shows plenty of arm, if you ask me.
There is a lot to unpack on this throw. First of all, Francois is rolling the opposite direction, but he always remembers to square himself up to his target to get a proper follow through -- again, such mechanics were great to see from a 19-year-old. Second, Francois put that ball right on his receiver's hands beautifully, but it was a tough grab because, and this is the third point, Francois' fearlessness can sometimes get the better of him.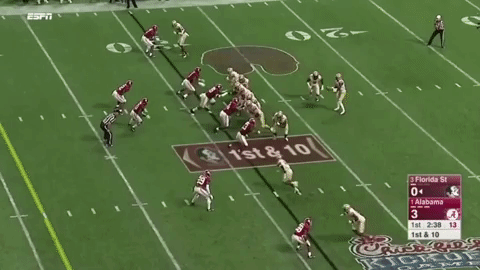 (Yes, I'm showing an extra play. Get over it.)
Not only can Francois get the ball 50-60 yards down the field, he does so without losing the integrity of his mechanics. He isn't cocking his arm down and back all the way through his hips. He isn't leaning back like an Instagram model trying to get the right angle. He's upright with the ball at his shoulder. It's back and it's out.
That, to me, is a plus. There are a handful of throws from Francois that are either short in their flightpath or missed slightly in accuracy, but I'm betting on experience being the remedy for that since I'm such a big fan of how simple his motion is to get rid of the ball.
Play No. 4: A Deceiver, He Is Not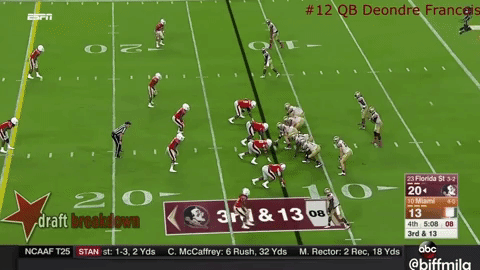 My biggest negative for Francois right now is that he's too predictable for defenses as games go on.
During the games against Miami, Michigan and especially against Alabama, teams realized they could predict what Francois was doing because he never showed the body language to not telegraph his target. Francois does scan the field some, but he never seems to do it with the intention to deceive or to get defenders off where he knows he is eventually going to go, or has the best potential matchup for soft zone or single coverage.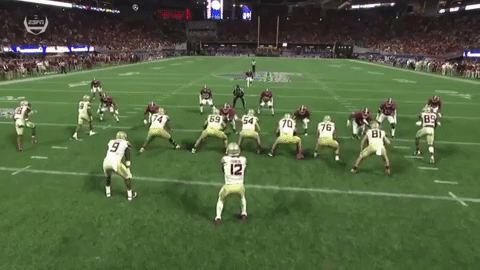 (... yeah, OK, I'm breaking all the rules this column.)
Francois has to know that the better defenders are going to read him like a book like Alabama did at the end of that season-opening game. There was the play above and then another play where he threw an interception to a cornerback who acted like he was in a Cover 2 in the flat, but then broke into his actual Cover 3 assignment down the sideline. That's something that gets plenty of young quarterbacks, but that's where Francois must take the next step. He needs to have a spare bed in the film room, and that's so he can understand every kind of coverage and also watch the best eye-manipulators in the game like Brady, Brees and Rodgers.
Francois can't be the one getting fooled. He has to be the one fooling them.
Play No. 5: Drop A Pin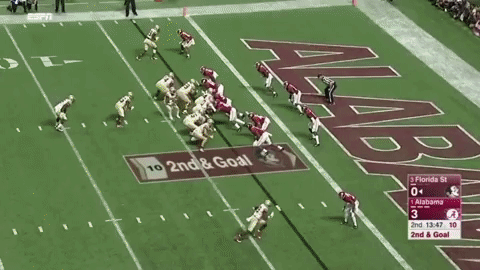 Some plays, Francois can "wow" you by putting the ball exactly where it needs to go.
And other times...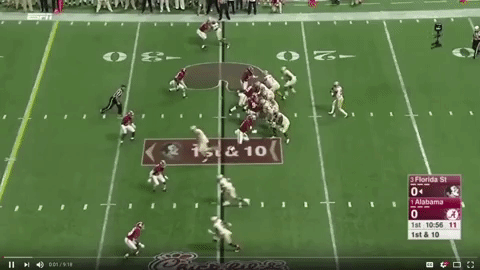 Other times the GPS just ain't what it needs to be.
Certainly with any redshirt freshman quarterback, there are highs and lows, but in Francois' tape from 2016 and early 2017, the "highs" I saw were things that I covet in a quarterback.
First of all, he's a natural-born leader, and he proves it each time he gets back up after the punishment he takes. For a talented Seminoles team to rally around him like they did in 2016, that says something, if you ask me. Second, he's not afraid of big moments. He doesn't back down from road crowds, future NFL defensive linemen or uncovered cornerback blitzes, and if there's a small window he has to hit down the field to make a play, he'll let it fly as best he can. He'll stand tall and deliver. And, finally, I think that his starting point as just a redshirt freshman in terms of mechanics and recognizing coverages were well ahead of his years, and I thought his ball placement was good, thought it still needs work.
It's an unclear quarterback class right now, and that plays into my elevation of Francois on my rankings just as much as he does as a prospect. I wanted to like Brian Lewerke, as he throws touch and anticipations really well, at times, but he was more inconsistent than I wanted. I also liked some of Herbert's tape, too, but a few games of his scared me a bit. Drew Lock and Will Grier are wild cards. Talented at the top, but projects to let play out. There are things to bet on and things that could be fatal as prospects in both.
Maybe I'm just more down on this quarterback class right now coming off 2017's heralded class, but if I'm going to run the risk on a quarterback, at this point in time, I'll ride with Francois and see if the now draft-eligible redshirt junior can build off an impressive initial campaign almost two years ago.
"It was very devastating," Francois said. "It was very detrimental to me... It hurt. But every athlete gets hurt. It's a part of the game. I have to take the bitter with the sweet and come back stronger."