The quarterback position in football, especially in the NFL, holds an unprecedented amount of value. In no other sport is the demand for talent and payoff of future contracts as great as it is with signal callers in the NFL, and that is due to just how much one quarterback can change it all. Just look at the Packers, for example. Their roster sucks and yet I think they can win every week just because of Aaron Rodgers.
Due to this truth -- not that the Packers suck, the other truth, the one about quarterbacks being important -- people are always looking to the next draft class in hopes of finding a signal caller who can save their franchise. Looking ahead is good, but, at times, we can get carried away with ourselves, too, and believe in a player more than we should just because we want them to succeed as a quarterback. This often causes the names and fan groups for college quarterbacks to be numerous as the season goes on.
When such actions take place, new names come to the forefront as players who have the chance to change franchises. One of the latest names entering the quarterback conversation is Duke's redshirt junior Daniel Jones. Jones stands like a giant at 6-foot-5, and his size even comes second to his toughness. Jones currently has 615 passing yards with five touchdowns and one interception (that wasn't his fault) through three games. Jones missed two games due to a fractured clavicle in his non-throwing shoulder this year, but is already back and playing after surgery. In fact, he was back after just nine days post-surgery. Here's what his head coach said right as Jones was coming back from surgery.
"Daniel is actually getting some good practice time right now," Duke head coach David Cutcliffe said. "He's a tough young man, so he has actually put on pads and gone through practice. He's no-contact, obviously, but he's gaining his confidence back. He's moving well. He's running well. So it's hard to say. We're still indefinite, but our medical people are absolutely amazed at what he's doing.
I'm sorry, did you say nine days? As in, single digits? The dude was back playing football nine days after surgery? Do you guys know what I was doing nine days after I had surgery? I was sitting in bed watching How I Met Your Mother marathons while getting Chipotle delivered to me -- safe to say I'm not an NFL quarterback prospect.
Jones has been getting a lot of love national. He even debuted at No. 20 overall on NFL Network's Big Board from Daniel Jeremiah and Bucky Brooks.
If my math is correct, No. 20 overall would mean first round talent. So, is it true? Let's take Daniel Jones through the 5-Play Prospect film room to find out.
Play No. 1: The Touch; The Feel
A quarterback who throws with touch? OK, I'm in.
This was truly my first time watching Jones' tape, so when I dug into his three games I was getting my first look at him. His throwing mentality reminded me a lot of Michigan State's Brian Lewerke (which is both good and bad). The good in there is the fact that Jones can throw with touch and accuracy really well. Like Lewerke, Jones can set up his throws to hit players in soft spots in zone coverage on a regular basis.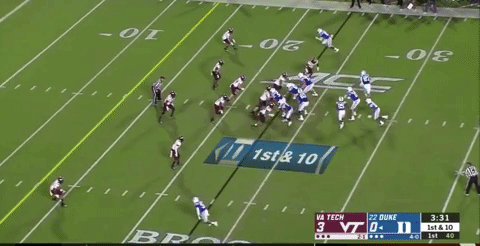 But, it's not just in zone coverage. As shown in the clip above, Jones' touch passes also fare well against man coverage when throwing over the shoulder.
Touch is really tough to teach. In fact, I would say that you can't teach it at all. Touch is something that each quarterback either develops with repetition or doesn't. Jones has, and anytime you can develop something that can't be taught, you know you check a box that some won't.
Touch and feel for the football are strengths of Jones'.
Play No. 2: Deep Ball Accuracy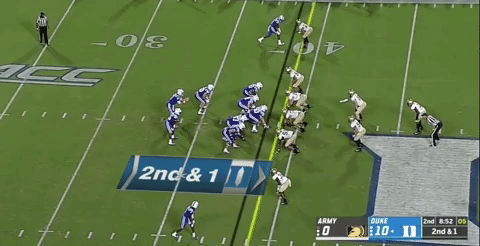 As you would hope with a player as big as Jones is, he can really hit a deep ball.
Keeping in mind that Jones' mentality for passing is to put touch on passes, he's much more of a guy who will put a lot of air under a deep ball pass than he is to gun one far down the field -- there is a big difference in that, which we'll get to.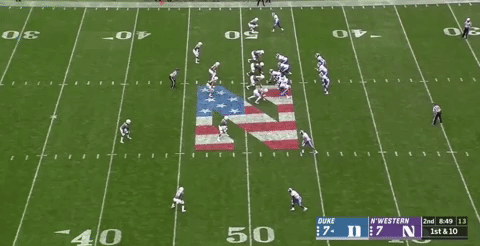 There are three kinds of attributes that exists when you talk about someone with "arm talent." The first is the sheer size of the arm on the quarterback's frame, which, physiologically, mean that there is more muscle and more potential for force generated on passes. The second is how far you can throw it. This has to do with how you lean your body back and use trajectory on a ball with strength for distance. The third is with velocity, which has to do with how fast you can whip your arm at the elbow and wrist, generating force which converts to speed on passes arriving more in a straight line.
Just because a quarterback has one of these traits or even two of them does not mean that they will have the rest. Jones certainly has the first two. Jones knows how to arch his back, dip his shoulder and really launch a throw for distance, and due to the fact that he does have such a feel for the football, he's often quite accurate with throws of long distances. He knows his arm well.
Play No. 3: Fancy Feet (Pocket Presence)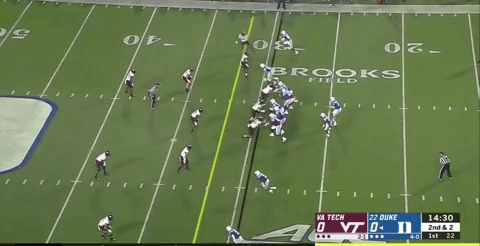 Another attribute of Jones that is easy to like is his pocket presence, specifically how active his feet are.
Jones is constantly hopping on his feet. This allows him to control not only where he moves his body as he goes through progressions and deals with pressure but also determines how quickly he can react. Jones' quick feet allow him to make the most out of his pocket, and he's often afforded the time to make the correct throw (or take off to run).
Light feet are no guarantee for a big man, and Jones seems to have them.
Play No. 4: Needs Juice (Ball Velocity)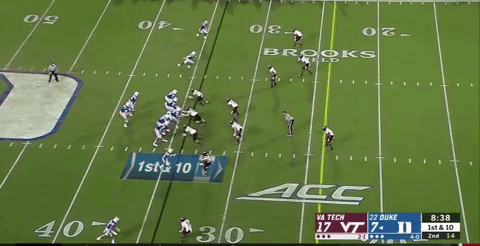 But Jones is not a perfect prospect, and there is one big reason why I won't be as high on him as others seem to be.
We already discussed how Jones checks two of the three boxes when it comes to arm talent, but the third box is one that I see him struggle with -- something that is really hard to get better after, if you can at all.
When I first started scouting, I didn't really think much of ball velocity. I thought that if you could get the ball deep down the field, that throwing power would translate into other throws. It doesn't always work like that.
A lack of ball velocity is evident most in throws like the one above. To the sidelines, Jones just doesn't have the juice to really sling a ball in there before a cornerback can recover.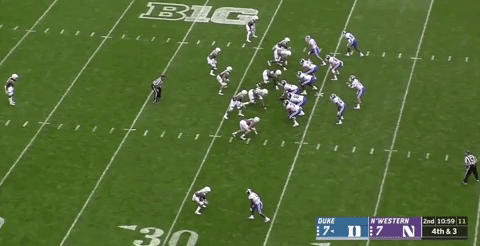 Sometimes a lack of velocity can be due to a lack of technique, but even on the second throw directly above, Jones saw the route, really stepped into the throw and tried to whip his arm as fast as he could yet the cornerback still got there to break it up.
In the NFL, that's a pick-6, and there were a handful of pick-6 type throws I saw within his three games.

Quarterbacks are required to throw the ball deep in the NFL. Stretching the field is important, and Jones does that very well, maybe as one of the Top 3 QBs in this class. But being a starting quarterback at the next level will also require you to throw the ball into tight windows a handful of times each week. After watching three games from Jones, he struggled to zip passes into windows more than I saw him complete them.
If you can't hit the velocity-type throws, the team that drafts you will always be looking to replace you with someone who can. Think Trevor Siemian or Case Keenum. These are players who recently had high amounts of short-term success, but they were never long-term guys due to limited arm talent.
In order to make up for a lack of velocity, you truly have to be an assassin mentally. You have to be able to anticipate things better than most quarterbacks in the NFL can now. This is how Peyton Manning still had some success late in his career when his arm started to give out on him. Jones has the potential to be a very smart quarterback, but that's still a hefty bet.
Play No. 5: Jones Knows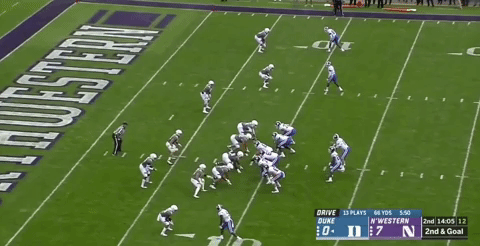 Thankfully for Jones, and a reason why he's still regarded as a top quarterback, by some, in this draft class, he is smart with the football. His lone interception of the season wasn't even his fault, as it was tipped at the line of scrimmage.
Jones already shows a feel for the little details of playing the position that will serve him well. In the clip above, he held the linebackers in check in their zones by looking to the left before immediately turning right and hitting the open play -- who was open because he looked the other defenders off.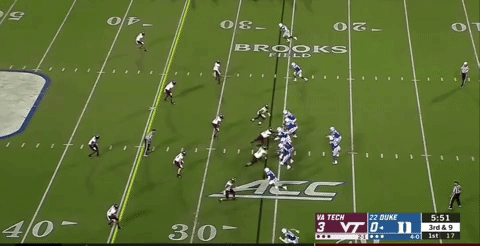 Jones' work with overall progressions of his plays can get better, as he can get locked into a first read, at times, but, for the most part, that first read is usually the one with the highest rate of success on a play.
Jones is a big, smart, tough quarterback, and anytime you have a combination of those three, you're going to have some fans. I like a lot of Jones' game, but watching him fail to have the ball velocity I believe is needed in the NFL makes it tough for me to think he's anything more than a mid-round guy.
There's a lot of games left to play, but it's hard for me to think Jones will improve in the one area I need him to to be a Top 50 quarterback. If you can't make all the throws, your team will always be looking to upgrade, and if that's the case, you're not taking a guy like that in the first two rounds -- or you shouldn't.
If Jones has the velocity we just haven't seen yet, I get it. But, for now, if you ask me, he's a mid-round guy that can be a preferred backup and spot starter.