If you turn back the clock a full calendar year, the talk of the town amongst the scouting community was a big, tall, gun slingin' son-of-a-gun out in Wyoming by the name of Josh Allen. Allen's hype train was filling up after coming off a season where his highlight reel took the college football world by storm. The scouting world was waiting for Allen to step on the field once again, hopeful of a player worthy of the No. 1 overall pick.
But when the season finally rolled around and the games started to pass, it was clear that Allen was not the polished product many thought and wrote he was during their summer scouting. Allen didn't end up going No. 1 overall, though he did still go Top 10, mainly due to the promises he showed during the months leading up to his final season rather than what was actually displayed.
This time around, Josh Allen may have moved on, but the act of coveting big quarterbacks remains just as strong. With that, there has been a name in the 2019 quarterback class that I've read more and more over the past few months. That name is Tyree Jackson, the mountain man signal caller out of Buffalo.
Jackson will be in his redshirt junior year during the 2018 college football season. He's a two-year starter for Buffalo, but has never been able to play a full season. He's thrown for 1,772 and 2,096 passing yards in each of the last two seasons, and has 21 touchdowns and 12 interceptions over that period of time.
As a big man in a small conference who is starting to gain some national hype, I thought it would be a good idea to run his tape through the 5-Play Prospect formula to get to the bottom of who Jackson is and the reality of potential versus production -- something that should have been done more with Allen before his final season last year.
Play No. 1: Ball Velocity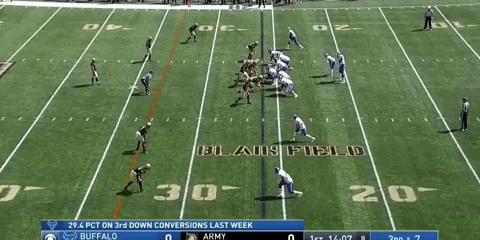 Hold up. Do you see this dude? How tall is this guy?
SIX FOOT SEVEN!?
This guy is the size of a mountain. Forget the NFL, Toronto's only two hours from Buffalo and the Raptors need a swing man next to Kawhi Leonard after moving on from DeRozen. To put Jackson's height into some high-level scouting terminology: if there's a jar on the top shelf, Jackson can reach it -- NFL general managers will always covet jar reachers.
With size like Jackson has, the potential power in his arm speaks for itself. When you talk about arm strength, that can be broken up into two categories. It's not just about how far you can get the ball down the field. You want a guy to have that, yes, but there's another component to having a strong arm. That second component is velocity.
It's not always a guarantee that a quarterback who can get the ball far down the field can also fire a pass to the sideline on a rope. Jackson can do both, and with his height, you can see that his short and intermediate passes truly can almost move from release to the catch point on a line. If you don't have velocity in the NFL, those quick defensive backs will break up more passes than you'd like. But if you do, you can really fit passes into some tight windows.
Play No. 2: Hold The Phone, He's Got A Cannon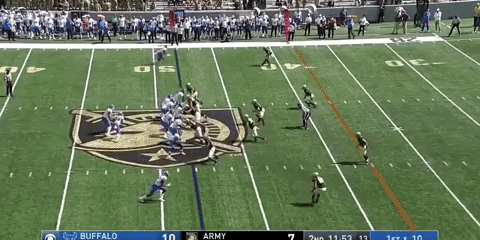 Simply put: this kid can drop some bombs. Over the four games I watched, there were multiple throws like the one above in all of them. Not all of them were completed, but that wasn't due to a lack of arm strength.
We all watched in awe as Chiefs quarterback Patrick Mahomes hit his 69-yard pass to Tyreek Hill last weekend. Jackson is capable of doing that same sort of thing, which puts him in rare company, not just in this draft class, not just in the NCAA, but in all of football. Anytime you have a guy who can stretch the field like that, you're talking about someone you can build a wide open playbook for.
But, that's only if they can do the little things right. Which brings us to our next couple of plays.
Play No. 3: "The Touch, The Feel" ... Is Lacking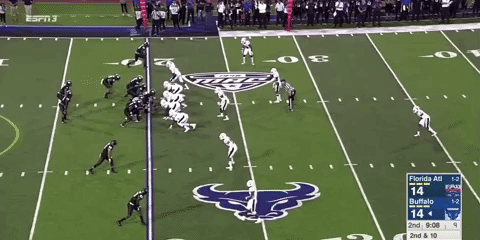 Each of us evaluate quarterback play differently. Some emphasize size the most. Some like arm velocity and arm strength more. Some say mental processing is No. 1. All of those things are important, but if you ask me, one of the most crucial traits for a quarterback is touch -- which can fall under "accuracy", but I think it's a very important subsection of that, which deserves its own analysis.
If you ask me, the most important traits of playing quarterback are the ones you can't teach. You can teach mechanics and you can even teach processing, to an extent. But the touch you naturally show as a passer is often something that you have and you keep, and for Jackson, that worries me a lot.
We've seen Jackson tight rope the ball to the sideline and we've seen him deliver it in stride over 50 yards down the field, but when it comes to hitting those little passes, the ones where he isn't throwing the fast ball, he becomes quite inconsistent. Jackson has a 56 percent completion percentage through his two years as a starter right now, and much of that is due to his inability to be accurate on passes where touch is used more than power.
Play No. 4: Mechanical Issues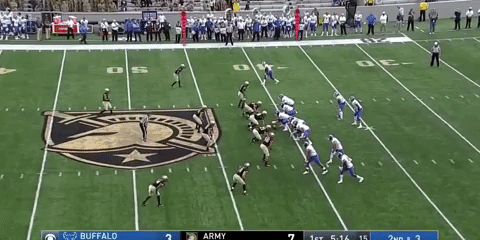 Jackson's issues with touch and accuracy can, in part, be traced back to some very unpolished mechanics.
Jackson's throwing motion is far too elongated for a man with his arm strength. He doesn't need to wind up as much as he does, often bringing the ball all the way down to his hip before circling it back up to release. His arm is plenty strong on its own to keep the ball at shoulder level throughout on that 6-foot-7 frame. His footwork is all over the place, and when he releases the ball he's often turning his entire body and popping his leg in the air like a baseball pitcher on a mound.
All of that is not ideal, and it goes into why Jackson can complete some of the most difficult passes in the game and yet totally miss on the easier ones. You like the highlight reel, but the full game tape needs a lot of correcting and a lot more consistency.
Play No. 5: The Wheels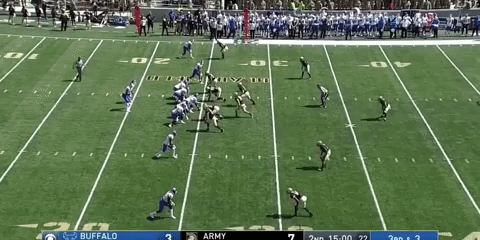 Speaking of highlight reel, not only is this guy 6-foot-7, but he runs like a deer -- I've been told that's a good thing.
Jackson has legit 4.5-4.6 speed in a straight line, and as a player as big as he is, that's really impressive. He's a runner who can be somewhat effective in an RPO offense, but in the NFL he's not going to get by too many people and he's not elusive laterally, so he's not going to make people miss in the open field. His rushing highlights are fun in college, but don't let anyone fool you into thinking he'll be a true dual-threat QB in the NFL.
Overall, Jackson is weird. He has some of the top high-end tools you could ask for in a quarterback with size, arm strength and mobility, but his mechanics, his touch and his mental processing aren't anywhere near where they need to be to justify drafting his skillset as high as some would like to.
You're going to hear Jackson's name come up quite a bit this season, and with another full season under his belt he may shown significant improvement in the areas I mentioned. But, if he doesn't, beware the big, strong quarterback hype as hollow praise.