When I say the words "Boise State" what's the first thing that comes to mind?
Is it the blue field? The single-color jersey combinations? The badass Bronco logo they have on their helmet?
Maybe it's a moment. If that's the case, most of you will likely reference when quarterback Jared Zabransky and running back Ian Johnson ran the Statue of Liberty play to perfection in overtime to win the 2007 Fiesta Bowl over the Oklahoma Sooners, in what many people would still say, to this day, is one of the greatest games they've ever watched. For me, personally, I always think of the moment after Boise State beat Oregon in 2009 and LeGarrette Blount punched Byron Hout right in the chin. That still makes me laugh.
When you hear the words "Boise State" in terms of the team today, many would think of their highly accomplished quarterback Brett Rypien. Rypien, who is the nephew of the 1992 Super Bowl MVP Mark Rypien, is a four-year starter for the Broncos who has stats galore. He's currently the FBS active leader in completions and passing yards, and just tied Kellen Moore for the most 300-yard passing games in school history.
In his most recent game, Rypien threw for 362 yards and three touchdowns in little more than a half as his Broncos set a school record for offensive yards (818) in their big 62-7 win over UConn.
With all the stats accumulated in his first three years and the NFL legacy in his blood, it would be natural for Rypien to start to feel the pressure going into his final year with eyes towards the NFL.
"There's a balance you have to find where you want to be the best, but not put too much pressure on yourself," Rypien said. "I like having that time to myself, that time to focus or to clear my thoughts. Everyone can lift, be in meetings or practice, but it's that time away that separates you."
But Rypien has an escape that helps him cope with pressure, relax and just sit back and enjoy what's going on around him. That escape is the game of golf. Rypien has been playing since he was three years old, and in the summers you can often find him walking a golf course alone enjoying the game and the environment.
So, as Rypien uses the game of golf to hone in on keeping calm under pressure, I figured I'd have a little fun with this week's 5-Play Prospect and breakdown his game with a golfing theme.
Play No. 1: 7 Iron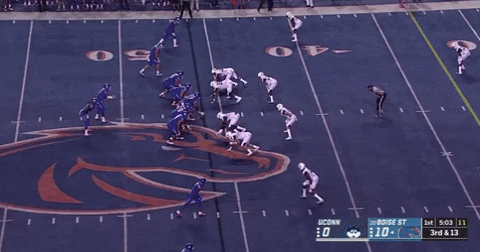 Rypien may not have the strongest arm in the world, but, man, he can throw a pretty ball sometimes.
When Rypien has the time -- and when remembers to actually move his feet -- he can deliver passes with top notch touch to intermediate distances. I actually think the 10-20 yard range is Rypien's sweet spot. That allows him to get most of his arm involved, and yet still allows him to finesse passes to their correct location. That seems to be Rypien's wheelhouse. It's the approach shots, if you will.
Play No. 2: Hybrid Club
The reason I'm calling this throw a hybrid club shot instead of a driver or a 3 wood is because Rypien doesn't have the ball velocity to warrant that kind of title on his deep ball.
Even when stretching the field, Rypien is very much a placement and anticipation guy more than he is a distance and ball speed guy. Throws like the one above are pretty, but Rypien's ability, or lack thereof, to push the ball down the field more than what we see above worries me. It's passes that take a while to get to their destination.
If you're staring at a long Par 5 and all you can accurately hit off the tee is a hybrid, your potential for success is much lower due to how handicapped the initial distances is.
Play No. 3: Sand Wedge
Rypien is a small-ball thrower that doesn't have the pin point accuracy or touch you might believe he should.
The play above wasn't the only touch pass Rypien misjudged against Uconn. Rypien is always trying to air his passes out with a heavier emphasis on anticipation and timing rather than ball speed. That's fine (in college), but only if you're really good at it. If you're not, you leave yourself very vulnerable to defensive backs recovering after getting beat or just plain reading the throw and cutting it off.
Not to mention Rypien tends to misjudge things himself.
Play No. 4: 8 Iron (Bump & Run)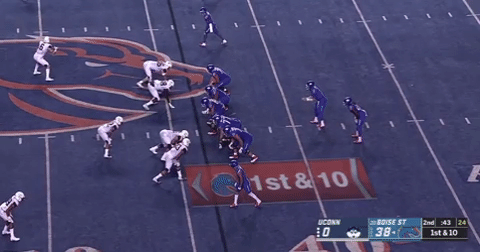 The play above highlights a bit more of my concerns with Rypien, and that is the fact that he's a touch thrower who sometimes struggles with placement and accuracy. That also wasn't the first pass that Rypien threw behind a wide open target. There are plenty of plays where he hits his receivers in stride, but I saw more spotty accuracy from him than I thought I would, especially on passes of short distances.
I thought Rypien's short game would be much more fine-tuned than what I saw from the Uconn tape.
Play No. 5: 9 Iron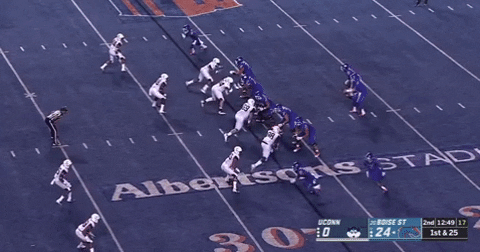 As stated before, it really feels like the intermediate is Rypien's wheelhouse. If there is a pass that he needs to hit with touch and in stride between 10-20 yards of flight path, he does that very well. But the rest of his game around that leaves much to be desired, if you ask me. Rypien is a strange case because of how limited his arm strength is with velocity and distance and with how unusually spotty he is with natural accuracy on passes between 0-10 yards -- that might have to do with how grounded his feet can get when he doesn't remember to stay loose and on his toes.
Rypien throws one of the prettiest balls in college football, so it's easy to get mesmerized, but I just didn't see the consistency I thought I would -- better said: that I needed to see. Rypien has all the time in the world to throw just about every pass, so there isn't much of judging him under pressure. Right now, if you ask me, he's a guy who you can build a highlight tape of "10 Best Throws" to and enjoy, but the odd inconsistencies around his best throws makes me hesitant about him early on in this draft process.
He just doesn't hit the clubs in his bag (his arm) well enough to get under par at the tougher PGA-level golf courses (the highest level of competition).